Baby Saved Twice In One Day At Two ABQ Abortion Mills!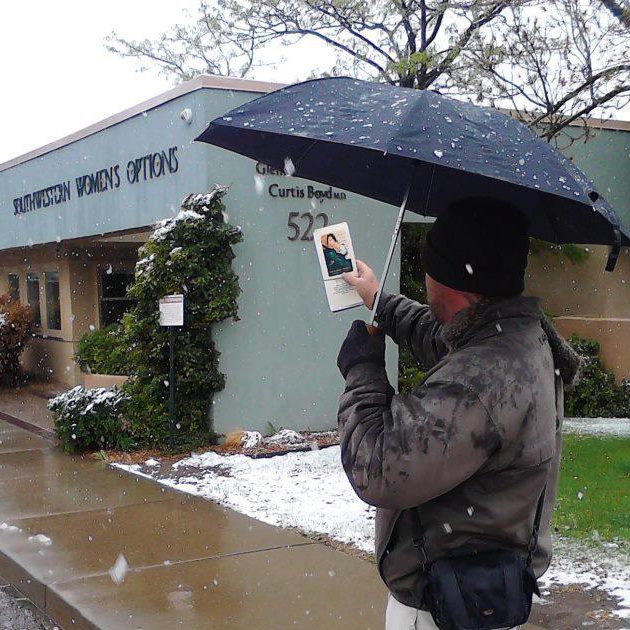 By Bud Shaver
Truth is stranger than fiction! Today at Southwestern Women's Option's (SWO) lateterm.com in Albuquerque, NM sidewalk counselor Bobby Coffman Jr. was able to speak with a young father whose girlfriend was already inside the abortion center. Bobby was able to share his own testimony of losing two children and was able to connect with this father in a personal way. Bobby asked me to share all the resources available at Project Defending Life (PDL) which I was able to do. This couple was from Ohio and had only been given information about the Late-Term abortion mill…thanks to Bobby and his wife Collette's faithfulness God was able to provide a way out! The young man was very appreciative and went inside to get his girlfriend and they both left headed up to PDL. God was able to transform a place of darkness and death into a beacon of light and hope because He was present through His people! (I guess we really are His Body!)
But wait thats not all…This couple headed to PDL which is located directly across from Planned Parenthood (literally 50 feet!) Instead of going into PDL they headed into Planned Parenthood! God was prepared and had already provided a divine appointment for this couple with Lorenzo! Lorenzo was not (so he thought) supposed to be at Planned Parenthood…he is usually at the UNM abortion mill UNMCRH on Tuesday's or with me out at SWO! But Lorenzo had a divine appointment with this couple scheduled today! As this couple was heading into Planned Parenthood, Lorenzo was there as a sidewalk counselor and spoke with them, he realized that they had been at SWO and were supposed to be going to PDL not Planned Parenthood and walked them across the street to the right place! Talk about life and death stuff!!! It literally is!!! Praise God and Praise God for His Body…We were called out of darkness into light for a reason…to Light Up the Darkness!
It is vitally important for us to be present at ALL of the abortion mills in our community! It is vitally important for us to step out in faith and allow ourselves to be used by God…when we do we can see the divine appointments that God has for us! Lives will be saved and the love of Christ will reach those who desperately need Him! A baby was saved twice in one day…that was the Mountain that I saw God move today!