PROTEST Sen. Michael Sanchez (D) Another Pro-Abortion Catholic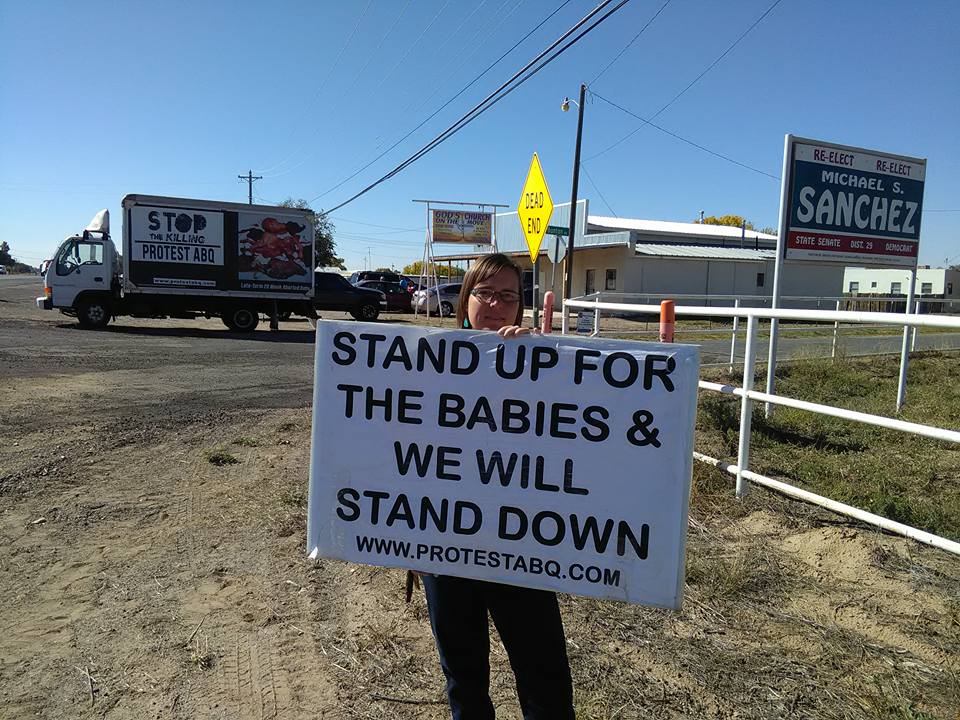 By Tara Shaver,
Belen, NM –  Statewide early voting kicked off on Saturday, October 22, 2016 across New Mexico, so Protest ABQ went to Belen New Mexico to Protest NM State Senator, Michael Sanchez. Sanchez is yet another pro-abortion Catholic Democrat who is betraying his Christian faith by putting the Democrat party before his faith. Michael Sanchez's Senate seat is being challenged by Republican, Greg Bacca. In New Mexico we are hoping to #DrainTheSwamp of career politicians like Michael Sanchez (Senator since 1993!) who's putting the agenda of special interest groups who are funding his campaign, ahead of the best interests of New Mexico's most vulnerable children, those living in the womb.
Fr. Stephen Imbarrato: The Protest Priest issued the following statement, 
We prayed twice for him that he would put his Catholic faith before political agenda; that he put our unborn babies before Planned Parenthood's money.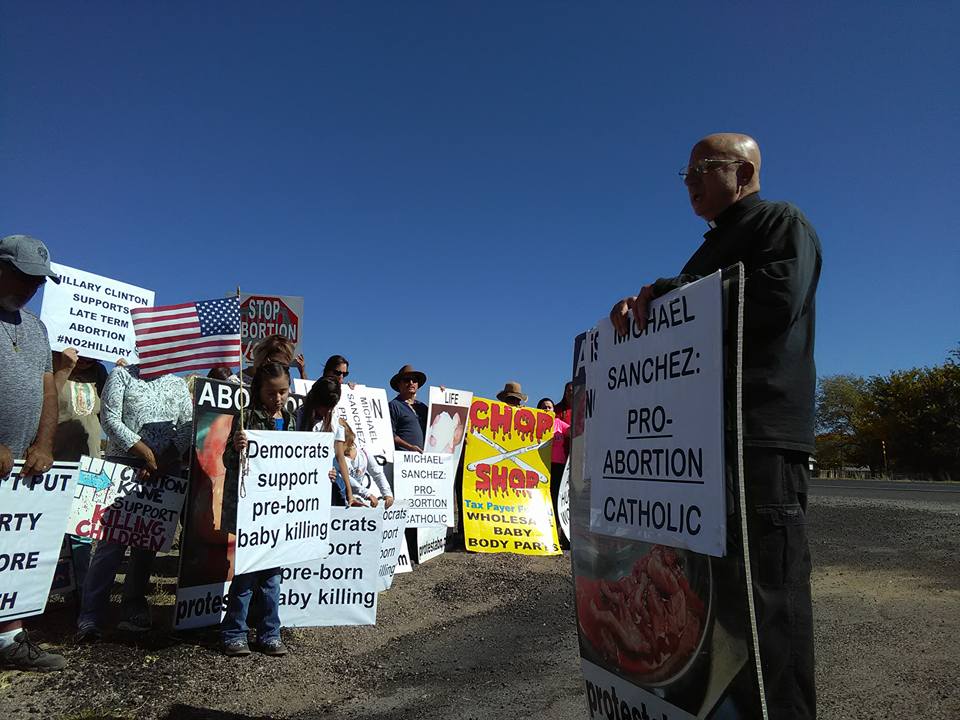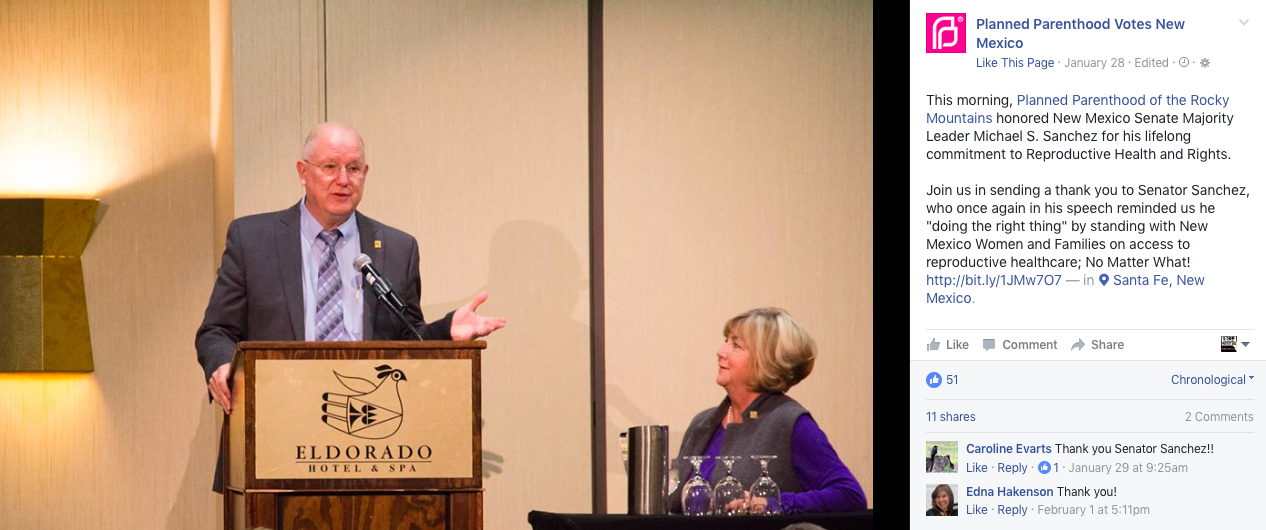 This morning, Planned Parenthood of the Rocky Mountains honored New Mexico Senate Majority Leader Michael S. Sanchez for his lifelong commitment to Reproductive Health and Rights…

who once again in his speech reminded us he "doing the right thing" by standing with New Mexico Women and Families on access to reproductive healthcare [KILLING BABIES], No Matter What!
Senator Michael Sanchez is the Senate Majority Leader and he's the radical pro-abortion extremists greatest champion! He's been 
honored
 by Planned Parenthood (
the nations largest abortion provider
) and is 
funded
 by Albuquerque's Abortion Cartel. For the money he receives from them, Senator Michael Sanchez ensures that pro-life bills introduced during the legislative session go to "kill committees" which are comprised of more radical pro-abortion members than those who are reasonable and have common sense. He purposely stacks the deck against any legislation that is aimed at protecting innocent human life in the womb, and as a result, circumvents the democratic process of allowing these bills to go to the Senate floor for an up or down vote.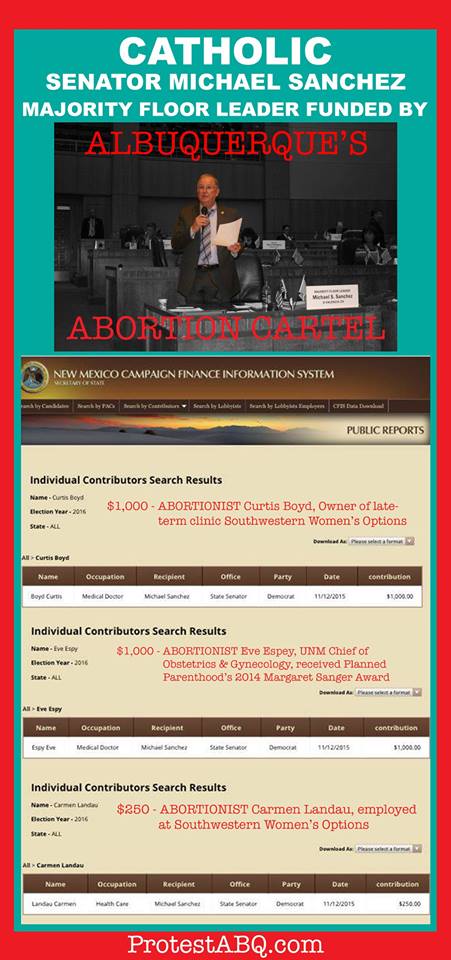 Watch Fr. Imbarrato: The Protest Priest live on location in Belen, New Mexico:
Fr. Stephen Imbarrato is urging everyone who is Christian and Pro-Life in New Mexico to be sure to get out and vote for pro-family, pro-marriage, pro-religious liberty, and pro-life candidates on November 8th. In fact, The Protest Priest already cast his vote!
Watch his special message to voters: 
For More Information About How to Vote in New Mexico Click HERE and HERE 
ALSO VOTE NO ON THE 95$ MILLION UNM MILL LEVY TAX! WHILE THEY ARE KILLING INNOCENT BABIES UNM DOESN'T NEED ONE MORE PENNY OF OUR TAX DOLLARS!