PRO-DEATH HB 90 Dies On House Floor, HB 51 Still Viable Senate Set To Vote TODAY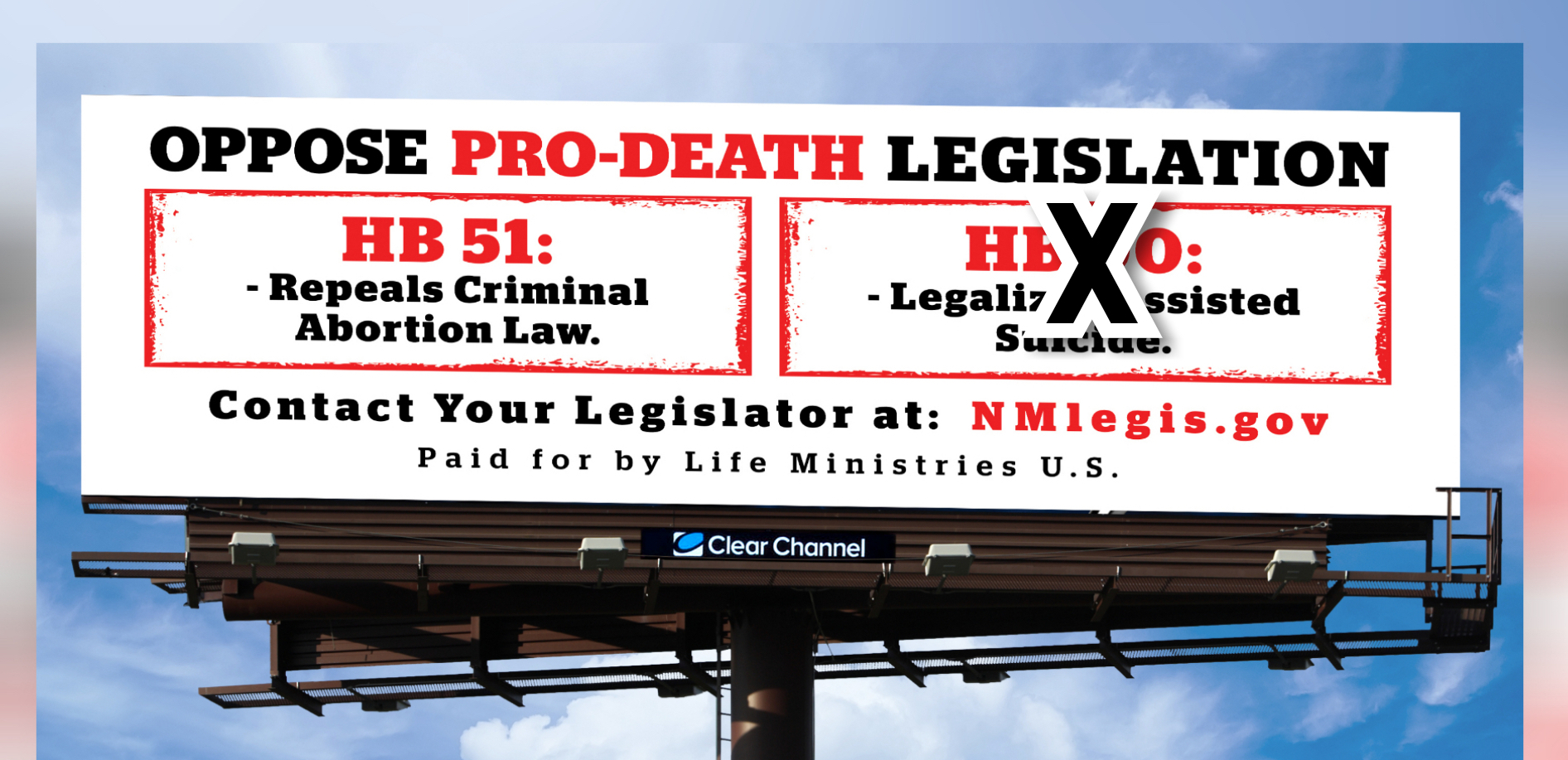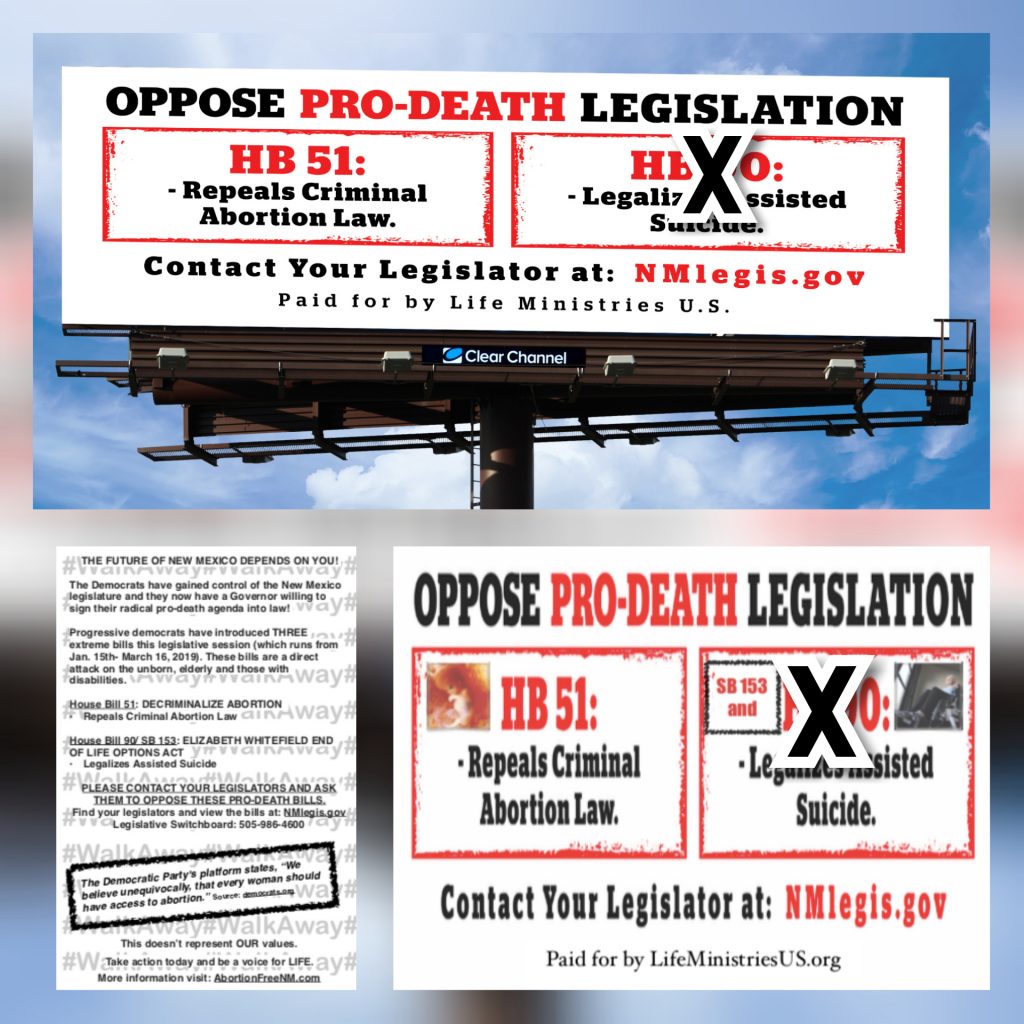 By Bud Shaver,

Santa Fe, NM- The Pro-Death Assisted suicide bill, HB 90 ELIZABETH WHITEFIELD END OF LIFE OPTIONS died on the House floor when the bill sponsor, Rep. Deborah Armstrong, D-Albuquerque withdrew her bill when she realized that she did not have enough votes to pass it.
According to the Santa Fe New Mexican,
"Though the bill [HB 90], known as the Elizabeth Whitefield End of Life Options Act, made it through two House committees this year, it was quietly tabled in the House of Representatives in late February.
​
On Tuesday, Armstrong wrote in an email that the bill was tabled 'at my request.'

'At the time we are just a few votes shy to pass the bill,' she said."

Read the full article: House quashes 'right-to-die' bill
Abortion Free New Mexico would like to thank the Bishops of New Mexico for their bold and very public opposition to HB 90, the democrat representatives who obviously opposed this legislation, the other statewide organizations who mobilized their base to oppose HB 90, everyone who called/emailed their representatives and testified in Santa Fe, and those who financially supported our billboard and statewide postcard public awareness campaign.
Tara Shaver, spokeswoman for Abortion Free New Mexico issued the following statement,
"It's good to know that the New Mexico House did not have enough votes to even consider HB 90 and it's a testimony that New Mexican Democrat legislators aren't fully embracing a culture of Death with regard to assisted suicide.

However, on the other side of the 'PRO-DEATH' coin, it's shameful to the great state of New Mexico, that House Democrats weren't willing to protect innocent life in the womb and have fully embraced 'Abortion on Demand and Without Apology,' by passing HB 51. While some are trying to capitalize on the growing national outrage concerning late-term abortion and infanticide, HB 51 doesn't even have anything to do with either of those things, in fact New Mexico is already known as the late-term abortion capital of the WORLD. With HB 51 DECRIMINALIZE ABORTION, the pro-aborts are anticipating the Supreme Court of The United States overturning Roe vs. Wade (due to President Donald Trump's excellent appointments to the bench and potential future appointments). When that happens the current 1969 criminal abortion law would be in immediate effect! 

Abortion Free New Mexico has also raised concerns that, HB 51 places women's lives at further risk by opening the door for non-physicians including nurses and midwives to preform dangerous and risky abortions. Instead of reducing abortions like the pro-aborts claim to want, HB 51 will surely mean that the number of abortions performed in New Mexico will rise."

AbortionFreeNM.com
SENATE FLOOR VOTE EXPECTED TODAY ON HB 51 DECRIMINALIZE ABORTION

⏰ HB 51 DECRIMINALIZE ABORTION was amended and snuck through the Senate JUDICIARY COMMITTEE on Monday, March 11, 2019 without warning and is now scheduled for full senate floor vote today.
ALL HANDS ON DECK: CONTACT YOUR SENATOR TODAY AND ASK THEM TO OPPOSE THIS PRO-DEATH LEGISLATION!
In addition to the Catholic senators, here are TWO more Democrat Senators to contact that need to hear from you and urged to OPPOSE PRO-DEATH LEGISLATION HB 51 and HB 90/SB 153:
Please continue to pray and stay engaged as this legislative session comes to an end. There's still much work to be done before we finally see an, Abortion Free New Mexico.
RELATED NEWS:
​Thank you for standing with us for life and truth!
"Therefore we ought to support people like these, that we may be fellow workers for the truth." (3 John 1:8)