PRO-DEATH AGENDA DEFEATED! HB 51 FAILS ON NEW MEXICO SENATE FLOOR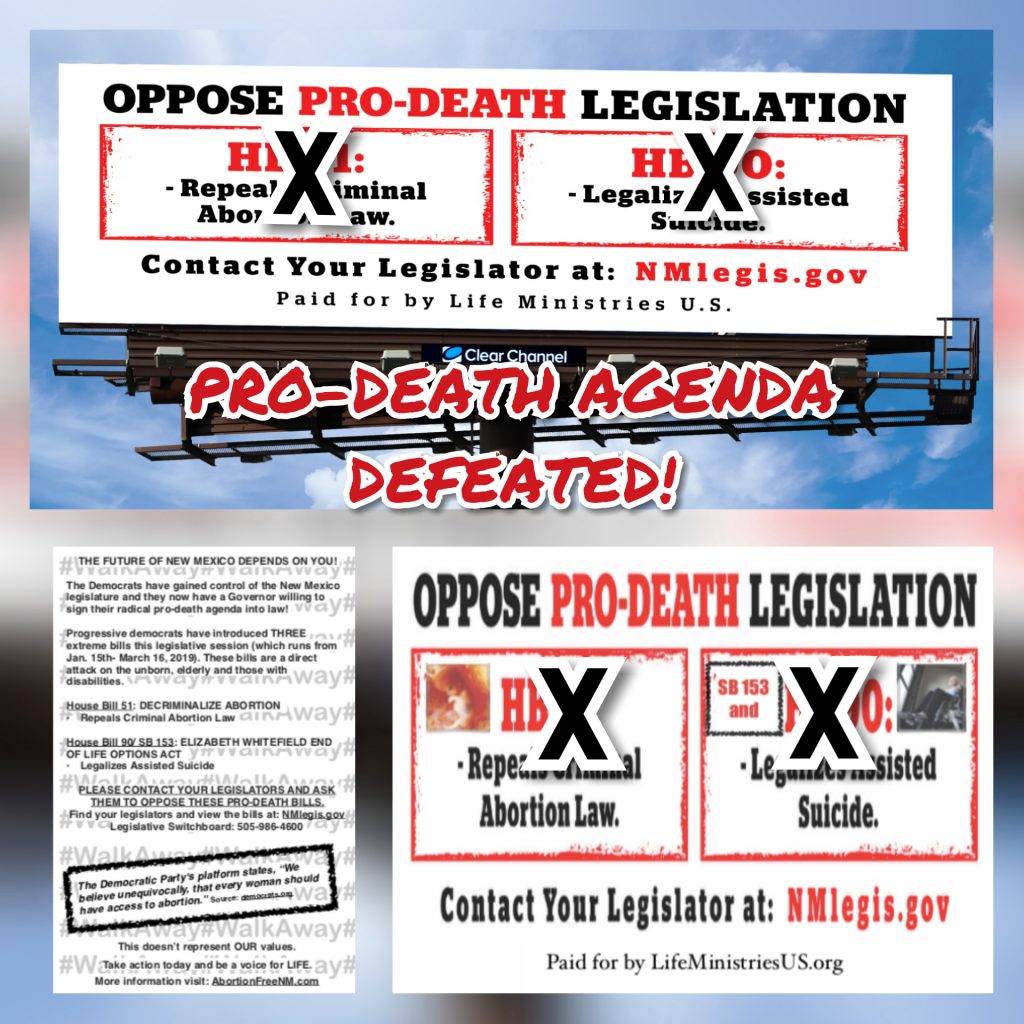 By Bud Shaver,

Santa Fe, NM- PRAISE BE TO GOD: PRO-DEATH AGENDA HAS BEEN DEFEATED!
Thank you for your prayers, and action! Death has been defeated in this New Mexico legislative session!
Tara Shaver of Abortion Free New Mexico issued the following statement,

It is truly miraculous that HB51 did not pass the NM Senate floor vote today. All glory to the Lord and thanks to so many who took action this legislative session!
​
Did you know that New Mexico is positioned to be one of the most pro-life states in the nation when Roe v. Wade is overturned? HB51 would have removed our criminal abortion statute and brought us to square one with no laws restricting abortion. Please continue to pray and be engaged in this battle for the lives of precious pre-born babies targeted for death in the late term abortion capital of the nation.

Please like and share our ministry page on Facebook, Abortion Free New Mexico, and join us as we work to close down the last 5 abortion facilities in our state.
We would like to thank all of the the statewide organizations who mobilized their base to oppose HB 51, everyone who called/emailed their representatives and testified in Santa Fe, and those who financially supported our billboard and statewide postcard public awareness campaign.
Abortion Free New Mexico would especially like to thank the Bishops of New Mexico for their bold and very public opposition to HB 51. Thanks to their leadership 6 Catholic Democrats voted their faith and OPPOSED HB 51.
Please thank them:
Senator Pete Campos- (D) District 8
Capital Phone: (505) 986-4311
Email: pete.campos@nmlegis.gov
Senator Carlos R. Cisneros- (D) District 6
Capital Phone: (505) 986-4362
Email: carlos.cisneros@nmlegis.gov
Senator Richard C. Martinez- (D) District 5
Capital Phone: (505) 986-4487
Email: richard.martinez@nmlegis.gov
Senator George K. Munoz- (D) District 4
Capital Phone: (505) 986-4371
Email: senatormunoz@gmail.com
Senator Clemente Sanchez- (D) District 30
Capital Phone: (505) 986-4513
Email: clemente.sanchez@nmlegis.gov
Senator Gabriel Ramos- (D) District 28
Capital Phone: (505) 986-4863
Email: gabriel.ramos@nmlegis.gov
In addition Democrat Senators Mary Kay Papen and John Arthur Smith also OPPOSED HB 51 giving us 8 votes (two more than we needed) to DEFEAT it!
Please call and thank them for their bold stand for LIFE:
Senator Mary Kay Papen – (D) District 38
Capital Phone: (505) 986-4733
Email: marykay.papen@nmlegis.gov
Senator John Arthur Smith – (D) District 35
Capital Phone: (505) 986-4365
Email: john.smith@nmlegis.govR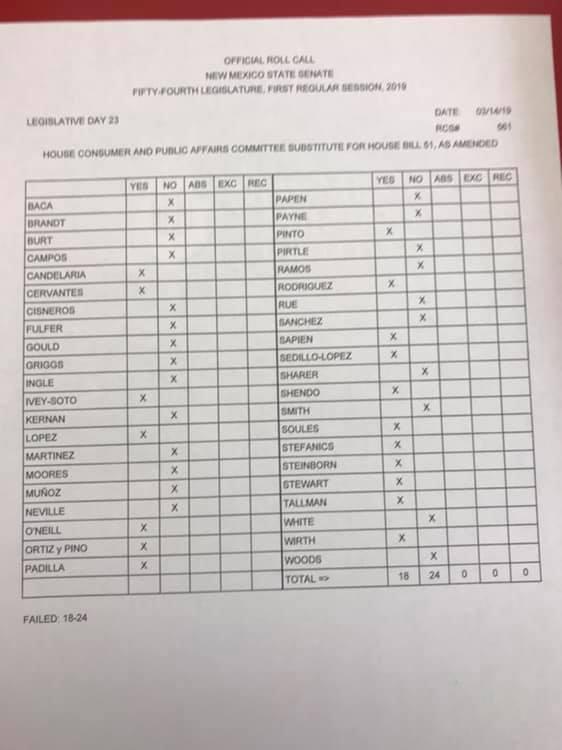 UPDATED
​Opponents of the bill are celebrating the victory. "We're just thankful that the voices of the people of New Mexico were heard," Tara Shaver, who works with the nonprofit Abortion Free New Mexico.

Full report: Abortion advocates, critics react to bill stalling in NM Senate
RELATED NEWS:
​Thank you for standing with us for life and truth!

"Therefore we ought to support people like these, that we may be fellow workers for the truth." (3 John 1:8) ​