Lack Of Reason On Display

This report was published today by One News Now and features Abortion Free New Mexico's, Tara Shaver. Thank you for standing with us for the babies of New Mexico and for making an abortion free New Mexico possible with your partnership.
By Charlie Butts
Abortion supporters in New Mexico are actually making the pro-life movement look good.
LifeNews reports that a far-left group in New Mexico has posted a billboard near Albuquerque claiming that "rape is about power and control and so are abortion bans," suggesting laws protecting the lives of preborn children are similar to the violent act of rape. Tara Shaver of Abortion Free New Mexico disagrees with that comparison.
"The progressive pro-abortion liberals they think that this type of language resonates with New Mexicans, but it doesn't," she asserts. "New Mexico is a state that values families; it values children, and so this messaging just doesn't resonate with the average person in New Mexico whatsoever. It really only resonates with those who champion abortion."
Since this is an election year, candidates on the left are fighting against any thinking that might cost them votes. Nevertheless, Shaver's organization will continue on track with its goal – "an abortion-free state where every child is protected and valued."
"The type of rhetoric that the pro-abortion community is trying to use right now is just not going to help them at all," the pro-lifer continues. "It just makes them seem more radical, and it makes us look more reasonable."
She adds that anyone who wants to fight for human rights should fight against abortion, because it is a violent act against a tiny, defenseless human being.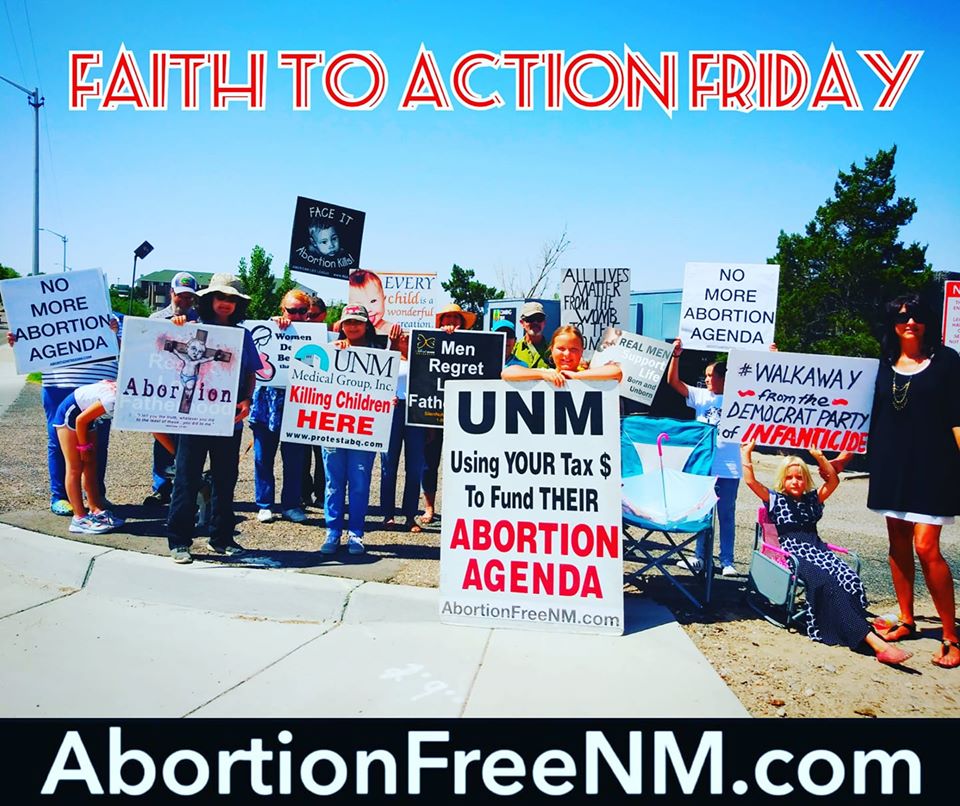 Abortion Free New Mexico conducts a weekly prayer and protest presence at the University of New Mexico's free standing abortion facility. Join us this Friday for Faith To Action Friday and let's stand together for life and strategically step out in faith to transform our community.
Join us for "Faith to Action Friday" on Friday June 19th from 10-11AM
The UNMCRH free standing abortion clinic is located at 2301 Yale Blvd in Albuquerque, New Mexico.
Parking is available on Renard (off Yale)
​Everyone is welcome to join us for this peaceful presence.​