BREAKING: 35th Woman Injured at Southwestern Women's Options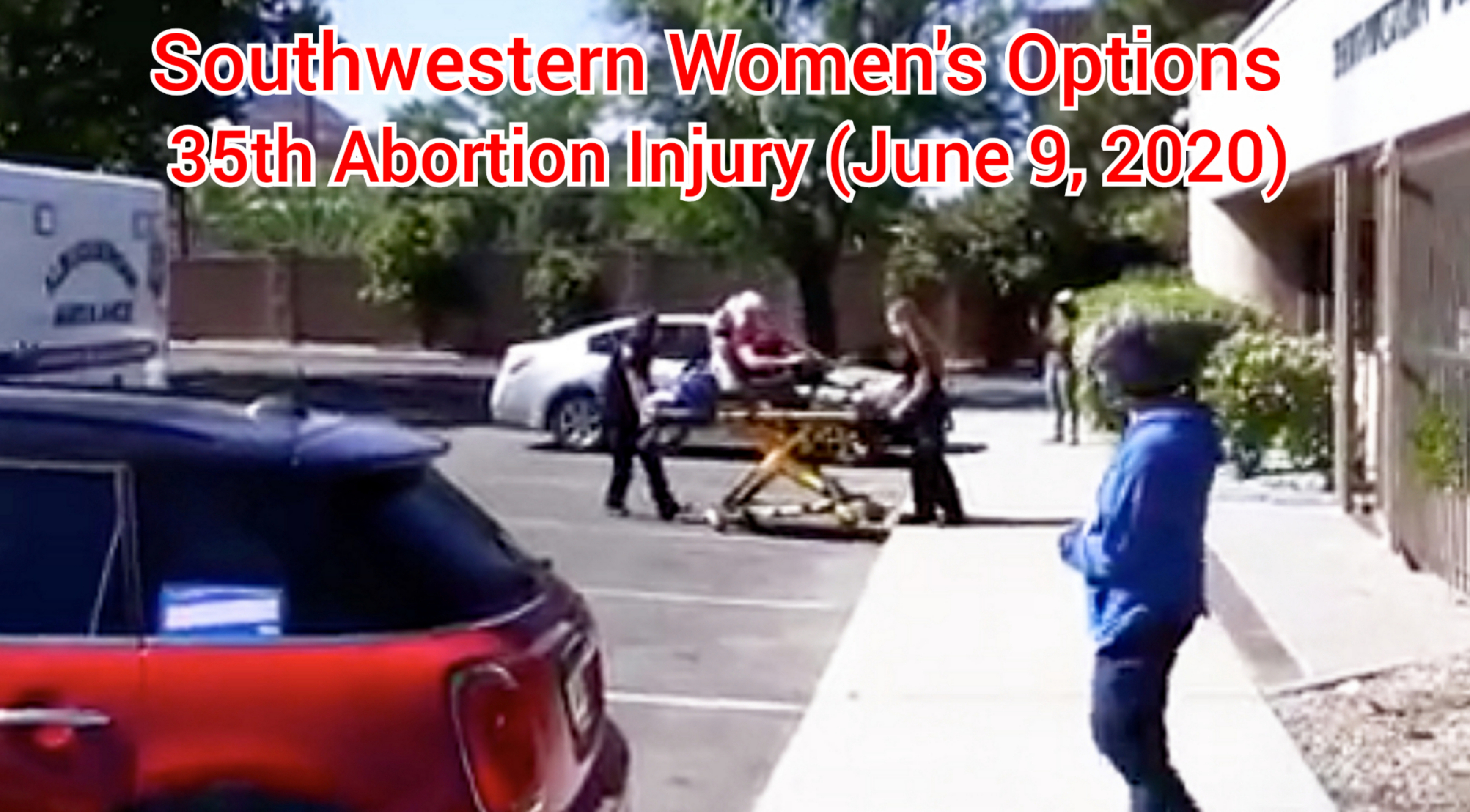 By Bud Shaver
Albuquerque, New Mexico- On Tuesday, June 9, 2020 sidewalk counselors outside the notorious late term abortion facility Southwestern Women's Options (SWO) witnessed a woman being rushed into an ambulance and transported to a nearby hospital. Shockingly, this is the 35th documented abortion injury at SWO since 2008!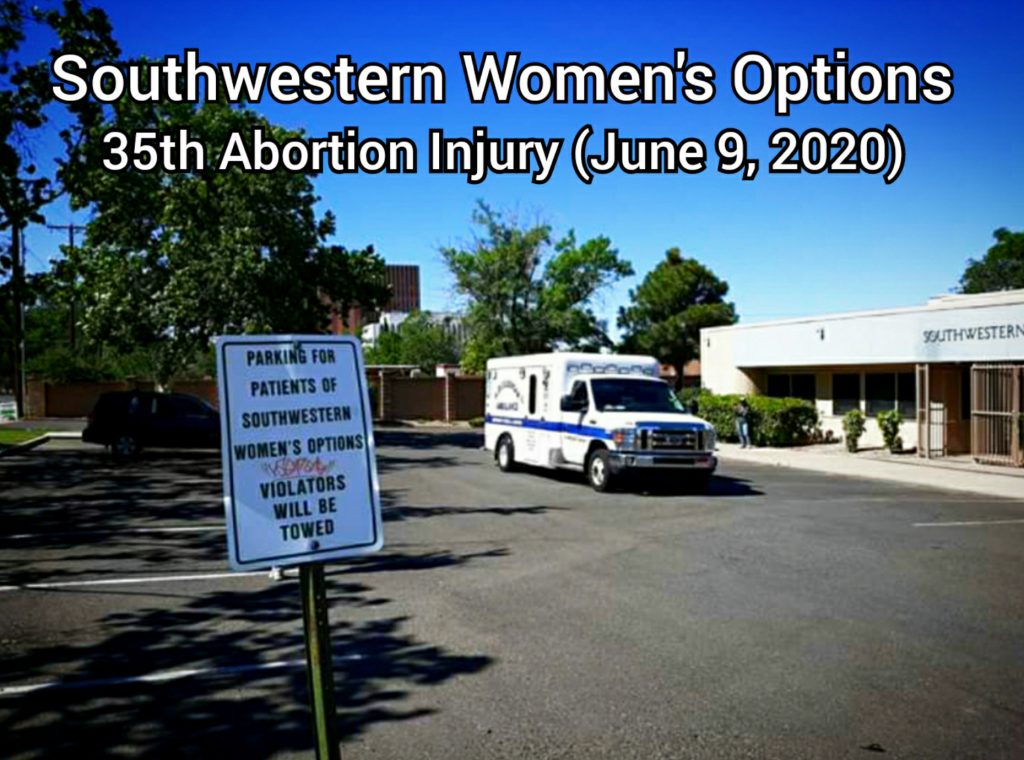 According to eye witnesses, the patient was in a vehicle with California license plates.
Late term abortions are, unfortunately, performed through all nine months of pregnancy in New Mexico. Every Tuesday at Southwestern Women's Options the barbaric 3-4 day long late term abortion procedure is started on women who come to New Mexico (from all across the world) for what is known as Abortion Tourism. The barbaric procedure begins with an injection of digoxin into the woman's uterus which causes the baby to die from a fetal heart attack that reportedly takes several hours for the baby's heart to finally stop. Each day thereafter, the woman's cervix is artificially dilated so that she can give birth to her dead child on a Friday or Saturday.
Tara Shaver issued the following statement,
"At a time when businesses and Churches have been forced to close, abortion facilities remain open and at least two women have been injured. These injuries confirm that abortion is not healthcare and that these facilities are not even equipped to handle the complications that arise during such invasive elective procedures. Women and their children deserve better than abortion and Abortion Free New Mexico is working to provide accountability and a culture where these barbaric procedures are intolerable."
This is the second woman injured during a botched abortion in New Mexico since Governor Michelle Lujan Grisham refused to close non-essential abortion facilities during the COVID-19 pandemic. On March 25, 2020 Southwest Coalition For Life witnessed a woman injured in Santa Teresa, New Mexico at Hill Top abortion facility run by abortionist Franz Theard.
That injury occurred two days after New Mexico Governor Michelle Lujan Grisham's office released the following statement to Tara Shaver of Abortion Free New Mexico in response to our call to close non-essential elective abortion facilities,
"We have discussed this matter and the clinics are not going to close. Some people are claiming that abortions are elective surgeries and we are not considering them as elective surgeries. All the clinics are sanitizing very well and they are not going to close."
In addition to the 35 abortion injuries documented at Southwestern Women's Options, and the recent abortion injury documented in Santa Teresa, Abortion Free New Mexico has also documented an additional four botched abortions at the University of New Mexico's free-standing abortion facility UNM Center for Reproductive Health. 
Faith To Action Friday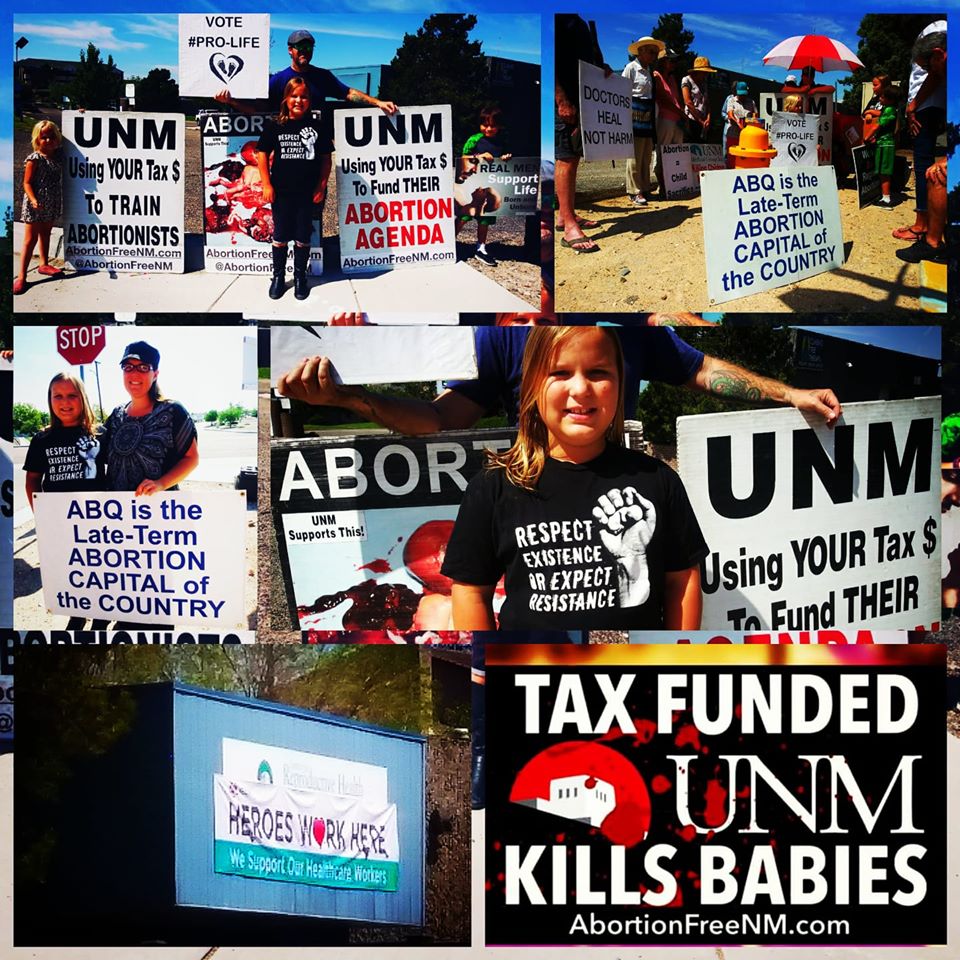 Abortion Free New Mexico conducts a weekly prayer and protest presence at the University of New Mexico's free standing abortion facility. Join us this Friday for Faith To Action Friday and let's stand together for life and strategically step out in faith to transform our community.
Join us for "Faith to Action Friday" on Friday June 12th from 10-11AM
The UNMCRH free standing abortion clinic is located at 2301 Yale Blvd in Albuquerque, New Mexico.
Parking is available on Renard (off Yale)
​Everyone is welcome to join us for this peaceful presence.​