Victory Celebration and The Battle Continues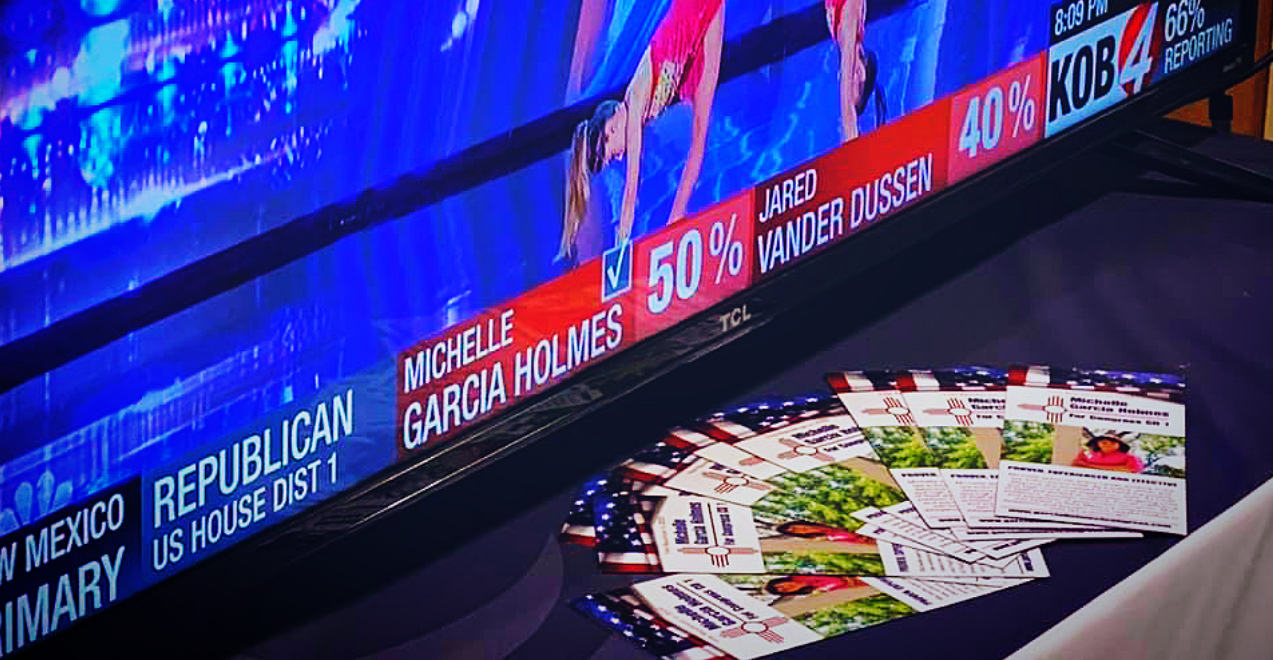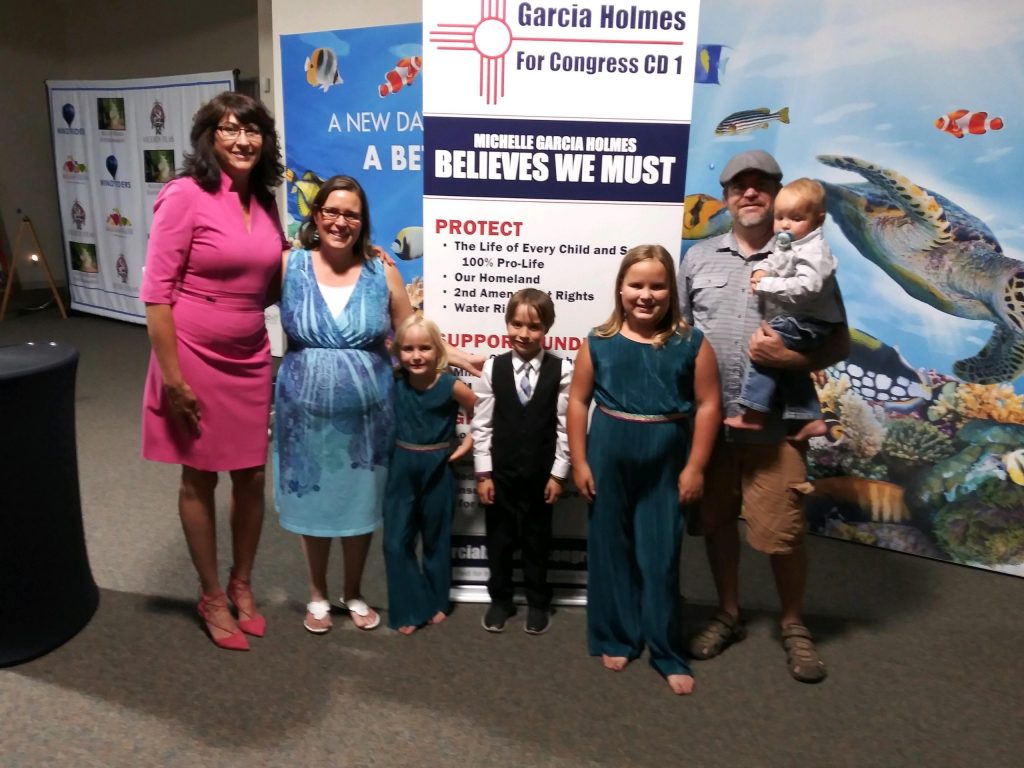 By Bud Shaver
Albuquerque, New Mexico- Abortion Free New Mexico is pleased to announce that Michelle Garcia Holmes won her race in the New Mexico primary election. She is the official Republican nominee that will represent New Mexico in the United States Congress for District 1, when she defeats Deb Haaland in the November general election. Our family attended the watch party /victory celebration on election night and after attending several political watch parties over the past ten years, it was nice to finally celebrate a victory for New Mexico!
Michelle Garcia Holmes issued the following statement,
"Thank you! I'm so honored to be the Republican Nominee for Congress in District 1. Over 40,000 Republicans cast their vote in the primary! Our campaign is so blessed and grateful Thank you to all our volunteers who toughed it thru and found new ways to reach the voter, even though we were out-spent 4 to 1! A special thank you to my husband who never stopped until we got to the finish line.

Now let's Remember in November!"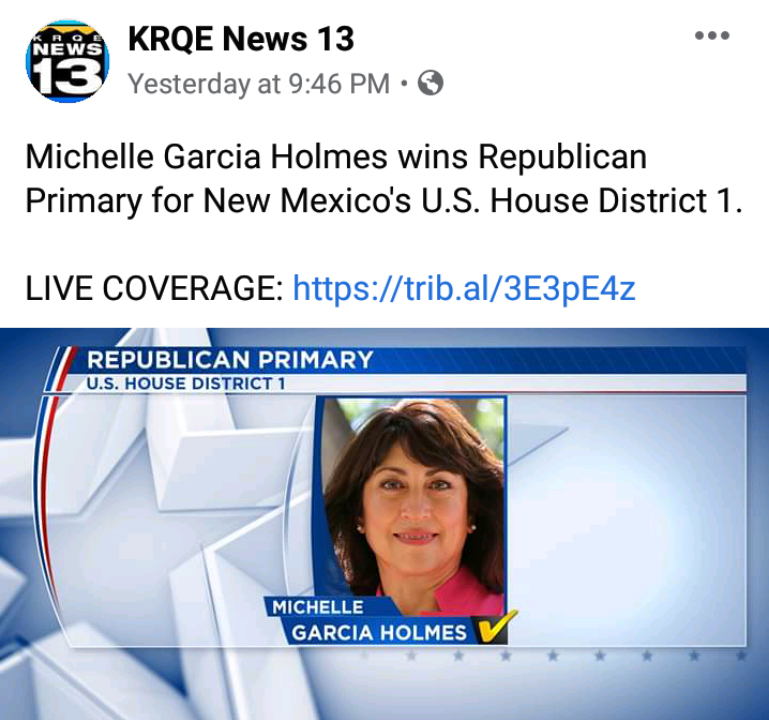 Michelle's #1 issue during the campaign has always been to protect the sanctity of life 100%. As she moves forward to face the radical pro-abortion extremist incumbent Deb Haaland (D) she will keep LIFE at the core of her campaign.
Michelle spoke to several local Democrat voters who weren't able to vote for her during the Republican primary election, but committed their vote to her in the general election on November 3, 2020 because she will defend LIFE in Washington, D.C.! ​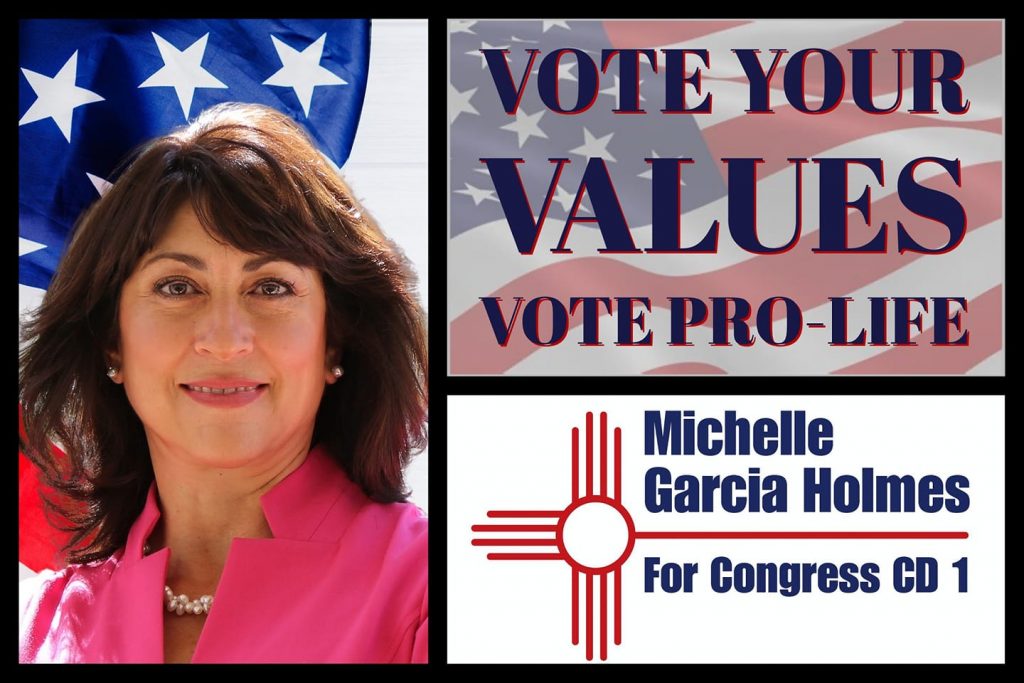 The Battle Continues
November is still a long way off and Michelle Garcia Holmes has a tough battle before her, but with hard work to get out the vote, our prayers and support, and with God on her side, we really believe that she can accomplish ultimate victory on November 3rd!
Until we get new leadership in New Mexico, babies continue to die by abortion and our tax dollars continue to pay for them! So our prayers, protest and our work to make New Mexico abortion free must continue.
Please join us and put your faith into action this Friday at the University of New Mexico's late term abortion facility for just one hour this week from 10AM-11AM.
Jesus to his disciples in his darkest hour, "Couldn't you keep watch with me for one hour?" Matthew 26:40
While an hour of prayer seems so minimal of a commitment, it meant so much to Jesus in his darkest hour and it means everything to the babies scheduled for death at UNM.​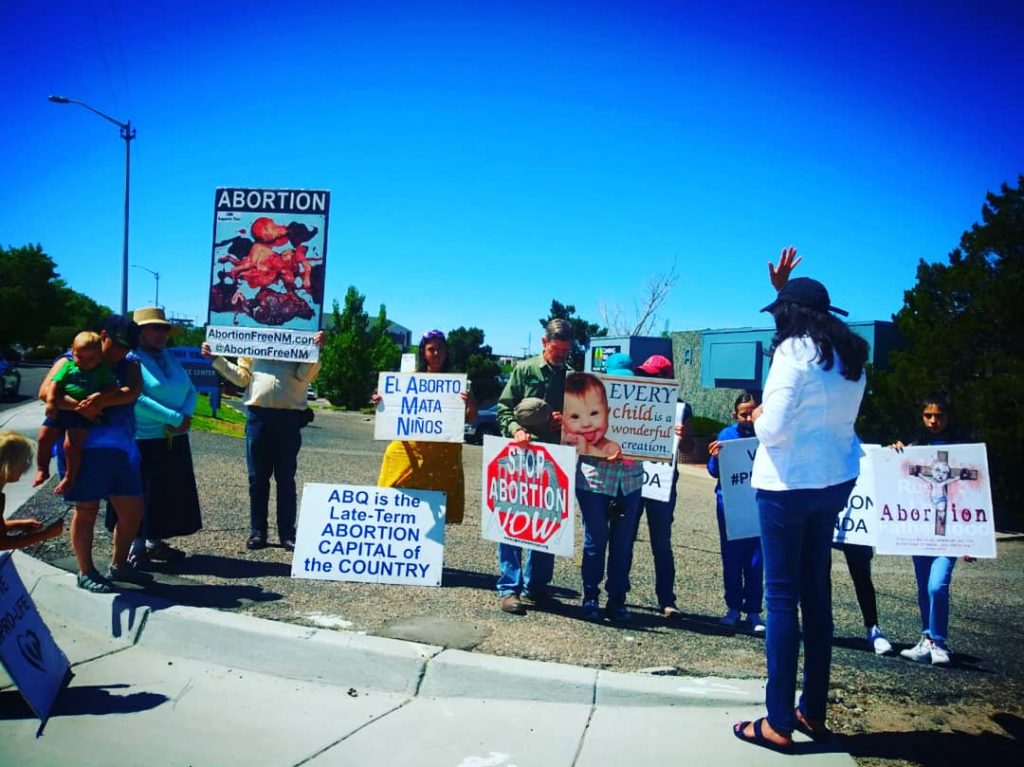 Michelle Garcia Holmes has been joining us for "Faith To Action Friday" at UNMCRH and interviewed both Bud and Tara Shaver of Abortion Free New Mexico live on location.​
Click here to watch Bud's Facebook live interview
Click here to watch Tara's Facebook live interview
THIS FRIDAY FROM 10-11AM JOIN US AND PUT YOUR FAITH INTO ACTION
"It's important for us to remember that even in the midst of a crisis we must maintain our unalienable rights as American citizens. We forfeit these rights if we don't use them. It only takes an hour to make a lasting difference and have an impact for LIFE. Now more than ever, we need to pray collectively, publicly, and strategically. Our presence has the ability to reform The University of New Mexico – UNM so that they get out of the abortion business!" Bud Shaver, Abortion Free New Mexico

Abortion is their dirty little secret that must be exposed
If you can't join us, please keep our efforts in your prayers that hearts will be touched and eyes will be open to the truth about abortion in New Mexico.
UNM is at the heart of the abortion cartel in New Mexico, as a publicly funded institution UNM consistently promotes a culture of death and is actively training the next generation of abortionists…