HIJACKED: ABQ City Budget Funds $250,000 To Planned Parenthood Only $100,000 To Barrett House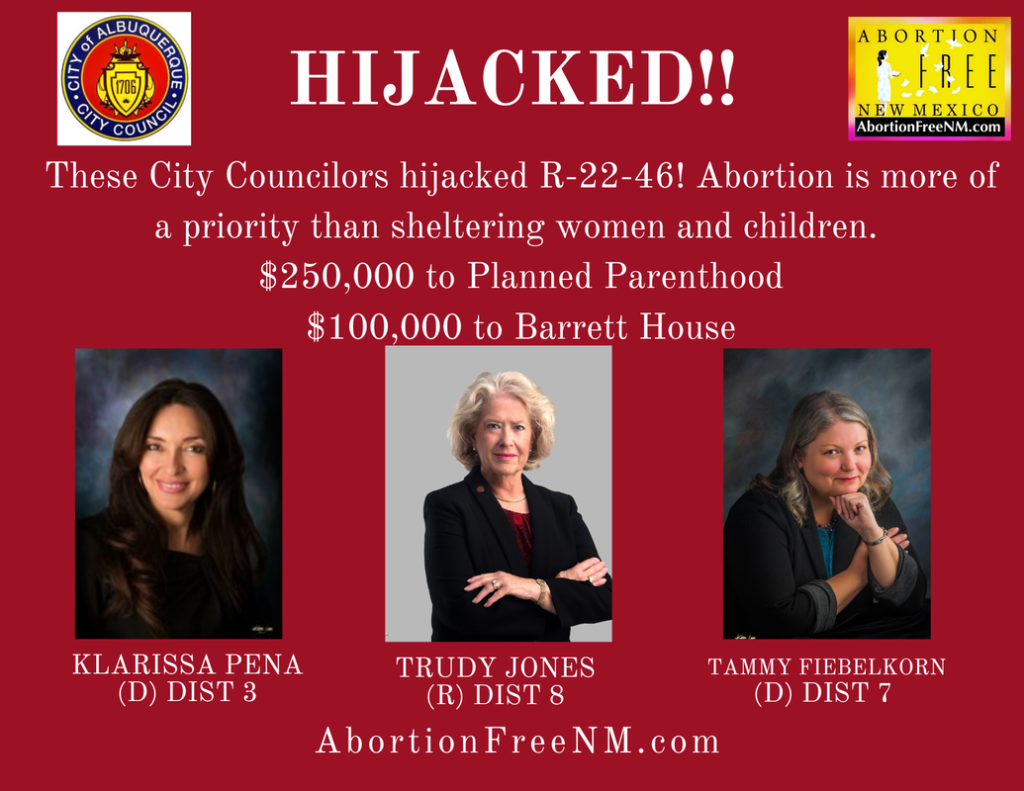 By Bud Shaver
Albuquerque, New Mexico- Albuquerque City Councilor Renee Grout's effort to re-appropriate $250,000 away from Planned Parenthood was hijacked Monday night, August 15, 2022, and ultimately failed. The Albuquerque City Council voted to approve an amended version of R-22-46 which will now give $250,000 to Planned Parenthood of the Rocky Mountains as well as $100,000 to the Barrett House and $100,000 to the Community Energy Efficiency Project.
The amendment that hijacked Grout's original intent to prevent $250,000 taxpayer dollars from funding the nations largest abortion provider was sponsored by Councilors: Tammy Fiebelkorn (D), Trudy Jones (R) and Klarissa Pena (D). Once again a Republican, Trudy Jones, voted with liberal progressive democrats to ensure that Planned Parenthood will receive taxpayer dollars which violates the consciences of many residents in the city of Albuquerque.
​There were many present in support of Councilor Renee Grout's amendment to re-approppriate the Planned Parenthood funds to the Barrett House, they spoke very rationally about the need to use those funds to help homeless women and their children which would alleviate some of the crisis our city is currently experiencing. Many shared that it makes more sense to use the funds for the immediate needs of our community and that taxpayers should never be forced to pay for abortions.
Most of those who spoke in favor of funding of Planned Parenthood were members of the Party for Socialism and Liberation. They called for an increase in funding to Planned Parenthood due to the increased traffic the state anticipates in the wake of the overturning of Roe v Wade. The original sponsor of the bill, Tammy Fiebelkorn, agreed with their call for additional funds and she made it clear that she is an unapologetic supporter of the business that kills over 300,000 babies in the womb each year.
Councilor Dan Lewis rightly pointed out,
"Planned Parenthood of New Mexico performs surgical dismemberment abortions up to 5 months gestation and brings in an annual revenue of $4.7 million dollars!"
Lewis raised the question as to why Planned Parenthood need additional money from Albuquerque taxpayers. This unfortunately did not sway the 5 members of the council that ultimately voted to pass the bill.
Isaac Benton, (D) District 2
Klarissa Peña, (D) District 3
Pat Davis, (D) District 6
Tammy Fiebelkorn, (D) District 7
Trudy Jones, (R) District 8​
"Abortion Free New Mexico is grateful for Councilor Grout's effort to re-appropriate the funds away from Planned Parenthood and into the hands of organizations that provide real help for homeless women and children. Elections have consequences and the residents of Albuquerque must work to replace council members like Trudy Jones who depart from their party platform and refuse to listen to their constituents. Last night's vote was unconscionable, reckless and should motivate us to change the makeup of our city council, " stated Tara Shaver spokeswoman of Abortion Free New Mexico.
If you live in District 8, which includes Albuquerque's Far Northeast Heights and Foothills, please consider running for that City Council position to unseat Trudy Jones in November 2024.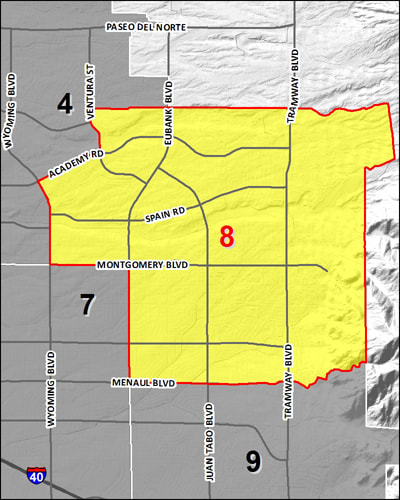 RELATED ARTICLES: