Action Needed: Contact ABQ City Council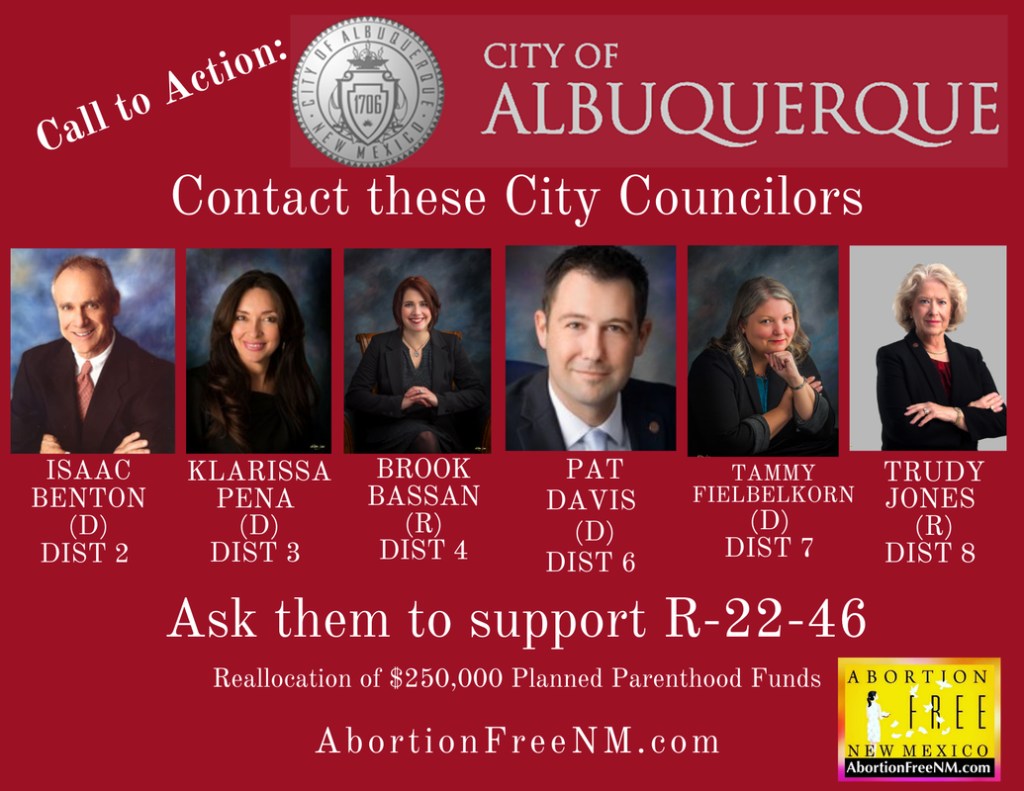 By Bud Shaver

Albuquerque, New Mexico- On August 15, 2022 the Albuquerque City Council will discuss and vote on reappropriating the $250,000 tax payer dollars that were approved in the city's budget in May. Albuquerque residents have the opportunity to let their voices be heard in support of the reallocation of funds, either in person or by email using links below.
City Councilor Renee Grout is the sponsor of R-22-46 which will reallocate these funds to the Barrett House and Youth Homeless Shelters. Abortion Free New Mexico has referred numerous homeless women to the Barrett House over the years for shelter and assistance.
Tara Shaver, spokeswoman for Abortion Free New Mexico issued the following statement:
"The decision made by the Albuquerque city council to give taxpayer money to Planned Parenthood sets an unconscionable precedent, tax paying citizens should never be forced to fund businesses that perform abortions or advocate for the killing of pre-born children. Abortion Free New Mexico is grateful to councilor Renee Grout, who proudly signed Abortion Free New Mexico's a pro-life pledge, for taking a pro-active approach to redirecting these funds."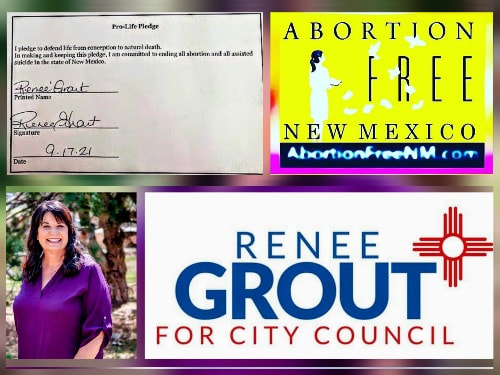 Let's support Councilor Grout's efforts to redirect these funds. Please let your voice be heard as a resident of Albuquerque and respectfully ask these city councilors to support the reallocation of these funds so that they may be used to benefit women, children and youth.
​
Click HERE to EMAIL Albuquerque City Council Members.
Click HERE to Sign up for IN PERSON public comment before 4:00pm on Friday, August 12. (In person comments will take place on Monday August 15)
Below is a sample message provided by our friends at Family Policy Alliance of New Mexico that you can copy and paste.
​Sample Message:
Please Support R-22-46 ​

Dear Council Member,

As a concerned citizen in New Mexico, I urge you to support R-22-46 reappropriating the funds originally designated to Planned Parenthood in the city budget. Planned Parenthood is a private, billion-dollar organization providing services that violate the consciences of many taxpayers. I believe it is a better use of taxpayer dollars to fund solutions to real and current issues such as our women, children, and youth homelessness.

Thank you
RELATED ARTICLES: