GAME CHANGER: ALL CHARGES DROPPED FOR RED ROSE RESCUERS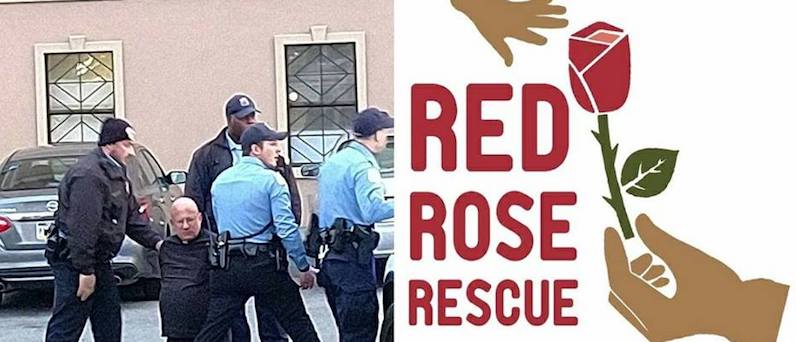 By Bud Shaver
Albuquerque, NM – A small BUT aggressive network of organizations have criticized, demonized and even ostracized participants of Red Rose Rescue outreaches nationwide, even those who organized and participated in a Red Rose Rescue here in Albuquerque, New Mexico where no one was even arrested ?
. Those in the pro-life movement who publicly oppose these peaceful efforts… are missing the forrest for the trees.
Red Rose Rescue outreach is the ULTIMATE sacrificial act of peaceful non-compliance to government sanctioned, government sponsored, and government FUNDED mass murder of pre-born children. 
These Red Rose warriors for Christ do not arm themselves with weapons of hate and violence to confront the violence of abortion. They are RADICALLY countercultural, they storm the gates of hell with weapons of sacrificial LOVE willing to face an un-just arrest and they arm themselves with
 Red Roses. 
Fr. Stephen Imbarrato: The Protest Priest explained the Red Rose Rescue to LifeSiteNews.com
Once inside, these pro-lifers quietly speak with mothers and others seated in the waiting rooms and offer them red roses as a symbol of life. In addition to reaching out to the mothers, rescuers choose to remain in the facility as an act of solidarity with the unborn children scheduled to be killed by abortionists" said Imbarrato, of Priests for Life and has been previously arrested in Red Rose Rescues.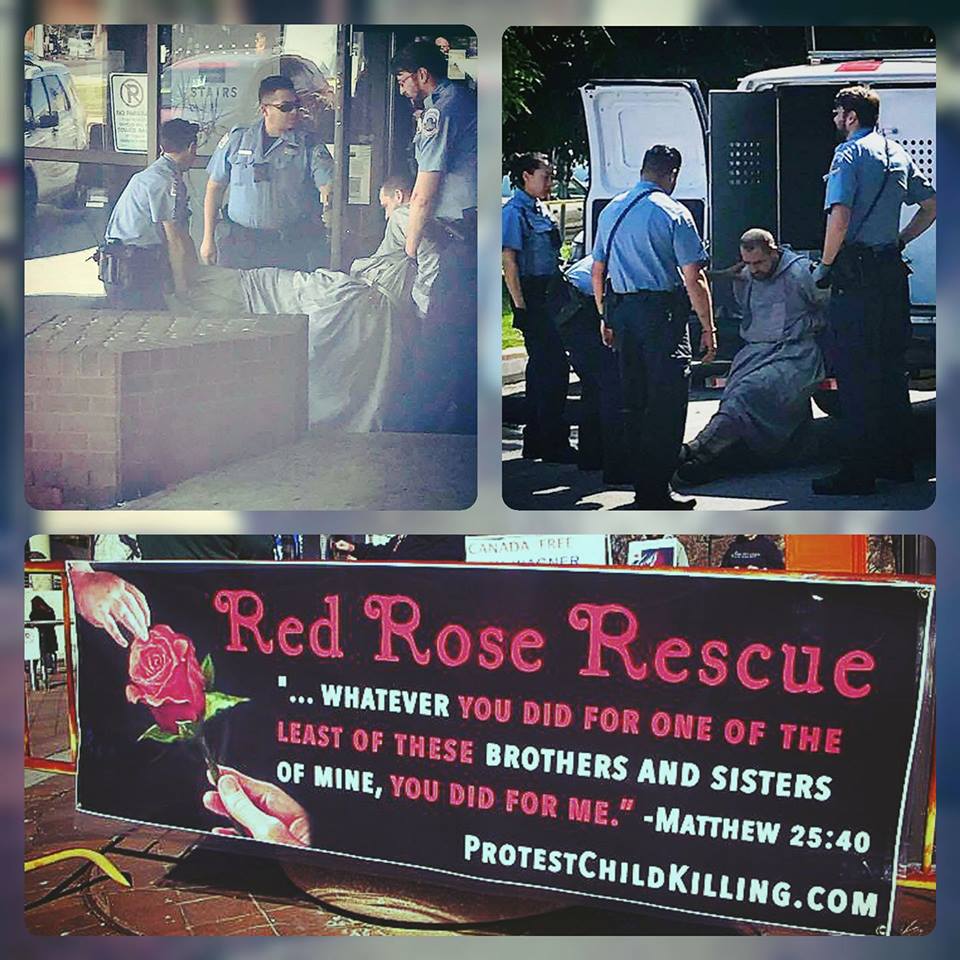 MAY 26, 2018 RED ROSE RESCUE Washington D.C. (Fr. Fidelis of the Franciscan Fathers of the Renewal pictured being arrested)
These peaceful Red Rose Rescue efforts have exposed the hypocrisy dominating our modern mainstream media driven culture that allows anti-gun activists to storm grocery stores nationwide in a Publix Die In which was a highly publicized and an applauded act of civil disobedience.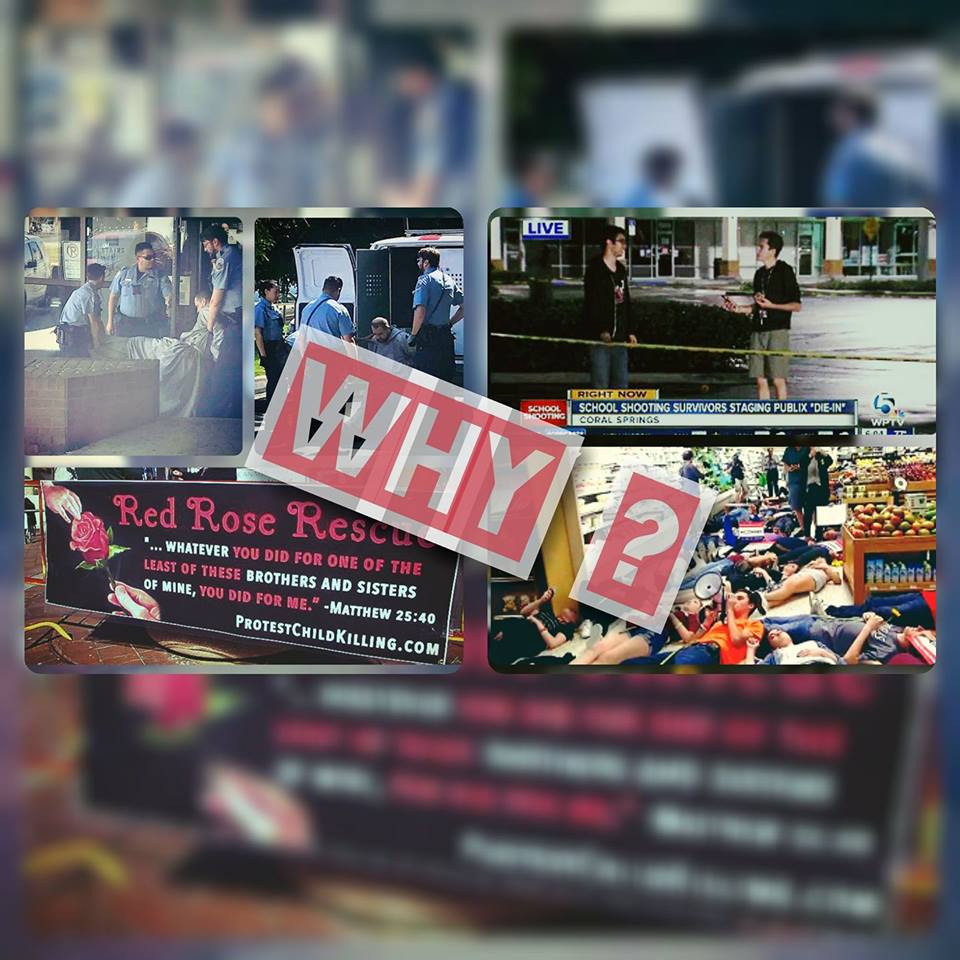 WHY are Red Rose Rescuers being arrested, when teenagers lying in the middle of aisles at Publix Die In are not?
However, an amazing breakthrough occurred over Memorial Day weekend when 4 rescuers were arrested on Saturday May 26, 2018. ALL of the CHARGES against ALL of the Red Rose Rescue participants were DROPPED!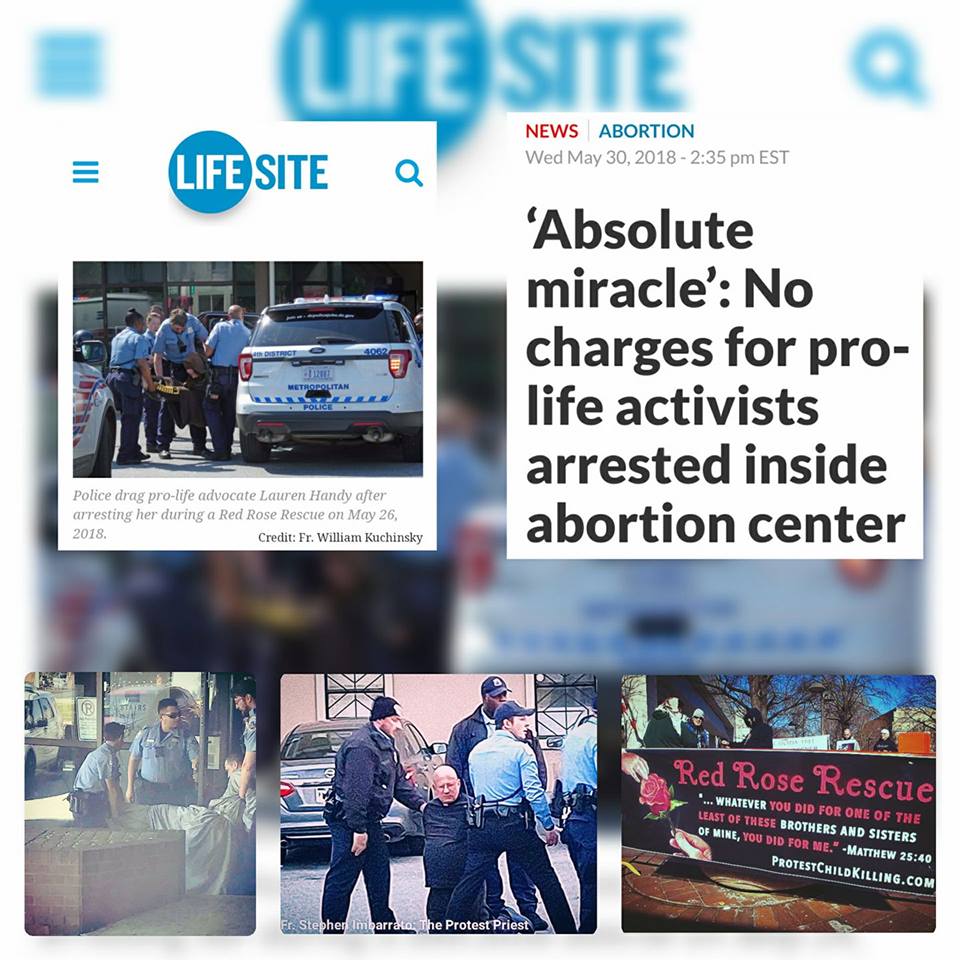 Monica Miller of Citizens for a Pro-Life Society, who oversees the national Red Rose Rescue efforts, reveals just how unprecedented the developments are. In the past Red Rose Rescue trials, the judges presiding over the cases have not allowed Red Rose (RR) Rescuers to present a "necessity defense" for the pre-born children facing imminent death. HOWEVER with the RR Rescue in Washington D.C. on May 26, 2018 the law enforcement officers viewed their peaceful efforts as a valid "necessity defense" EVEN if they had in fact broken trespassing laws and dropped ALL charges BEFORE they had to appear before a judge:
The pro-lifers, namely Father Fidelis Moscinski of the Franciscan Friars of the Renewal, 26-year-old Lauren Handy, Adele Gillhooly and Baby Jane Doe (pro-lifer who will remain anonymous in jail in solidarity with the nameless, unwanted unborn–as of right now she is still in jail) talked to the mother's scheduled for abortion, handed out literature, and offered red roses to everyone. A few women did take the roses and the literature, and indeed one woman named Esperanza left the clinic after Baby Jane Doe counseled her.  Esperanza came down into the parking lot and was counseled again by sidewalk counselor and Red Rose Rescue supporter Bonnie Borel.  A boyfriend and girlfriend who tried to enter the clinic were given a rose by Fr. Fidelis and they also left.

Amazingly– [charges and indeed the trespass citations] were dropped against all three RR Rescuers.  A police officer explained the dropped charges this way:  Last week a man who was in possession of an illegal hand gun used the gun to shoot a dog who was mauling a child, thus saving the child from serious injury, even death. Under the circumstances the police opted not to charge the man with the illegal hand gun possession. Apparently the DC officers, and possibly with the cooperation of the district attorney, sees the Red Rose Rescuers in the same light. In other words, technically they many be in violation of the law, but they were attempting to save lives and so may not be charged with any crime–and [all of the] rescuers' charges have been dropped. Such a disposition on the part of law enforcement in a pro-life rescue situation is unprecedented.
THESE BREAKING DEVELOPMENTS have REVEALED THE KEY TO RED ROSE RESCUE SACRIFICIAL EFFORTS: FULL NON-COMPLIANCE TO THE CORRUPT, IMMORAL, CHILD KILLING, TAX FUNDED SYSTEM.
"While not everyone is able to participate in Red Rose Rescues, those who are laying down their lives for the babies deserve our prayers and respect. There is a place for everyone in the pro-life movement, let's all work together to end the scourge of abortion in our nation and lift each other up in this battle for LIFE," stated Tara Shaver, Spokeswoman for Abortion Free New Mexico.
If you would like to participate in a Red Rose Rescue please contact Fr. Stephen Imbarrato: frstephen@defendinglife.org
In addition to organizing and participating FULLY in the Red Rose Rescue efforts nationwide, Fr. Stephen Imbarrato also has a decisive strategy to END abortion called the Personhood Proclamation.
Read more about the Personhood Proclamation and how you can HELP to get this EXECUTIVE ORDER to the desk of President Donald Trump for his signature here: ProtestChildkilling.com
The Red Rose Rescues are modelled after the actions of Canadian Mary Wagner, who has spent nearly five years in jail for her peaceful attempts to save women and children from the violence of abortion.

Wagner, currently not in jail, has a trial July 12 for similar rescue efforts in Toronto.