By Bud Shaver
Albuquerque, NM- Alex Curtas who worked as "Communications Director" for the RADICAL LEFTIST group Progress Now New Mexico IS NOW THE "Communications Director" for the Office of the New Mexico Secretary of State and is giving statements about an ongoing investigation…
(Wait for it)
REGARDING ELECTION FRAUD IN NEW MEXICO!!!
"New Mexico Secretary of State spokesman Alex Curtas said Friday the office is scheduled to certify results by Nov. 27 that will show, according to unofficial results, Torres Small defeating Republican Yvette Herrell."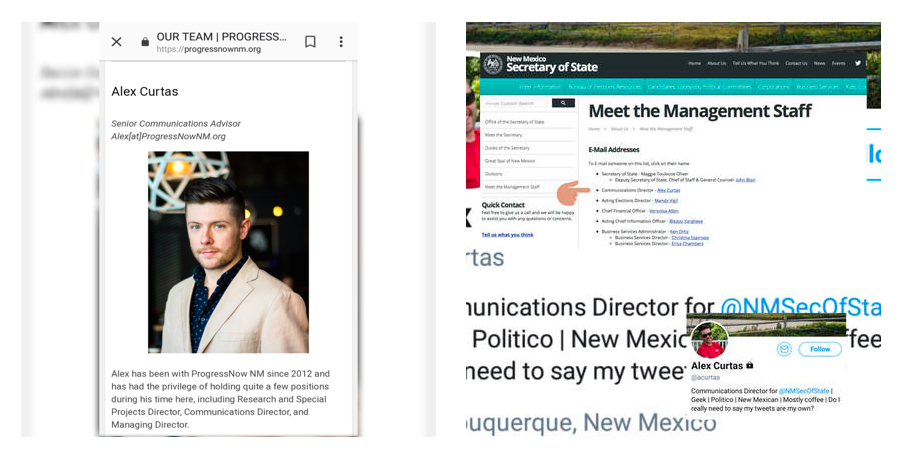 Oh yeah, New Mexicans should have real confidence that no shenanigans are going on…
It's not the Russians that are influencing, giving public statements regarding an ongoing election fraud investigation and who've already been blocked by the New Mexico Supreme Court for attempting to rig our election. In New Mexico, apparently it is the RADICAL LEFTIST DEMOCRATS in the Office of the New Mexico Secretary of State. Every New Mexican voter, regardless of political ideology, should be concerned whenever an EXTREME political bias has been exposed as running rampant throughout the very office that is supposed to safeguard free and fair elections in New Mexico," stated Tara Shaver of Abortion Free New Mexico.
FLASHBACK:
ACCORDING TO THE GATEWAY PUNDIT:
More shady politics in New Mexico.
The Dona Ana Republican Party issued the following statement regarding Yvette Herrell's lawsuit alleging potential voter fraud in New Mexico,
"The Lawsuit has been filed and now is the time to contact our office with any irregularities you witnessed while voting or while trying to vote.

​We need to go through the procedure of recording more Voter Incident Reports. (575) 523-8683"