By Bud Shaver
Albuquerque, NM- New Mexico's Pro-Death democrats have introduced TWO identical pro-euthanasia bills, HB 90 and SB 153, this legislative session into the New Mexico House and Senate.
HB 90: (House Bill) ELIZABETH WHITEFIELD END OF LIFE OPTIONS ACT
Legalizes Assisted Suicide.
Sponsored by:
Deborah A. Armstrong
Elizabeth "Liz" Stefanics
SB 153: IDENTICAL (Senate Bill) ELIZABETH WHITEFIELD END OF LIFE OPTIONS ACT
Legalizes Assisted Suicide.
Sponsored by:
Elizabeth "Liz" Stefanics
According to Alex Schadenberg of the Euthanasia Prevention Coalition,
"HB 90 [SB 153] is the most dangerous assisted suicide bill I have ever seen."
More information about this troubling legislation and its implications on New Mexico:
Newly elected Governor of New Mexico, Michelle Lujan Grisham (D) stated during the election that she supports the legalization of assisted suicide.
Take Action:
CONTACT YOUR LEGISLATOR AND RESPECTFULLY ASK THEM TO OPPOSE EUTHANASIA BILLS HB 90 AND SB 153 ALSO ASK THEM TO OPPOSE HB 51 THAT REPEALS CRIMINAL ABORTION LAW

A tax deductible donation of any amount will keep the billboard up on I-25 between Albuquerque and Santa Fe for the full 60 day legislative session! The billboard initially cost $1,043.19 to put up BUT ONLY COSTS $500 FOR AN ADDITIONAL MONTH!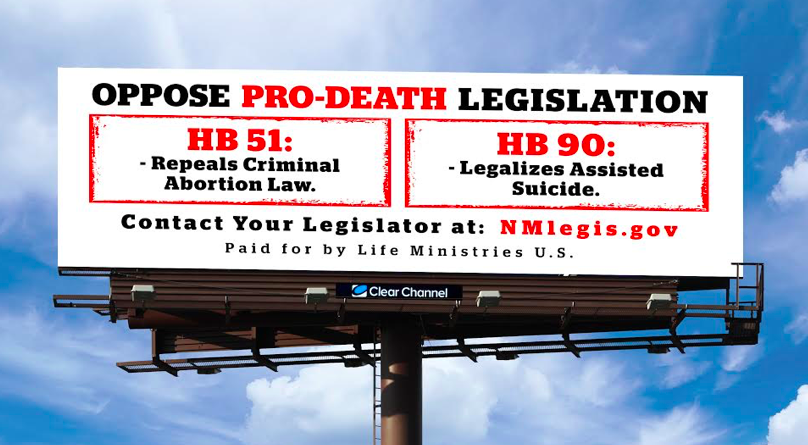 ONLY $500 WILL KEEP THIS BILLBOARD UP ON I-25 THE FULL 60 DAYS OF LEGISLATIVE SESSION

CLICK HERE TO DONATE TODAY
(Select Abortion Free New Mexico in the ministry tab and designate Billboard)
That's not all, there's more!
In addition to the billboard, we have already launched a STATEWIDE postcard campaign NEARLY 3,000 postcards are set to be delivered THIS WEEK!
UDATED POSTCARD DESIGN WITH SB 153 INFORMATION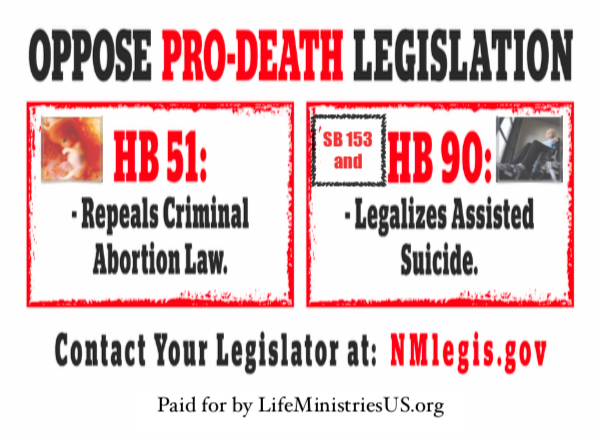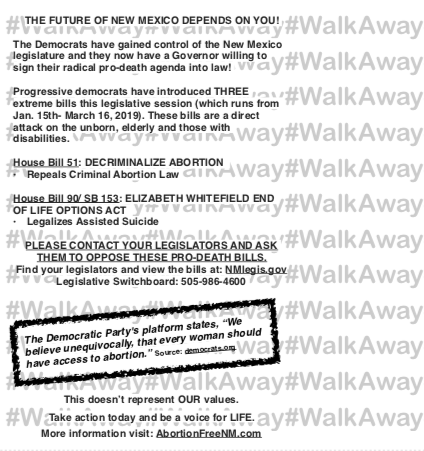 WE SENT POSTCARDS TO 1,000 CHURCHES ACROSS NEW MEXICO TO EDUCATE AND ACTIVATE THEM WITH THIS ALTERNATE WORDING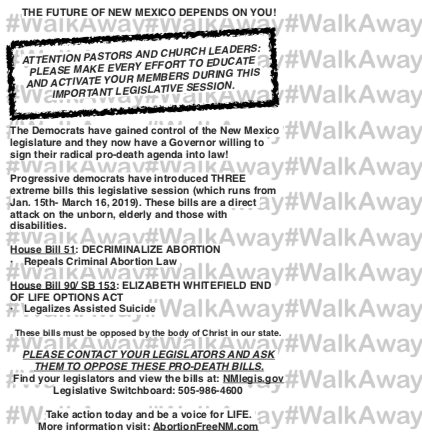 However we want TO REACH MORE VOTERS! EVERYvoter needs to be aware of these bills and to contact their legislators asking them to OPPOSE PRO-DEATH LEGISLATION!
Please prayerfully consider DONATING TODAY to help us REACH AS MANY PEOPLE AS POSSIBLE:
For more information about our umbrella non-profit and affiliate ministries visit: LifeMinistriesUS.org

RELATED NEWS:
Thank you for standing with us for life and truth!
"Therefore we ought to support people like these, that we may be fellow workers for the truth." (3 John 1:8)