"Woe to those who call evil good and good evil."

Dear Friends,
The Lord continues to work in our midst here in New Mexico, and for that we are grateful. We are also so thankful for you and your faithfulness. Unfortunately, there are no political solutions to end abortion in our state, we however still have a strategy to work that can close abortion facilities and bring accountability. It is now going to be more important than ever to work at the grassroots level together, to save babies lives. May we find comfort and encouragement from Hebrews 10:23- "Let us hold unswervingly to the hope we profess, for he who promised is faithful." God Bless You!
Thank you for your continued prayers, support and for standing with us for LIFE.
Breaking: 28 Week Pre-born Baby Dies in Utero After Maternal COVID Vaccination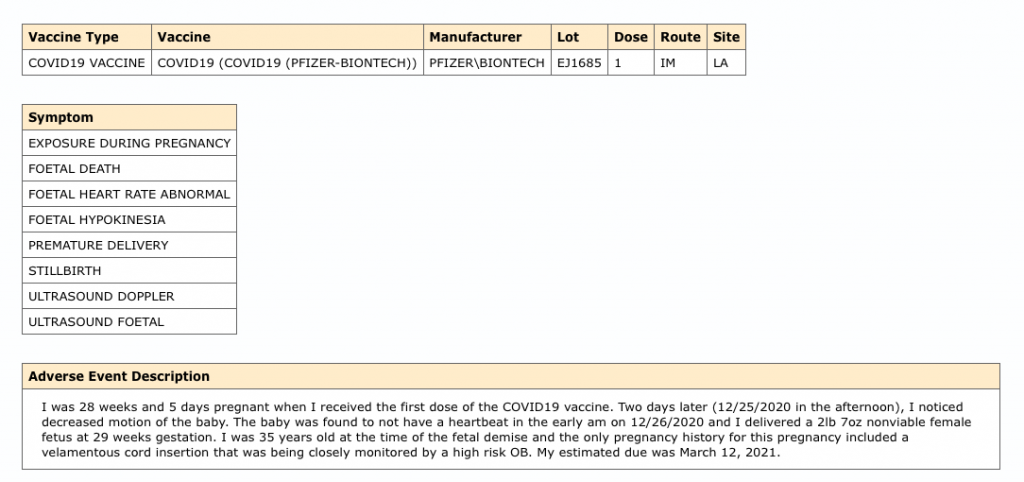 This month, Abortion Free New Mexico was alerted to the apparent death of a 28 week old baby in utero that occurred just three days after the baby's mother received the Pfizer-BioNTech COVID-19 vaccine.
Tara Shaver of Abortion Free New Mexico issued the following statement,
"Our hearts go out to this mother who has lost her child after taking the Pfizer COVID-19 vaccine. When a women miscarries her pre-born child three days after receiving a vaccination it should sound an alarm for all pregnant women considering a COVID-19 vaccine. Despite this fact, women are currently going to their OB-GYN prenatal appointments and are being offered the COVID-19 vaccine even though it has not been properly tested and can actually harm or potentially kill their babies in the womb. Overall, there is so much uncertainty and cause for concern regarding the use of the four fast tracked COVID-19 vaccines that are currently being distributed. Additionally, the fact that vaccine manufacturers are fully shielded from liability from any and all vaccine deaths and injuries is incredibly disconcerting."
The Ethical and Moral Implications of the COVID 19 Vaccine
The use of aborted fetal cells in the COVID-19 vaccines is raising more red flags for those who value life. For the pro-life community, in particular, this issue has tremendous ethical and moral implications. Just as the pro-life community does not want to fund abortion procedures through federal or state tax dollars, more are beginning to object to receiving vaccines made with the use of aborted fetal cells, that are prevalent in many vaccines, not just the COVID-19 variations.
According to Children of God For Life, whose mission is to effectively oppose the use of aborted children in biomedical research,
"All vaccines for the COVID-19 virus being distributed are produced and/or tested with cell lines that originated from an aborted child."
The Pfizer BioNTech COVID 19 vaccine used the HEK293 fetal cell line, originating from a healthy aborted baby in the 1970's, in their research and development and they used the same cell line to test the vaccine.
Johnson and Johnson used the PER.C6 fetal cell line that originated from a healthy 18 week old aborted child.
Moderna used the HEK293 fetal cell line in their research and development.
Astrazenca also used the HEK293 fetal cell line in their research and development.
"The fact that vaccines are being distributed that use aborted fetal cells in one way or another places people of conscience in a moral dilemma. Under the pretense of saving lives, vaccine manufactures are actually exploiting the lives of innocent pre-born children that our society has deemed unwanted. These ethically compromised vaccines are counterproductive, are causing miscarriages as well as other adverse reactions and as is the case with the Merck vaccine, they are not even effective in protecting you from contracting COVID-19," stated Tara Shaver.
Radical Pro-Death Dems Voted Their Party Not Their Faith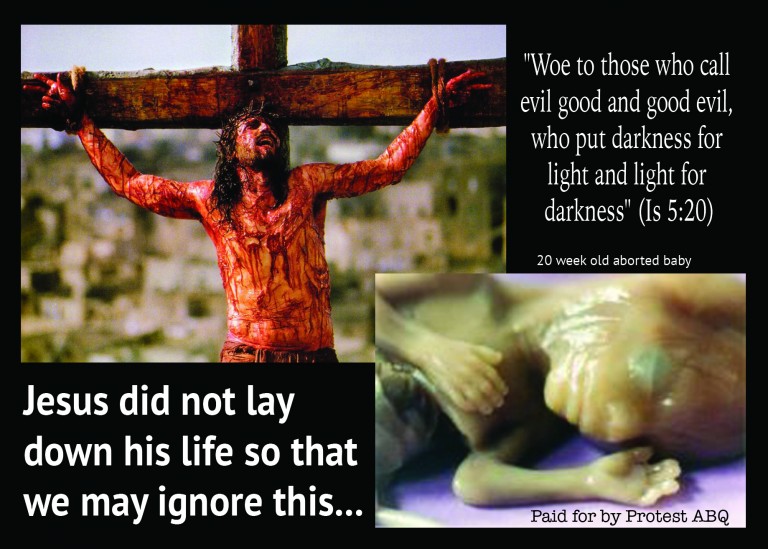 We are disappointed to report that S.B. 10 "Repeal Abortion Ban" was passed this month!
New Mexico Governor Michelle Lujan Grisham (D) announced on, February 26, 2021 that she signed S.B. 10 "Repeal Abortion Ban" which strips the 1969 Criminal Abortion Statute off the books.
"With the stroke of a pen, New Mexico Governor Michelle Lujan Grisham just erased 52 years of progress and protections for New Mexico women and pre-born children. The New Mexico legislature erased decades of debate and technological advancements that scientifically prove and protect the humanity of the baby in the womb. During the debate on the House and Senate floor, all of the 28 sponsors of S.B. 10 'Repeal Abortion Ban', refused to answer questions over and over again when pressed for comment. Senator Jacob Candelaria (D-Bernalillo) went so far in his irrational and unscientific denial of the of the development of the child in the womb, when he threw a fetal model of a 12 week old baby that was biologically accurate in the trash calling it, 'offensive'! It is astounding that the 1969 New Mexico legislature was more committed to science and rational debate than our current legislature in 2021," stated Tara Shaver, spokeswoman for Abortion Free New Mexico.
From NM Senate debate today on abortion up-to-birth and infanticide S.B. 10: Sen. Jacob Candelaria (D-Bernalillo) calls models of 12-week old baby babies provided by Right to Life of NM "offensive" and claims life doesn't begin at conception (despite medical science). Watch ⬇️ pic.twitter.com/uEHbZLBF2M

— Piñon Post (@PinonPost) February 12, 2021
Shockingly, we identified several self proclaimed Christian and Catholic democrat legislators who chose their party over their faith and voted to pass it. All of the Republican legislators voted against it. Unfortunately, radical democrats now hold a literal DEATH grip over the New Mexico legislature with a supermajority!
Prominent Pro-life priest Fr. Stephen Imbarrato, director of Life Ministries U.S. issued the following statement,
"As I drive around New Mexico and I see the homelessness, the poverty, the bankrupt businesses and I talk to people whose lives have been destroyed and who are in despair, the Democrats focus on legitimizing the murder of the pre-born till the day of birth and legalizing assisted suicide of the medically, emotionally, and psychologically vulnerable. As a Catholic priest, I cannot remain silent while our politicians, many of them Catholic including the Governor, legalize the mass murder of their own people while ignoring those who are truly suffering and in need. The outcry of the Church should be deafening! May Jesus have mercy on us for perpetrating and allowing this evil."
In Shocking Admission, UNM Celebrates Abortion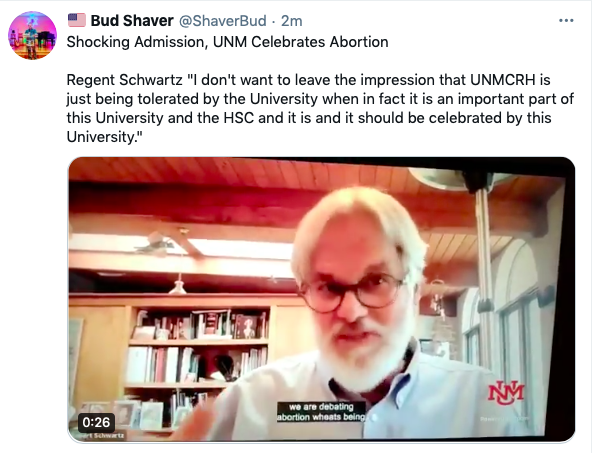 In a shocking admission this month, University of New Mexico (UNM) Regent Robert Schwartz celebrates UNM's participation in the killing of babies up to 24 weeks old in the womb and designated those who perform these late term abortions as heroes above those in the medical community who actually work to save lives every day. This occurred during a bi-monthly virtual Board of Regents Meeting where local concerned citizens spoke out against this atrocity.
On Tuesday February 16, 2021, Abortion Free New Mexico's, Tara Shaver, prominent pro-life priest Fr. Stephen Imbarrato and Stephen Harrington, a concerned pro-life UNM alumnus of the "Anderson School of Business" (class of 1983) addressed the UNM Board of Regents regarding not only the University of New Mexico's persistence in maintaining their free-standing late term abortion facility, Center for Reproductive Health (UNMCRH), but also due to the offensive "Heroes Work Here" banner that has drawn attention and criticism from the pro-life community.
For years Abortion Free New Mexico has worked to expose the radical abortion agenda stemming from UNM. From promoting embryonic stem cell research to recruiting and training the next generation of abortionists, UNM is at the heart of the New Mexico abortion cartel. This publicly funded institution utilizes tax dollars for their programs and for this reason it is time for the members of the community to speak directly to UNM leadership to express their concerns and demand that this extremist agenda is halted.
Related: THREE part series by Tara Shaver exposing the University of New Mexico's Radical Abortion Agenda:
Tara Shaver spokeswoman for Abortion Free New Mexico issued the following statement,
"Unfortunately, Regent Schwartz demonstrated with his comments that he places the killing of innocent babies in the womb as a top priority for instead the University of New Mexico. Schwartz claims that the The Center for Reproductive Health offers so much to the state but, in fact, it is not providing any services that cannot be obtained elsewhere. There is no extraordinarily good reproductive health care as Schwartz asserts because abortion is not health care, it is focused on terminating children in the womb and preventing reproduction. Family planning services, birth control and abortion are nothing more than a means to promoting a culture of eugenics and death in New Mexico. UNM should work to dismantle this facility and renew it's vision to truly provide excellence in education, patient care and research, have respect and compassion for all people, even the unborn, and to provide hope for those they serve, especially pregnant women who need love and support not abortions."
If you haven't already please sign our petition to contact the University of New Mexico (UNM) President Garnett Stokes, UNM Regents, and the UNM Medical Group. When you sign it, an email will automatically be sent to each of them:
Faith to Action Friday (1st Friday of the month)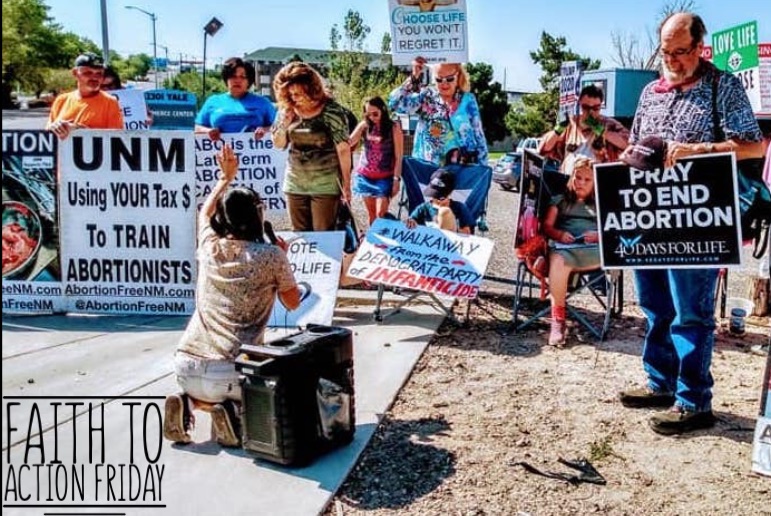 IMPORTANT UPDATE: We moved Faith To Action Friday to the first Friday of every month. This month we will meet on March 5th from 10AM-11Am.
Faith To Action Friday- Abortion Free New Mexico conducts a prayer and protest presence at the University of New Mexico's free standing abortion facility where tax funded UNM performs late-term abortions through 6 months of pregnancy. One hour is all it takes to save a baby's life and to light up the darkness in your community.
Join Us
Stand Up For Life in front of the University of New Mexico's free standing abortion facility.
Faith to Action Fridays: March 5th; April 2nd
Time: 10-11am
Location: UNM Center for Reproductive Health (2301 Yale Blvd. SE. in Albuquerque.)
Use street parking on Renard.
Please pray with us for New Mexico
For: Leadership at UNM to take our petition seriously and for them to take steps to close their free standing abortion facility.
For: Our latest collaborative project with Created Equal: Project Weak Link, New Mexico. We will be launching phase 2 soon…
For: Franz Theard to close his Santa Teresa, NM abortion center. Also, the closure of the other 4 abortion centers in the state.
For: Government corruption in New Mexico to be exposed and dealt with so that future elections are winnable for conservative candidates.
For: Our family as we prepare and anticipate the arrival of the next Shaver baby due to arrive in April.
Tara has an Amazon Baby Registry (here) for those who would like to send a gift for baby Shaver #5. Thank You!
We couldn't do this important work without God's calling and hand upon us as well as your faithful prayers and support. Thank you!
When you support our family through prayer or financially you are sowing into a kingdom effort. Our efforts are driven by our love for and relationship with the Lord and a desire to lead others to him. Babies in their mothers wombs are so often overlooked but they deserve a chance to be born and a chance to grow up and know the Lord as well. Every life is valuable!
Thank you for sowing into what the Lord has entrusted to us. Building a culture of life across this nation.
Please consider setting up a secure tax deductible monthly donation to help us with what's next in 2021.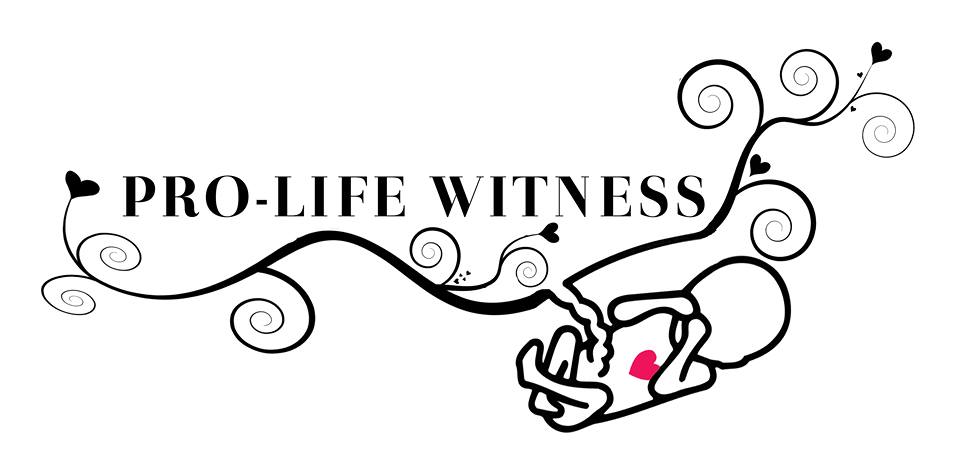 Thank you for standing with us for life and truth!
"Therefore we ought to support people like these, that we may be fellow workers for the truth." (3 John 1:8)
We are a Christian missionary family serving in Albuquerque, NM. Putting our faith into action, for the past 10 years we have exposed Albuquerque as the late term abortion capital of the nation and have worked to bring accountability to an unregulated abortion industry that is killing children in their mothers wombs up to the day of birth.
In order to be the most effective in our pro-life ministry, we do this important work full time while homeschooling our children and raising them to have a biblical worldview. We rely solely on the provision of the Lord and individuals like you to provide for our daily needs.
We would be blessed to have you partner with us in this ministry. Your prayers and support are invaluable.
*You can schedule a secure monthly or one time tax deductible donation online. Simply click the DONATE tab and select Bud and Tara- Pro-Life Witness from the drop down ministry menu.
*Checks made out to Life Ministries U.S. are tax deductible and can be mailed to P.O. Box 50351, Albuquerque, NM 87181
Blessings, Bud and Tara Shaver
Other Ways to Bless Our Ministry