WEEK 2- PRAYER AND FASTING FOCUS: NORTHERN NEW MEXICO PRO-LIFE SUMMIT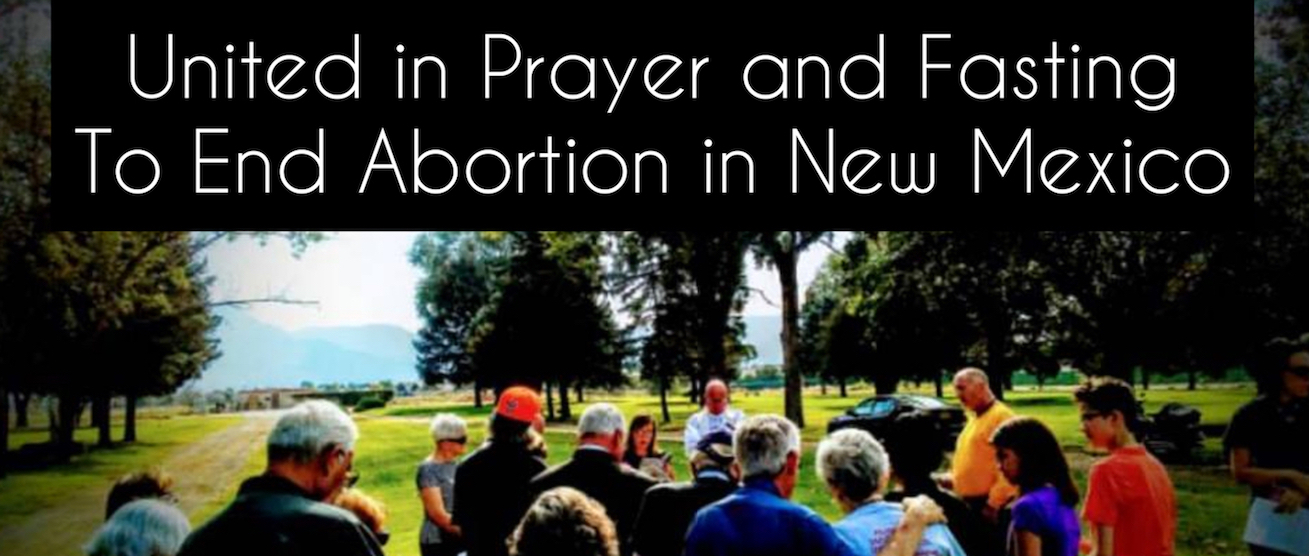 By Bud Shaver
Albuquerque, NM- For Week 2 of our prayer and fasting campaign we ask that you pray for the upcoming Northern New Mexico Pro-Life Legislative Summit on October 21, 2018. This summit like the one held in Albuquerque last month, has been initiated by Michelle Garcia Holmes who is running for Lt. Governor of New Mexico. All of the speakers are either currently holding office or running for various offices in the upcoming November 6th election and will share their pro-life stance.
BIBLE VERSE FOR REFLECTION THIS WEEK:
"Stand up for the weak and for children…" (Psalm 82:3)
Prayer points this week:
In addition to bold leadership, New Mexico needs solid pro-life legislation introduced and passed into law.
Pray for good attendance at this Summit.
Pray for a successful event.
Northern New Mexico Pro-Life Legislative Summit Details
(Please share with others)
You're Invited: Are you concerned about late term abortion in New Mexico? Do you want to learn how you can become a soldier for our children's future?
Please join New Mexico state legislators, congressional candidates and candidate for attorney general as they discuss their pro-life agendas. In addition, there will be a message from Congressman Steve Pearce.
Speakers: 
Congressman Steve Pearce for Governor of New Mexico
Rep. Rebecca Dow (District 38)
Rep. David Gallegos (District 61)
Jerald McFall for U.S. Congress
Michael Hendricks for NM Attorney General
Mick Rich for U.S. Senate
Moderated by Candidate for Lt. Governor Michelle Garcia Holmes Paid for by Garcia Holmes for Lt. Governor, DJ Heckes & James Francis, Treasurers
When: Sunday, October 21, 2018 from 2:00-4:00pm
Where: The River Santa Fe, 4001 Office Court Dr. Building 500 Santa Fe, New Mexico 87507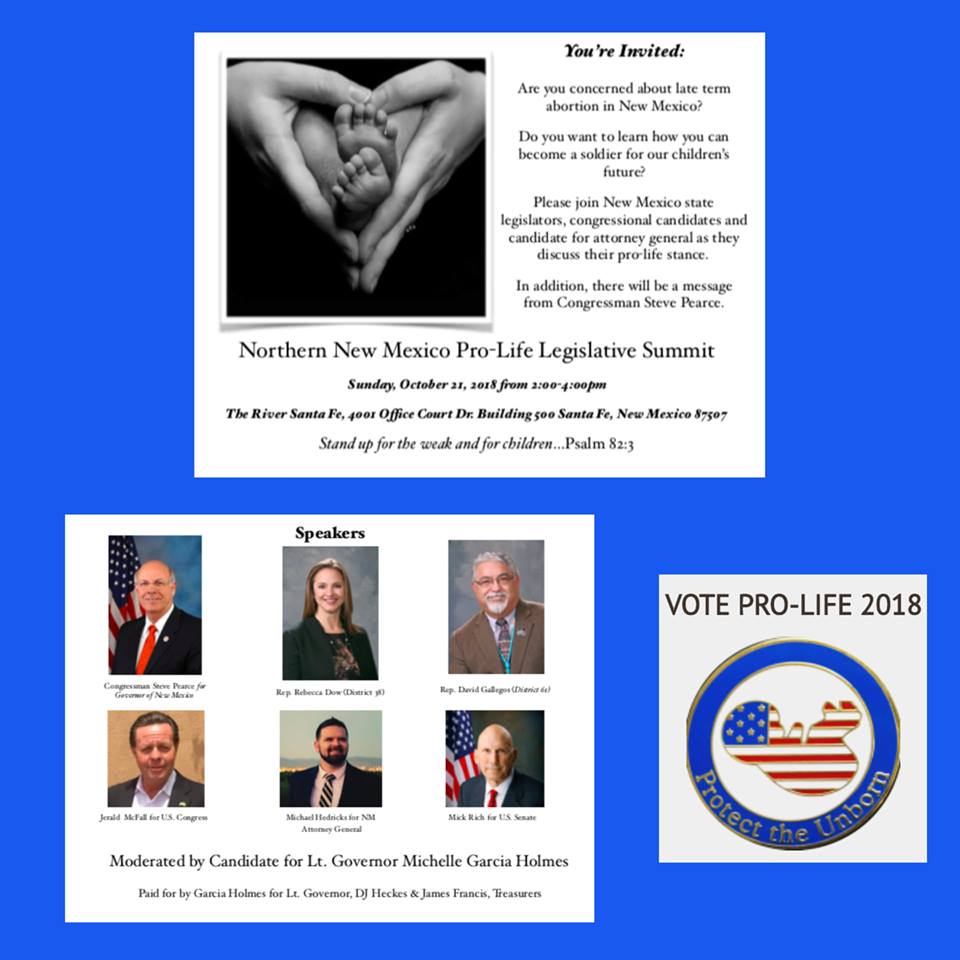 Abortion Free New Mexico has been asked to join in weekly prayer and fasting on Wednesdays during the month of October leading up to election day on November 6, 2018 specifically for the upcoming election and for an end to abortion in New Mexico. We invite those in the body of Christ who are able to, to join us in this spiritual discipline.
This is a united effort between both Non-Catholic and Catholic Christians who are committed to ending abortion in New Mexico.
Fasting can be done in many ways.
Some may choose to fast from sunrise to sunset.
Others may choose to fast from 6:00am-3:00pm as a partial fast.
For others, a fast might be one full meal for the day, as well as two smaller meals that together are not equal to a full meal.
The upcoming election is less than 30 days away and in New Mexico it will absolutely determine whether or not the Land of Enchantment elects leaders who will stand for justice and righteousness or corruption and bedlam.