We Must Never Shirk Back, Even In The Face of Seemingly Insurmountable Odds!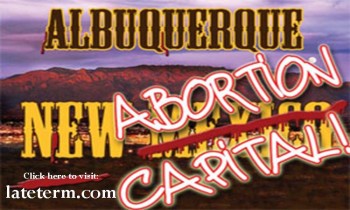 By Tara Shaver
On March 8, 2013 myself (Tara Shaver) and Evie Jilek, general counsel for Project Defending Life, met with the city of Albuquerque's District Attorney, Kari Brandenburg. This meeting was one of many we have recently held with various leaders throughout the state. In light of the tremendous amount of abortion injuries at local clinics, our concern is for the safety and health of women seeking dangerous third trimester abortions.
When presented the facts, DA Brandenburg seemed very concerned as well. In this conversation I think it was beneficial to converse women to women about such a delicate invasive procedure. As women, we understand each other and share a common concern for one another that crosses all perceived differences of opinion. Abortion really is, at any gestation, the greatest violation of the unique miracle that only women can experience. The reason for this meeting was to address the fact that there is a criminal abortion statute in NM [Section 30-5-1 NMSA 1978]. One of the things this statute mandates, is that post viability abortions are to be performed in an accredited hospital.
Southwestern Women's Options is not an accredited hospital but continues to perform these post viability abortions, which is one of the reasons why we continue documenting abortion injuries at a staggering rate in NM. On February 7 and March 1 women were transported from SWO by ambulance to local hospitals. It only makes sense that if SWO is unable to handle emergency situations that arise from the dangerous late term abortion procedure, then they should not be allowed to be done where adequate help is not available. We asked the DA to enforce this statute in the interest of women's safety. DA Brandenburg has agreed to look into the statute and potentially seek an opinion from the Attorney General to determine whether or not criminal charges can be filed.
I was pretty encouraged by this meeting because for once a true concern for how these abortions are done and how they affect women was taken in to account, in fact both DA Brandenburg and her Chief Deputy were visibly horrified. We trust that the DA will look into this statute and are thankful for the opportunity to bring these concerns to light. As a community we can all stand together in the interest of protecting women, it is our hope that this will happen and that it won't take a woman dying for everyone to wake up to what is actually happening here in Albuquerque.