WASHINGTON D.C. – EXPOSING LATE TERM ABORTION ACROSS AMERICA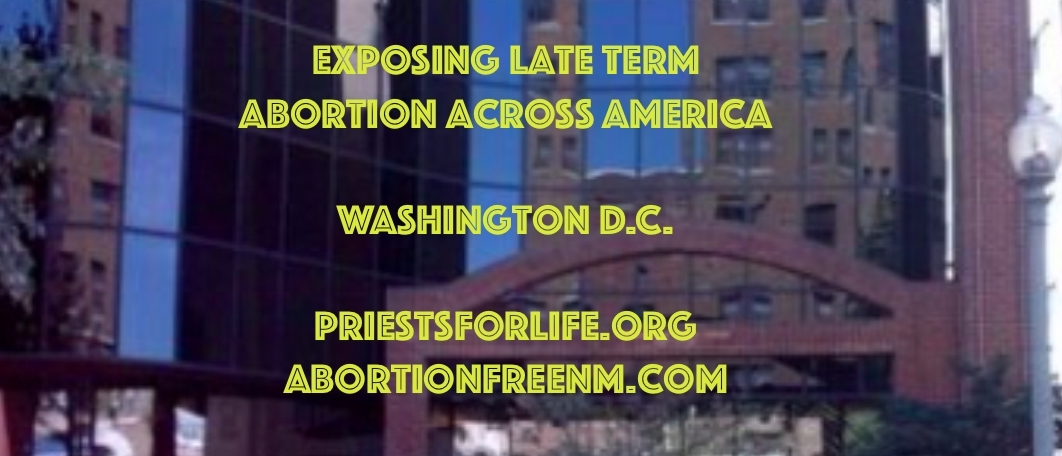 Priests for Life and Abortion Free New Mexico Continue Educational Campaign on Late Term Abortion
In Our Nation's Capital, 26-Week Abortion Scheduled
No Medical Emergency or Fetal Anomaly
Released by Priests for Life, the nation's largest Catholic pro-life organization dedicated to ending abortion and euthanasia.
Washington, DC – Fr. Frank Pavone, National Director of Priests for Life, released the following statement today from his Washington, DC office:
"Here in our nation's Capital, as in cities from coast to coast, healthy babies of healthy mothers are being killed at stages where they can survive outside the womb, as our 12th undercover phone call, released today, reveals.
CLICK HERE TO LISTEN TO THE UNDERCOVER CALL
"With the collaboration of our colleagues at Abortion Free New Mexico, these phone calls show that someone can easily make an appointment to have an abortion late in pregnancy. This particular call resulted in an appointment for an abortion at over 26 weeks, and the clinic personnel treated it in a routine way.
"Even people who identify as pro-choice reject abortion at these late stages of pregnancy. As a Knights of Columbus/Marist poll last year revealed, almost six in ten Americans support the protection of babies in the womb after 20 weeks of pregnancy. This includes 56 percent of people who identify themselves as 'pro-choice,' and 49 percent of those who identify as Democrats."
Tara Shaver of Abortion Free New Mexico added, "In our nation's capital, late term abortions are being performed on viable babies through 26 weeks of pregnancy. Washington Surgi-Clinic is performing these abortions on healthy women carrying healthy babies with no questions asked. Now is the time for Congress to act swiftly to end this scourge of late term abortion."
This and the previous eleven undercover calls, which show abortion appointments being made even at 32 weeks of pregnancy, can be heard atwww.PriestsForLife.org/LateTermAbortion. Citizens are urged to take action in two ways, first by spreading the links to these phone calls on social media, and second by contacting their US Senators and urging them to vote for the Pain Capable Unborn Child Protection Act, S. 1922, which would protect children in the womb who can feel pain, hence preventing the abortions of those who are at 20 weeks of development or more. Guidance on these action steps, and the opportunity to sign up for action alerts, is at www.StopAbortionNow.org.
Church Militant (CM) released two excellent interviews, one with Tara Shaver and the other with Fr. Frank Pavone regarding our exposure of late term abortion across America campaign…