UPDATE: IMPORTANT SENATE HEARING VOTE SB 437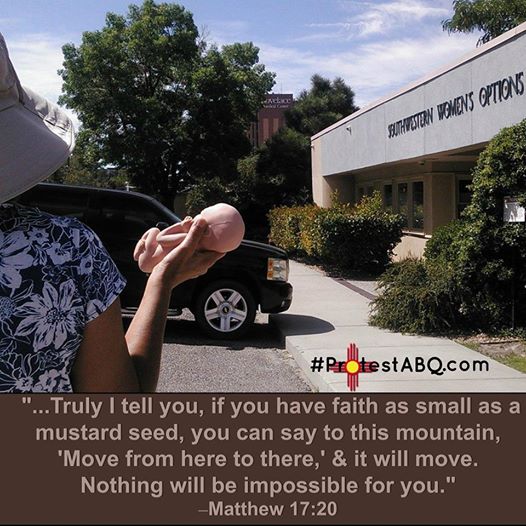 SB 437: Hospital Admitting Privileges Committee Hearing TOMORROW Tuesday, March 3rd
Your voice is needed in support of this important SENATE bill!
By Tara Shaver
Albuquerque, NM- On Tuesday, March 3rd SB 437 will be heard in the Senate Public Affairs Committee in Santa Fe. This Pro-Life bill needs your support through email, phone calls and in Santa Fe on Tuesday. Your presence is also needed to be a visible and vocal support of this bill.
We just got word that the Pro-aborts are busing in people from out of state to testify at the committee hearing in opposition of this IMPORTANT Pro-Life bill!
SB 437 will be heard in Room 321 in the Roundhouse. Please be there by 12:00pm since this is a small room and we need as many people (at least 30) in support of this bill inside as possible.
Each week out of state abortionists fly or drive into New Mexico from California, Arizona and Texas to perform abortions through all nine months of pregnancy.
Most women who seek abortions at these clinics do not have any relationship with the physician who performs the abortion either before or after the procedure.
In most instances, the woman's only actual contact with the abortion provider occurs simultaneously with the abortion procedure, with little opportunity to ask questions about the procedure, potential complications, and proper follow-up care.
The bottom line is that when life threatening abortion injuries occur, every second counts. 
Hospital admitting privileges will ensure that the abortion provider will be held accountable to get proper care for women the fastest. 
-SB 437 will provide the minimum protection and continuity of care that women deserve here in New Mexico. When life threatening abortion injuries occur, every second counts.
-SB 437 will also prevent abortion providers in New Mexico from ditching their patients on local Emergency Rooms where other physicians are left in the dark about the woman's condition. This wastes precious time in diagnosing the problem and bringing in specialists to deal with it.
Please contact these committee members and ask them to support SB 437.
PHYSICIAN ADMITTING PRIVILEGES FOR ABORTIONS (SB 437)
Sponsored by Craig Brandt
The Physician Admitting Privileges for Abortions bill requires that abortionists obtain hospital admitting privileges at a hospital no more than thirty miles from the abortion facility.
SENATE PUBLIC AFFAIRS COMMITTEE
| Title | Name | Party | Role |
| --- | --- | --- | --- |
| Sen. 505-986-4482 | Gerald Ortiz y Pino: jortizyp@msn.com | D | Chair |
| Sen. 505-986-4260 | Bill B. O'Neill: oneillsd13@billoneillfornm.com | D | Vice Chair |
| Sen. 505-986-4391 | Jacob R. Candelaria: jacob.candelaria@nmlegis.gov | D | Member |
| Sen. 505-986-4276 | Ron Griggs: ron.griggs@nmlegis.gov | R | Member |
| Sen. 505-986-4270 | Daniel A. Ivey-Soto: daniel.ivey-soto@nmlegis.gov | D | Member |
| Sen. 505-986-4274 | Gay G. Kernan: ggkern@valornet.com | R | Member |
| Sen. 505-986-4856 | Mimi Stewart: mimi.stewart@nmlegis.gov | D | Member |
| | | | |
"For government is God's servant for your good. But if you do wrong, be afraid, because it does not carry the sword for no reason. For government is God's servant, an avenger that brings wrath on the one who does wrong." Romans 13:4