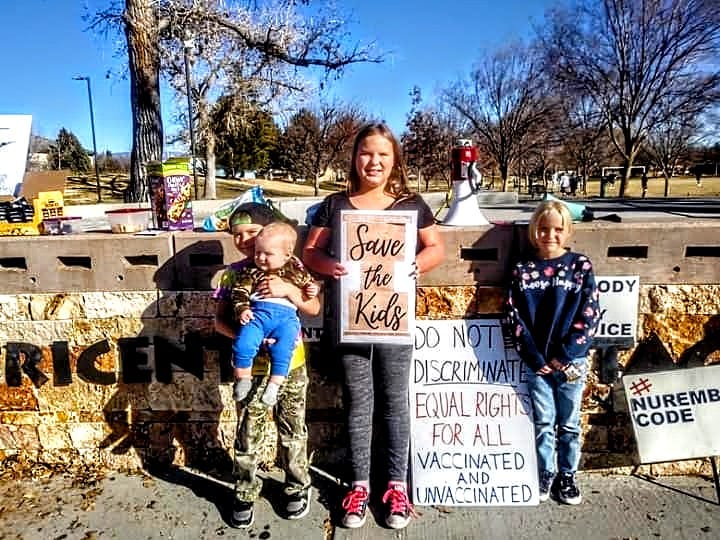 By Bud Shaver,

Albuquerque, New Mexico– It is truly a blessing to serve as New Mexico's pro-life missionary family alongside all of you who know how important it is to fight for the future generations of our state and our nation. Without your support, we couldn't do this work to help moms find hope, build a culture that loves life and expose the abortion industry's dirtiest secrets. Your prayers and support make our efforts possible and this month we have thought alot about what more we can do to save babies lives from abortion in New Mexico.

The Lord has given us many ideas to pursue as you will read about below and we are praying that passionate people just like you will join our team and get involved in 2022. Now more than ever we need to come together to be strategic, to be boots on the ground, to support pro-life candidates and to overcome evil with good in our communities.

Thank you for standing with us, may God bless you for your faithful prayers and support. To God alone be the glory!
Together we are building an Abortion Free New Mexico.
Your monthly and one time donations enable us to do this life saving work full-time. We use Cornerstone Payment Systems as a Christian alternative to Paypal.
Abortion Free New Mexico Leaders Elected as Delegates!
It's official, Abortion Free New Mexico leaders Bud and Tara Shaver were just elected as delegates at the Republican Party of Bernalillo County Pre-Primary Convention! We can now cast our votes for great candidates at the New Mexico Republican State Primary Convention in February who share our conservative values and who have signed our pro-life pledge.

Abortion Free New Mexico's Pro-Life Pledge states:
"I pledge to defend life from conception to natural death. In making and keeping this pledge, I am committed to ending all abortion and all assisted suicide in the state of New Mexico."
IN THE NEWS THIS MONTH: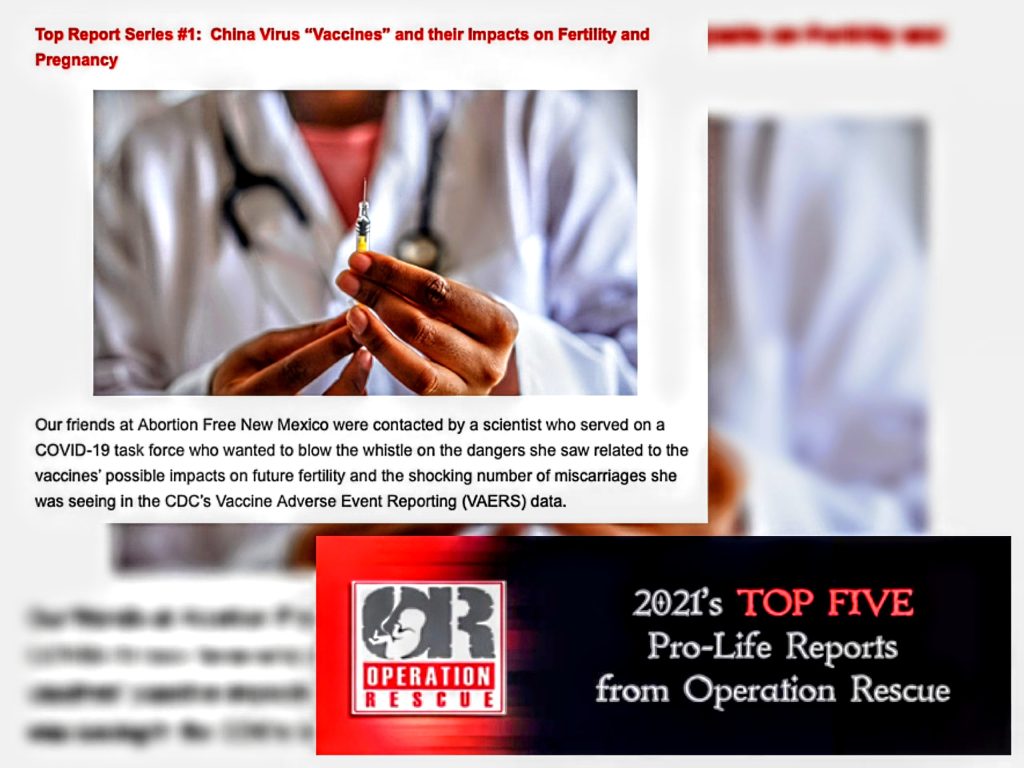 "Abortion Free New Mexico was one of the first national groups to sound the alarm regarding the experimental COVID-19 injections and the risks posed to pregnant women and their babies. It is now common knowledge that there are major concerns about these shots, except among those who are willfully turning a blind eye to what is clearly unfolding before us," stated Tara Shaver, spokeswoman for Abortion Free New Mexico.
Stop Complying New Mexico!
Abortion Free New Mexico is joining forces with NM Peacekeepers and New Mexico Freedom Fighters to Protest The University of New Mexico – UNM and Governor Michelle Lujan Grisham's anti-science, anti-bodily autonomy, unconstitutional MANDATES! Unity in Diversity is our Strength.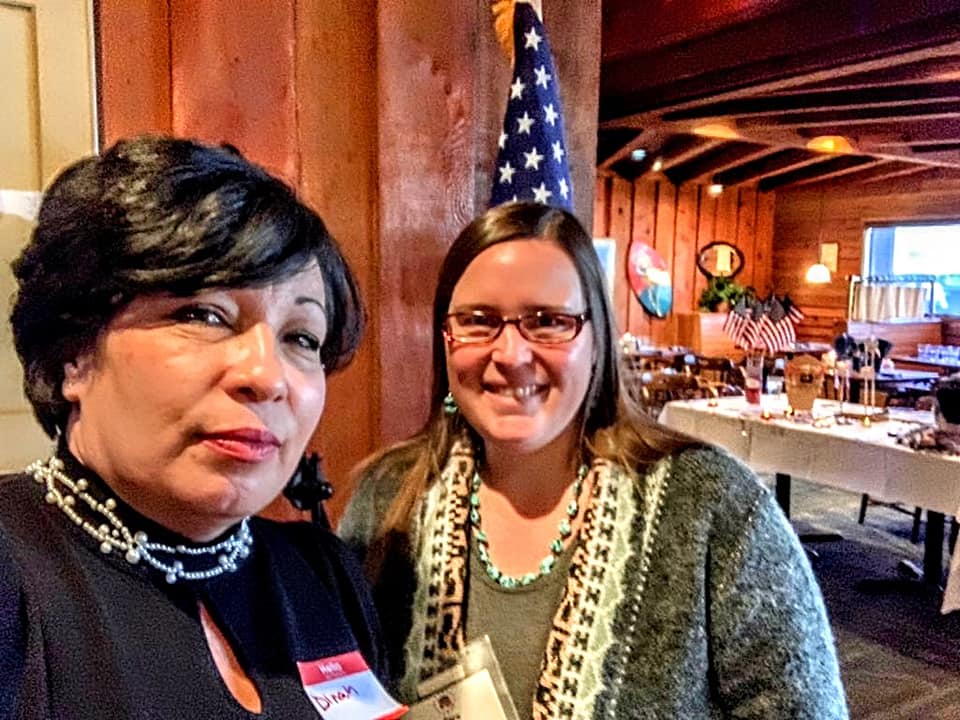 This month, Tara Shaver of Abortion Free New Mexico joined Dinah Vargas on Off The Cuff ABQ Talk Radio to discuss the current state of New Mexico.
Faith To Action Friday
February 4, 2022 (1st Friday of the Month)
Thank you for your continued prayers, support and for standing with us in this battle for LIFE.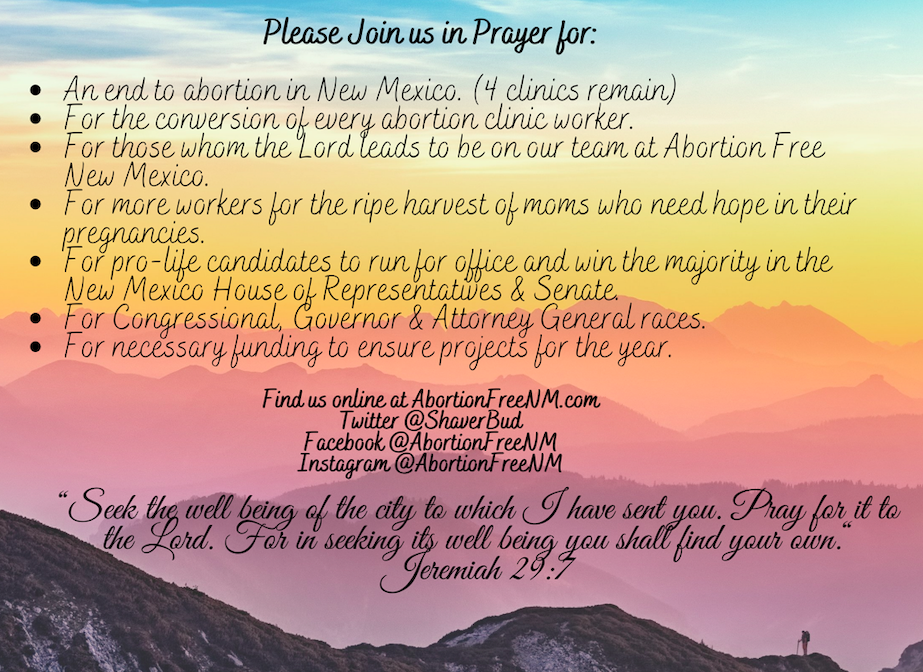 Here's a look at what the Lord has done this month: