Stop The Spread: Stop Elective Abortions Nationwide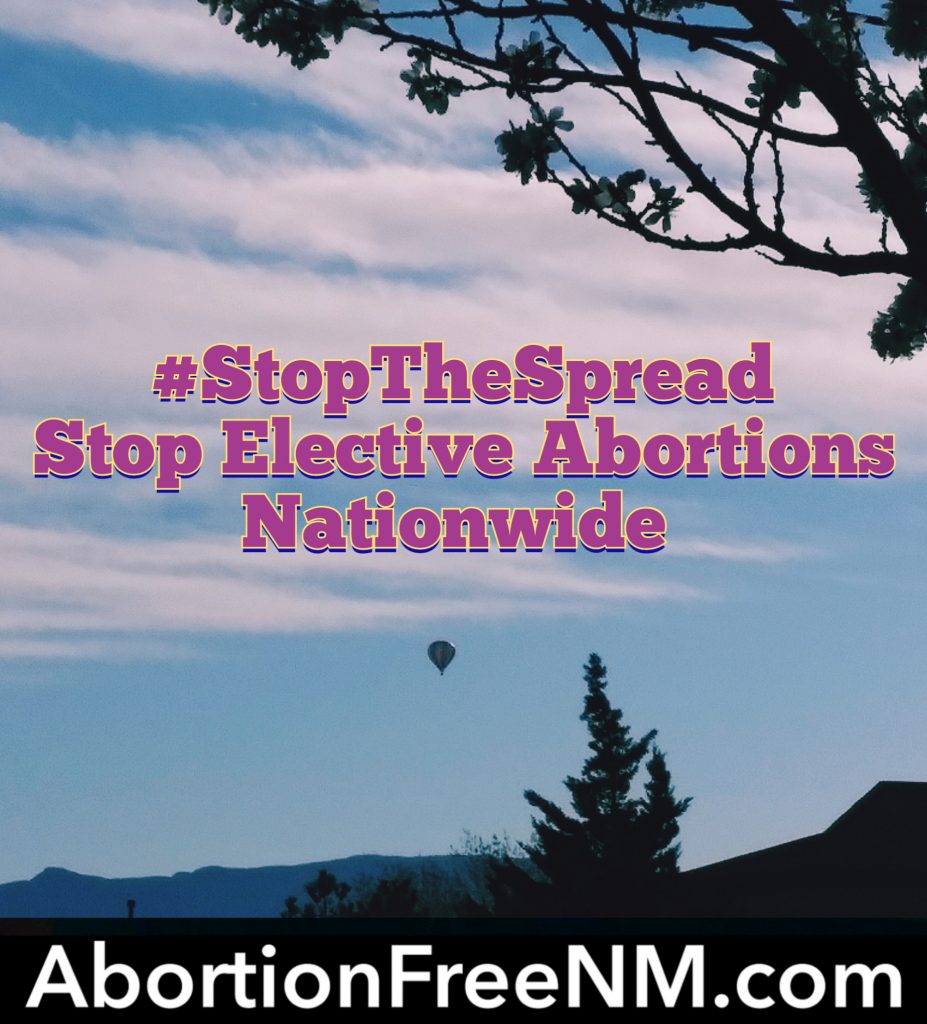 By Bud Shaver
Albuquerque, New Mexico- Last week Abortion Free New Mexico called on all New Mexico abortion providers to halt elective abortion procedures during the current state of emergency caused by the coronavirus outbreak. Since then, the state of Ohio has ordered abortion clinics to stop providing all abortion procedures, which are non-essential and elective surgeries, each one taking the life of an innocent child.
According to CBS NEWS,
On Friday, Ohio Attorney General Dave Yost sent letters to two facilities that provide abortion — Women's Med Center in Dayton and Planned Parenthood of Southwest Ohio's Cincinnati Surgery Center — ordering them to stop providing any services, like abortion, that require the use of personal protective equipment."

"You and your facility are ordered to immediately stop performing non-essential and elective surgical abortions. Non-essential surgical abortions are those that can be delayed without undue risk to the current or future health of a patient," Yost wrote in the letter, which was shared with CBS News.
​Created Equal, along with other Pro-Life and Pro-Family groups in Ohio, worked with Governor Mike DeWine, the Attorney General, and the Ohio Department of Health to issue a Cease-and-Desist Order to all abortion facilities in the state to comply with Ohio's directives regarding COVID-19.
Mark Harrington President and Founder of Created Equal issued the following statement,
"Across the nation, schools have been closed. Businesses have been shuttered. Churches have even closed. Then why are abortion facilities still open for business? If abortion is a 'choice' then abortion is an elective procedure. However, abortionists want to have it both ways. In a clear double standard, abortion centers across the nation are staying open during this national health crisis, risking public health and safety."
Abortion Free New Mexico is joining Created Equal and other national organizations in calling upon the governor of New Mexico, Michelle Lujan Grisham (D), and governors across the country to immediately shut down abortion facilities to #StopTheSpread of COVID-19.
Click here for the full list of Organizations
"New Mexico will soon become ground zero for the spread of COVID-19 across the nation because of the state's abortion tourism which draws women here from all across the nation. New Mexico offers elective abortions up to 32 weeks of pregnancy, and throughout all nine months on a case by case basis.

​It's no secret that Governor Michelle Lujan Grisham (D) is a champion for elective late term abortions, but she needs to recognize the danger that is being posed here if abortions do not halt immediately. Abortion Free New Mexico wants every life to be protected and that is why we are urging the the New Mexico governor, Attorney General and Department of Health to work together, as leaders have done in Ohio, to stop elective abortions which will inevitably contribute to the spread of the coronavirus throughout the nation," stated Tara Shaver, spokeswoman for Abortion Free New Mexico.
Not only are these facilities consuming scarce personal protective equipment, they risk spreading COVID-19 throughout New Mexico. Furthermore, abortionists themselves are not immune to COVID-19 in fact, Operation Rescue reported that,Three Abortionists Admit Symptoms Consistent with COVID19 as Abortion Facilities Ignore Health Risks. These facilities also put a burden on community EMTs and hospital ERs, should they have a medical emergency at one of their locations.
TAKE ACTION
Contact New Mexico Governor, Michelle Lujan Grisham today!
Phone: 505-986-4589
Email: gov@gov.state.nm.us
Contact the New Mexico Department of Health today!
Contact the New Mexico Attorney General today!
SAY: "While businesses have been closed, abortion centers remain open in our state, continuing to perform elective surgeries putting ALL our lives at risk of COVID-19. I call on the governor to close the abortion businesses before the deadly virus spreads further!"
ASK: Is she going to protect us and issue the order to close the abortion businesses just as other businesses, schools, and churches have closed? To keep the abortion business open is to put our lives at risk.
Now please contact the rest of our nation's governors beginning with the Red/Republican states (color-coded red/blue in the list below). We need to #StopTheSpread right now and CLOSE the abortion businesses, just as we have closed all other non-essential businesses.
For more information visit: ProtestPP.com/howto/