Sidewalk Counseling Training Hosted by Abortion Free New Mexico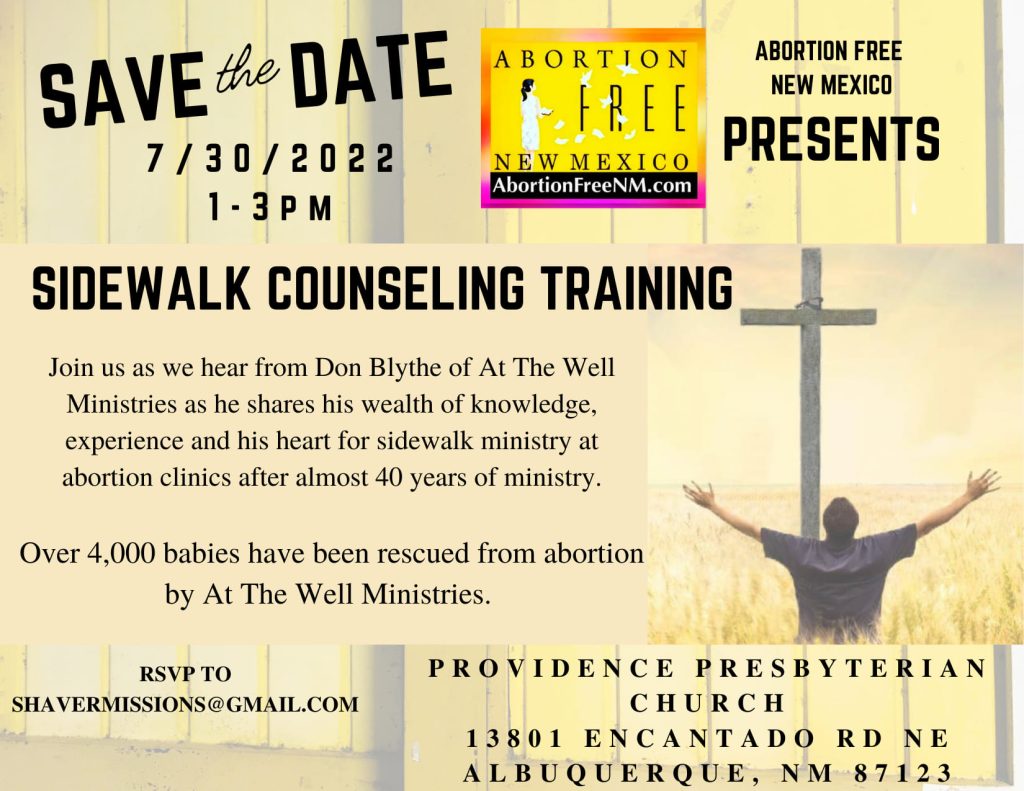 By Bud Shaver
​
Albuquerque, New Mexico- This Saturday, July 30th from 1-3pmAbortion Free New Mexico is hosting a Sidewalk Counseling Training to better equip our friends and volunteers in this post Roe New Mexico. The pro-life community has an amazing opportunity to stand for life in so many ways and we must know how to approach an abortion determined woman and point her in the direction of life saving resources. At this training CareNet representatives will share how they assist pregnant women that come through their doors. You're invited, so please don't miss it and join us for an informative time of fellowship.
​
SIDEWALK COUNSELING TRAINING
When: Saturday July 30, 2022 from 1-3pm
Where: Providence Presbyterian Church 13801 Encantado Rd. NE Albuquerque, NM 87123
Don Blythe from At The Well Ministries has over 40 years of experience of sidewalk counseling outside of California's abortion centers. He will be sharing his experience and expertise with us. Just this week he sent out this encouraging email update:
NO SIDEWALK WITHOUT THE SAVIOR
If you have not signed up to be a part of our No Sidewalk Without the Savior prayer vigil at the UNM late term abortion center please do so HERE. Unfortunately, due to our state's leadership, New Mexico has become more of an abortion magnet than ever before but YOU can make a difference by getting involved. Volunteers are needed for the month of August and one hour of prayer in person on the sidewalk brings light and hope to an otherwise dark place in our city.