Sep. 12th- New Mexico National Day of Remembrance for Aborted Children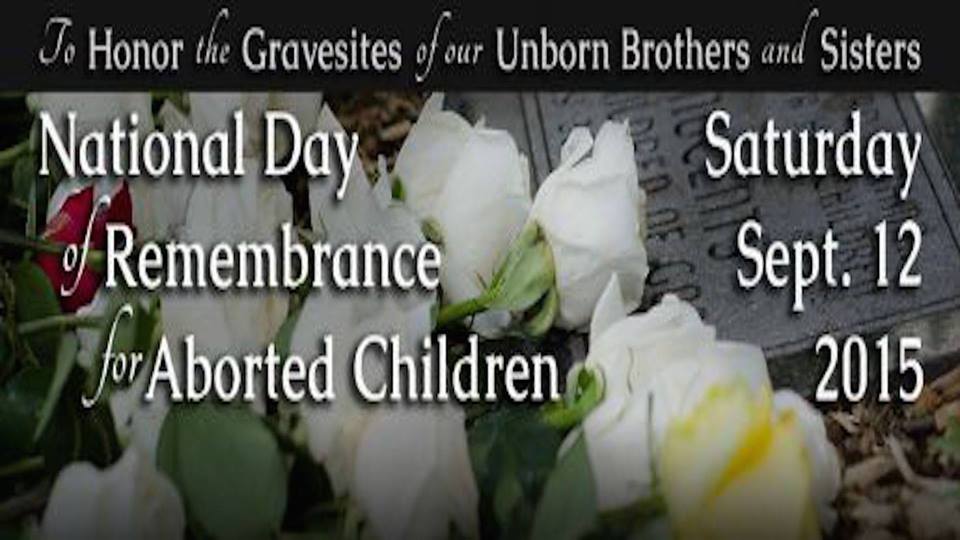 Pastor Richard Mansfield, New Beginnings Church to speak at memorial site as part of National Day of Remembrance for Aborted Children, Saturday, September 12
Albuquerque, NM– Albuquerque will be the site of a memorial service for unborn victims of abortion on Saturday, September 12. The sponsors of this local event are Surrendered Hearts New Mexico, Albuquerque Right to Life, The HUB of New Mexico Internet Radio Station, Pro-Life Witness and Protest ABQ. The service, part of the National Day of Remembrance for Aborted Children, will take place from 12:00-1:00 p.m. at St. John Vianney Church, 1001 Meteor Ave, Rio Rancho, New Mexico 87144.
This event comes in the wake of series of undercover videos showing top officials at Planned Parenthood, the nation's largest abortion chain, scheming to sell by body parts of aborted babies for profit.
"When Planned Parenthood looks at the broken body of an aborted baby, they see a commodity they can exploit for profit. But we see a tiny brother or sister who deserves to be mourned for and solemnly buried," said Bud Shaver, Executive Director, Protest ABQ, one of the organizers of the Day of Remembrance in Albuquerque. "Visiting the places where these children are memorialized cuts through all the rhetoric surrounding abortion. We will never know these unnamed victims of abortion, but we will never forget them—or stop fighting to restore legal protection to unborn children"
The Day of Remembrance is being organized by three national pro-life groups—Citizens for a Pro-Life Society, Priests for Life and the Pro-Life Action League—to humanize the unborn victims of abortion by raising awareness of their burial places and other sites dedicated to their memory. The bodies of tens of thousands of aborted children have been retrieved from trash bins, landfills and other locations and buried at gravesites across the country.
At AbortionMemorials.com, visitors can learn the stories of how many of these children were killed, how they were found, and the details of their burial. The website also lists hundreds of memorial sites dedicated to the victims of abortion throughout the United States.
All are welcome to attend this event and families are encouraged to attend with their children. Please also feel free to bring flowers to lay at the memorial site at St John Vianney Church.
For more information please contact: Tara Shaver, shavermissions@gmail.com
Please join and share the Facebook event page: New Mexico National Day of Remembrance for Aborted Children