Faithful in Defending Life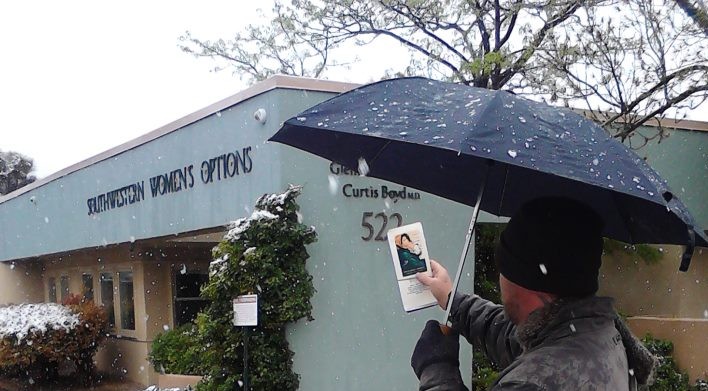 This originally appeared at Stand For Life
This also appeared in the New Mexico Breeze  titled, "Faithful in Defending Life."
This article was written by a UNM student for one of her classes where her assignment was to highlight an individual. A faithful volunteer and good friend of ours recommended that she focus on Bud Shaver. Even though she encountered criticism and animosity at times from her teacher and from abortion clinic workers, she persevered. We commend her for sticking it out. It is not easy to stand for Christian values in the UNM environment.
The following is first her assessment of the difficulties she encountered and then her paper about Bud. Thank you Tanya for your perseverance and doing a great job highlighting the work we do.
"I had my article returned to me about four times to revise and got a lot of criticism for writing it. At first it was hard to make my teacher believe the facts so I had to do a lot of research to prove to him what I had was fact. Honestly, the doctor's assistant had treated me so bad at first that I almost completely lost confidence and didn't feel so good about it anymore. I wasn't used to it. This is the very first article I have attempted to write since high school in 2004, and this article and issue is very real. I began to wonder if it belonged in my hands. I had absolutely no knowledge of anything having to do with abortion before this. It was A LOT to take in, and I got a lot of criticism and dealt with some mean people."
Faithful in Defending Life: Rain or Snow Bud will Show
by Tanya Prather- Student, The University of New Mexico
[slideshow_deploy id='581′]
(Pictures taken by Tanya Prather)
Bud Shaver, 34, is not your average American who clocks in everyday at nine a.m. and fights traffic on the way home at five o'clock every night. Instead, he and his wife, Tara, get up every morning to fight for what they view as a violation of human rights and end the battle over abortion.
Shaver, who is now a father of two, is adamant about being at target clinics during abortion periods in an attempt to reach out to as many women as possible. With him he carries pamphlets of information regarding pre- or post-abortion situations; he is only there to help, not judge, he says. If he is able to catch the women's attention before they enter the clinic, he will direct them to Project Defending Life (PDL), a pro-life organization that sponsors ministries with the focus of ending abortions. PDL is where his wife is stationed and helps to get the women pregnancy tests, ultrasounds and any other assistance that women may need, such as medical or financial help, Shaver said. Neither Bud nor Tara receives a paycheck, but they get by on charitable donations made through PDL, which is how they are able to continue their outreach, Shaver says. As a pro-life activist, Shaver spends long hours almost every day of the week outside two of three abortion clinics in Albuquerque that he feels are in most need of bringing attention to. He and anyone willing to join him, will stand outside of the UNM Center for Reproductive Health, which is a 22-week gestation abortion clinic and Southwestern Women's Options (SWO), Albuquerque's late-term clinic that lists on their website they do, "Elective Abortion through 28 weeks, Later Abortions for Maternal Indications and Later Abortion for Fetal Indications." Once Shaver finds the hours during which abortions are being done at these clinics, he makes it a point to be there even if he's alone. He is not one to let a little bad weather stand in his way.
"He'll go out there alone in the full sun. I've even seen pictures of him in the snow. He doesn't get a paycheck, doesn't clock out, just does that and what he does is so inspiring," said Christina Carter, a pro-life volunteer and mother of three.
Tara Shaver has also stood out at the clinics and has testimonies of stopping and changing women's minds on the spot. However, since the birth of their newborn son, who she has been tending to, she is now helping more within the PDL offices doing tasks mentioned above while her husband stands outside the abortion clinics with other volunteers to educate the public, he says.
A little over five years ago, Shaver says he didn't know much about abortion and never saw signs with the graphics he sees today. He was raised in a Christian home, but his mother never mentioned or thought about abortion, he said. He grew up to be a minister.  Bud met his wife at Bible College in Texas. Shaver's wife, Tara, picked up a pamphlet on a trip to California for an event called, "Spirit West Coast, Christian Music Festival." It's the first time that both of them fully understood the realities of abortion.
"The pamphlet I picked up in California was based on former abortion clinic owner Carol Everett's testimony about what she saw in the abortion industry. This brochure opened my eyes and helped me to see that abortion exists, how they are done, the goal of the abortion industry, money, etc.," Tara said.
Everett had been a director of four different abortion clinics, an owner of two and  she has had an abortion. One of the routine procedures mentioned in the pamphlet is that the babies are dismembered inside the uterus and then removed in pieces and placed back together outside the uterus to make sure all parts have been cleared out.
Other things Everett testifies from her days as an abortionist are how woman are deceived through counseling techniques, common abortion procedures, how fetuses are disposed of and also an investigation by Life Dynamics Inc. (LDI), of Denton, TX, revealing the selling of high-quality fetal organs for research.
In turn, the number one thing Everett confesses is, "The governing force behind the abortion industry" is, "money," she says.
Aside from this pamphlet, Tara mentioned that not many years prior to this, her mother had tried to convince her pregnant 14-year-old sister to get an abortion. She says she knew nothing about abortion but something inside of her told her it was wrong.
Bud and Tara then offered to take the baby and help in any way they could. Their nephew is now six years old (He has lived 2 of those years with Bud and Tara. He is currently living with his mom in Texas.) "I really think that was the first small seed God planted in my heart that later blossomed into what is now a passion for life," Tara said.
Though Tara previously did not know much about abortion, she now finds herself running a pro-life office in an attempt to end abortion. She looks for volunteers and updates pro-life newsletters and websites with new information. She files medical board complaints when something goes wrong during an abortion procedure at clinics. Tara obtains the 911 calls made by abortion clinics through freedom of information laws. For example, a recent 911 call made by Southwestern Women's Options abortion clinic was released revealing how dangerous late-term abortions can be. There were complications in an abortion procedure at 35-weeks gestation on May 12, 2011. The audio recording of the call has been released and can be found at prolifewitness.org/?page_id=94.
Dr. Susan Robinson, a Board-Certified Ob/Gyn who specializes in third trimester abortion care at SWO, explains that abortions at nine months are on a case-by-case basis. They are typically  performed in cases with fetal indications, she claims.
"Fetal Indications means any ailments, such as chromosomal disorder or anything physically wrong that may not be seen until later in the pregnancy. In that case, we need to hand the case over and talk to a doctor, with permission of the doctor (who provides the proof of indications), we would euthanize the baby and there would be an induced labor," Robinson said.
Another reason, according to  SWO, that a late-term abortion would be performed is a maternal indication. A maternal indication is any proof that the fetus is in some way harming the mother. An example of this would be the recent death of 31-year-old Savita Halappanavar, who died of blood poisoning from miscarriage after an Irish hospital denied her an abortion.
[Editor's Note: It appears to me, a statistician by education and experience, that there is no apparent causal connection between the fact that the woman did not have an abortion and the death after miscarriage. If her miscarriage had been properly handled (e.g., with a D&C procedure to assure that the remains did not stay in the uterus), she likely would not have contracted blood poisoning. In other words, the causality of her death had to do with negligence post-miscarriage, rather than the failure to have an abortion. -Leslie  Cumiford Editor, The New Mexico Breeze]
Eve L Espey, MD, who has 21 years of experience and practices in Obstetrics & Gynecology and is currently employed at the UNM Center for Reproductive Health explains complications as excess bleeding and infection which are most common, but very rare. She admits that "minor and very few" complications have occurred at their clinic as well. She assures women that these cases are rare, and claims that abortion is safer than pregnancy.
"Abortion is an extremely safe procedure, far safer than continuing a pregnancy. Abortion is most dangerous when it is illegal; it leads to 13% of maternal deaths in the world," she says.
[Note: Clinic paperwork recently obtained from SWO states, "The risk of terminating a pregnancy gradually increases throughout the course of pregnancy. These comparative risks become approximately equal at 16-18 weeks of pregnancy and increase so that pregnancy termination at 18 weeks and above involves greater risk than carrying the pregnancy to term. UNMCRH does abortions up to 22 weeks gestation! -Tara Shaver]
Doctors employed at abortion clinics sign a "Hippocratic oath," says Dr. Espey, where they put the patients interest above their own. There are 50% unplanned pregnancies in the U.S., half keep their baby and the other half don't, she said. Before abortion was legal, there were wards set up throughout the country just to care for women who were trying illegal abortion via coat hanger causing bleeding and infection themselves, Dr. Espey said.
"When you make abortion illegal, it doesn't go away, you just make it unsafe, and I believe every child should be a wanted child," Espey said.
Regardless of the views and beliefs inside the abortion clinics, Shaver and volunteers continue to bring awareness to what they refer to as "the atrocities" by holding up graphic signs which show show actual images of aborted fetuses having been pieced back together. They hand out pamphlets with information, stationing a group of mother's with their babies in strollers along the sidewalk during scheduled hours at both clinics.
Shaver believes that New Mexico is "The Wild, Wild West" when it comes to abortion. It is the late-term abortion capitol of the world, he claims.  New Mexico has no age restrictions, limited regulations, and women are coming to Albuquerque from all over the world for late-term abortions.
When an abortion becomes late-term, it is often related to the "viability" of the fetus, or in other words, the ability of the fetus to survive outside the uterus. Though "partial-birth," abortion bans have been put in place in the U.S., including New Mexico, there are still many different definitions as to what gestation a baby is able to survive outside the womb and what is not. The most well-known definition renders it easy to take advantage of loopholes to get around the ban.
The Partial-Birth Abortion Ban Act bans of the procedure in which someone intentionally conducts an abortion after having already vaginally delivered a living fetus. A doctor pulls the fetus out past the navel and "disarticulates" him or her at the neck.
Shaver has seen license plates at the clinics from many other states, even those that have late-term abortions as well. New Mexico also funds 100 percent of the cost of abortion through Medicaid. It is paid for by our Bernalillo County tax dollars, Shaver explained.
"There is a national fund that helps poor women afford abortion. We're fortunate in NM that Medicaid covers medically necessary abortion," Espey confirms.
"That's what really brought us here to Albuquerque. A focus on late-term abortion and focus on making a difference where we can make a difference. If people just understand that late-term abortion fact about Albuquerque and New Mexico, then that can be enough to where we can maybe we can effect change and start solidifying the process in New Mexico to  tidy up some of our laws," Shaver said.
Bud and Tara Shaver are full-time pro-life missionaries; Albuquerque, New Mexico is their mission field. They are working to organize a constant peaceful and prayerful presence at local abortion clinics and implementing several other proven strategies, in an effort to end abortion in New Mexico. They are also reaching out to the Christian community to educate, activate, and encourage them to stand for life. Their ministry is Christ-centered and grace-filled. There are many ways to get involved. Join them in their life-saving ministry.
For more information, visit Prayer and a Pro-Life Witness.