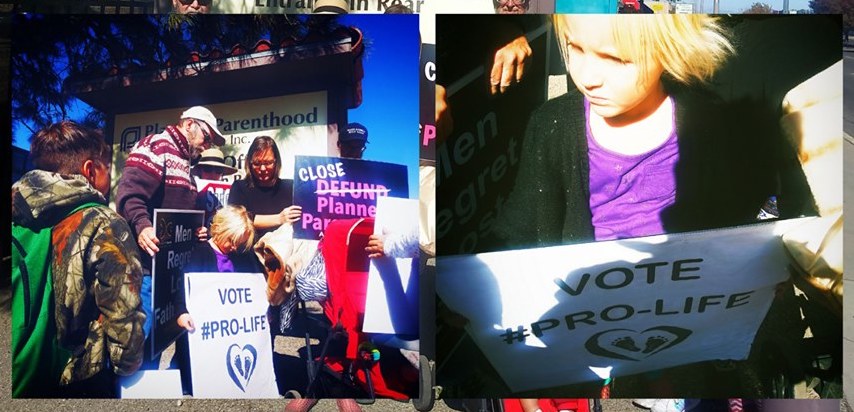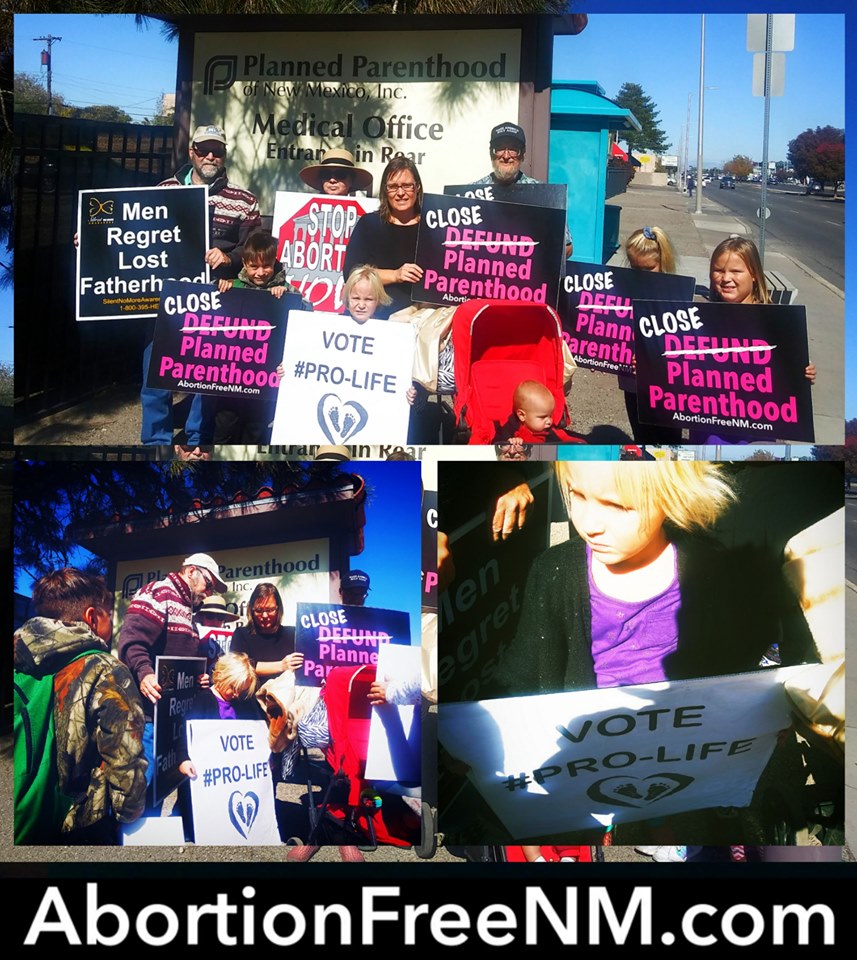 By Bud Shaver
Dear Friends,
We truly have so much to be thankful for as we work toward an Abortion Free state. We have been busier than usual visiting churches, educating the masses and holding peaceful protests throughout Albuquerque. The fact that we are able to do all that we do while also raising and homeschooling four children is only by God's grace and provision. Your prayers, encouragement and support also make our ministry possible.
Thank you for believing in what the Lord has called us to- to be a light in the darkness and to make a way for life using strategies that no one else will to end abortion once and for all in New Mexico. As we trust in God and put our faith into action, together we are building an Abortion Free New Mexico where every child is valued and protected.
Prayers Answered for Strong Christian Leadership
We are excited to share that Michelle Garcia Holmes has publicly announced her candidacy for United States Congress against the radical pro-abortion progressive democrat, Deb Haaland. We supported Michelle 100% when she ran for Mayor of Albuquerque in 2016 and then when she ran for Lt. Governor with Steve Pearce in 2018.
Abortion Free New Mexico is committed to help Michelle Garcia Holmes get to Washington D.C. to represent the great state of New Mexico!
"Please join us in praying for and supporting Michelle Garcia Holmes (R) who will take on Deb Haaland (D) for US Congress in Congressional District 1. New Mexicans want a true leader that will represent our values and who will support our President in Washington D.C.," stated Bud Shaver. From now until election day, we will be hitting the streets, knocking doors, and visiting churches to help get out the vote for Michelle Garcia Holmes.
Michelle Garcia Holmes' top issue on her website states,
PROTECT THE LIFE OF EVERY CHILD, 100% PRO-LIFE
Visit garciaholmes4congress.com to see all the issues that matter to Michelle and that she believes must be addressed to launch New Mexico forward.
Michelle needs our help:
Please commit to pray for Michelle and Earl as this will be a hard long fight from now until election day on November 3, 2020.
The first step to getting Michelle to Washington D.C. is getting her on the 2020 ballot! Invite us to your Church or local event to help get petition signatures/register voters in Congressional District 1 (CD1).
Download the candidate petition and get signatures (from registered republicans in CD1) on your own.
Contact us if you would like Michelle to speak at your Church or event.
Contact us if you would like to host a fundraiser for Michelle.
Donate to her campaign at her website.
Sign up at her website if you would like to get involved.
#NewMexicoTruth Public Awareness Campaign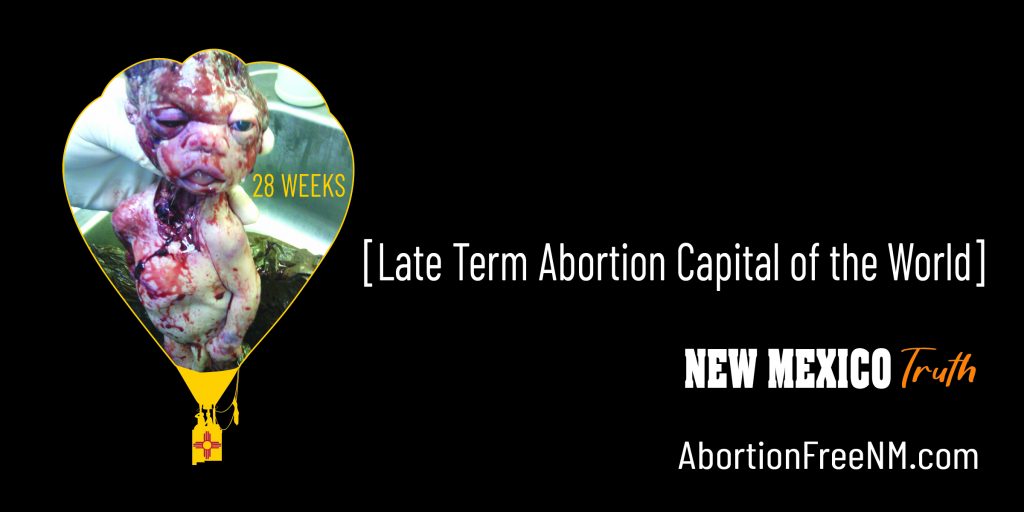 This month Abortion Free New Mexico launched the #NewMexicoTruth campaign in conjunction with the kick off of the Albuquerque International Balloon Fiesta 2019.
In 2018 over 800,000 people came to Albuquerque for this world renowned annual festival and this year over 1 million tourists were expected. While Albuquerque is home to the International Balloon Fiesta, it is also home to the nation's largest late term abortion killing center, Southwestern Women's Options and is considered the late term abortion capital of the world.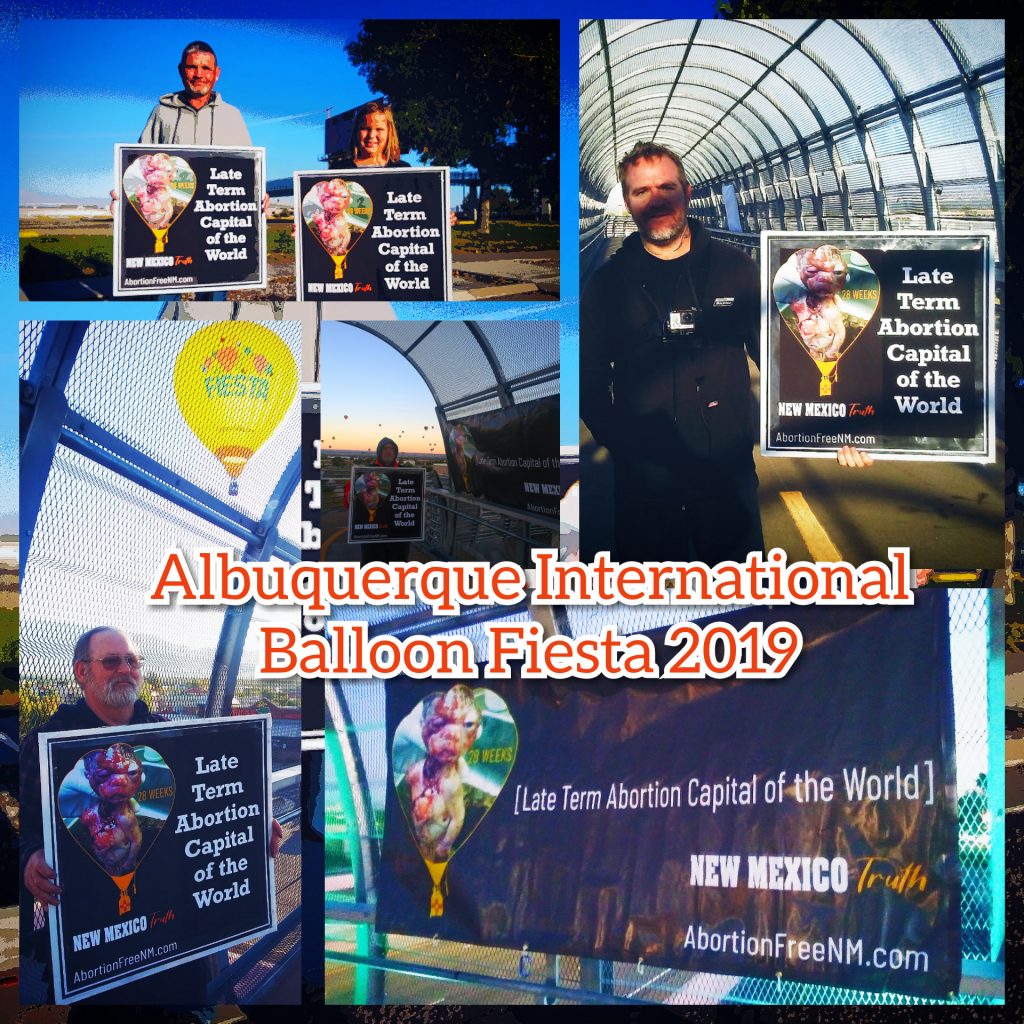 From Oct. 5th- 13th, Abortion Free New Mexico lead several high pro-file public awareness efforts to educate the masses.
"While people are coming from all across the world for our green and red chile and for the Albuquerque International Balloon Fiesta, it is unfortunate that due to the radical pro-abortion political climate, New Mexico is also drawing women from all across the world for late term abortion tourism. This is the hard New Mexico Truth that is disparaging our states' reputation and it can't be ignored any longer. Late Term Abortion will not be New Mexico's dirty little secret anymore and we are determined to shine the light on this grave injustice until the killing stops," stated Tara Shaver, Spokeswoman for Abortion Free New Mexico. ​
Our friend Kimberly was recently featured in a report by KOB. In addition to being known as the Late Term Abortion Capital of the World, according to a recent investigation-
"Kimberly Wahpepah knows this crisis first-hand. She's a Native American woman, and a survivor of sex trafficking on and off the reservation. 'I was trying to get myself out of that position, but I just couldn't,' she said. Wahpepah, who is now an advocate for other victims, said she was forced into the sex trade after high school by an ex."
In addition to being an advocate for sex trafficking victims, Kimberly is also a strong advocate for the unborn abortion victims and their mothers! We have been helping Kim (who's pregnant), her husband and their daughter Naomi as they are currently homeless.
Pray for them as they seek work and housing.
BABY SAVED FROM DEATH, WHY WE MUST PUT OUR FAITH TO ACTION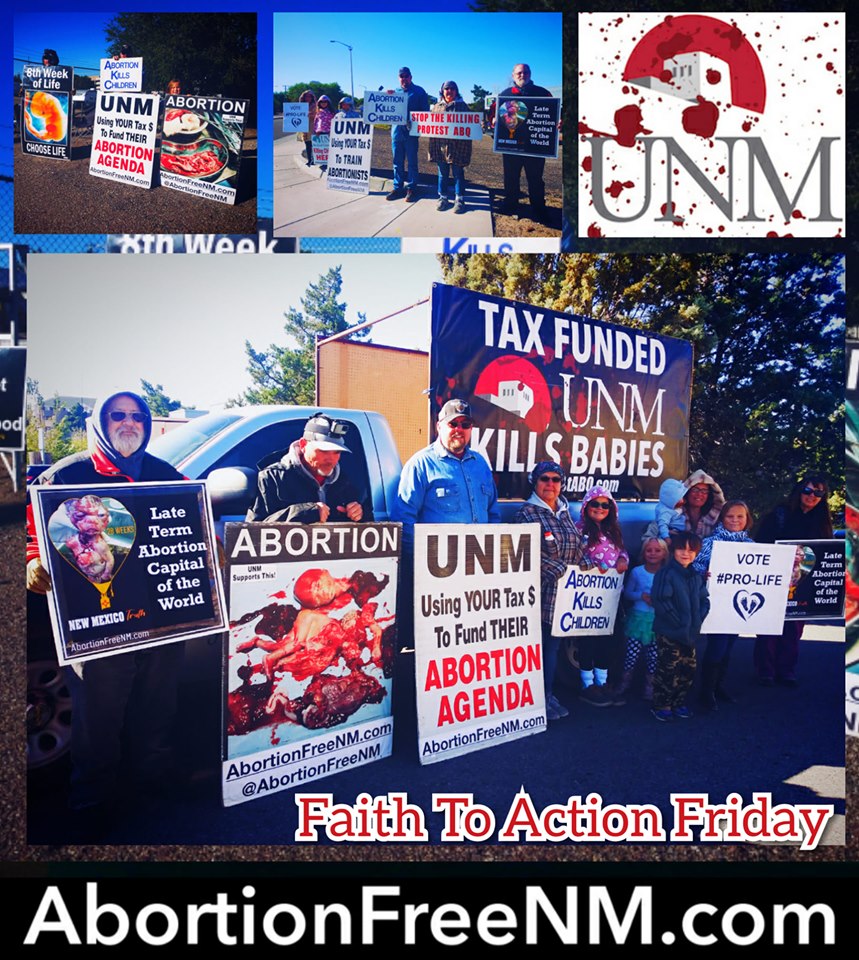 During the past five months, it has primarily been the faith community who has joined us each week for Faith to Action Fridays. It's been amazing to witness how a sidewalk and alley surrounding an abortion clinic have been transformed from a dark hopeless walk of death, to a beacon of light and hope simply because the faith community has stepped out into the public square and are boldly bringing the light of Jesus to the most lost and desperate in our community.
Culminating this month with a baby being saved!
Simply being present has the potential to save lives as the Holy Spirit brings conviction to the mom's seeking abortions. We've witnessed it time and time again. However, utilizing your voice and speaking to the mothers and fathers going into an abortion clinic also brings conviction, changes minds and saves lives. Our friend Joe (who is at the UNM abortion center daily) spoke for 17 minutes, one Friday, with a young man who had brought his girlfriend for an abortion and through Joe's encouragement went back inside and got his girlfriend and they left for a nearby pregnancy center.
Protesting Saves Lives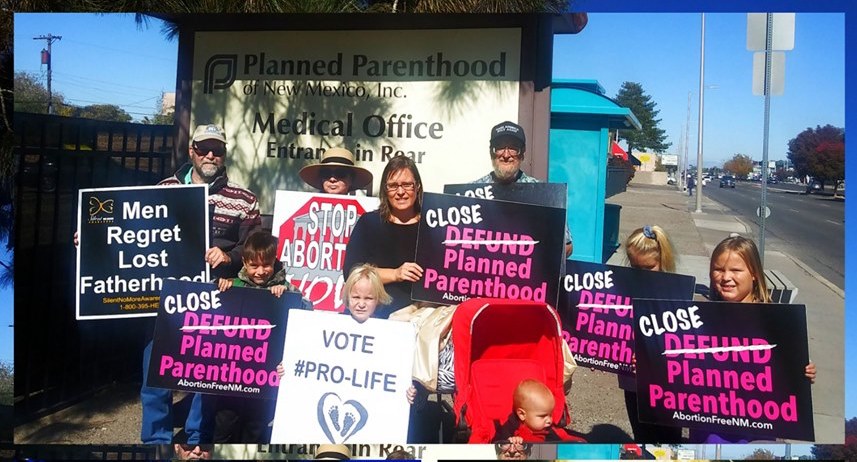 This month, Abortion Free New Mexico joined 40 Days for Life for prayer and protest at Planned Parenthood by the invitation of our friends at Holy Child Parish of Tijeras. Tijeras is in Bernalillo county (CD1) so we also got signatures for Michelle Garcia Holmes to get her on the Republican 2020 ballot for US Congress to take on the radical pro-abortion progressive incumbent Deb Haaland (D).
"A young woman, alone in her car, quickly pulled into the Planned Parenthood parking lot passing several prayerful pro-life protesters holding various pro-life signs. She slowly got out of her car and then stopped, turned around, got back in her car and left. Before pulling out of the parking lot she rolled down her window and thanked the pro-life protesters for being there and told them that because of our presence, she changed her mind about getting an abortion and said that she is going to keep her baby!

Praise God! Simply being present at Planned Parenthood, protesting their child killing business, has the ability to change minds and save lives."
Sukkot (Feast of Tabernacles)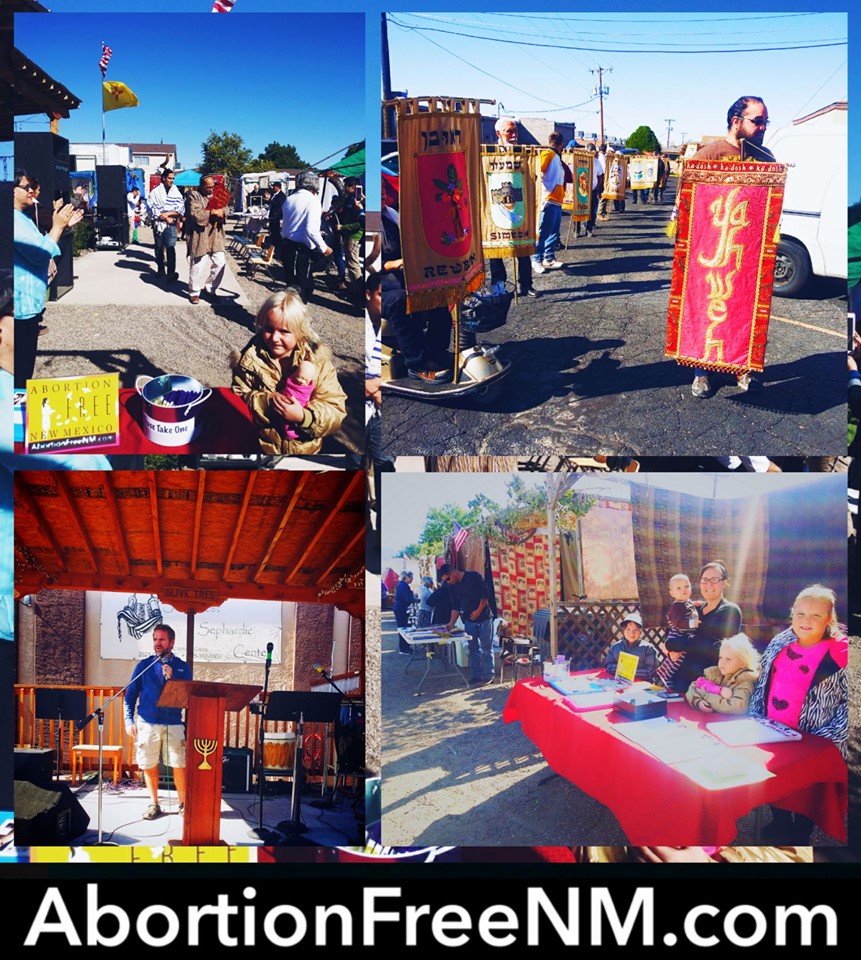 This month at Olive Tree Messianic Community, Abortion Free New Mexico joined the celebration, visited with friends, registered voters and had a petition to get Michelle Garcia Holmes on the 2020 ballot to represent New Mexican values in the US Congress (CD1). As Sukkot 2019 drew to an end in Albuquerque, a new day is awakening in New Mexico to establish justice for everyone in our state born and pre-born!
Events in November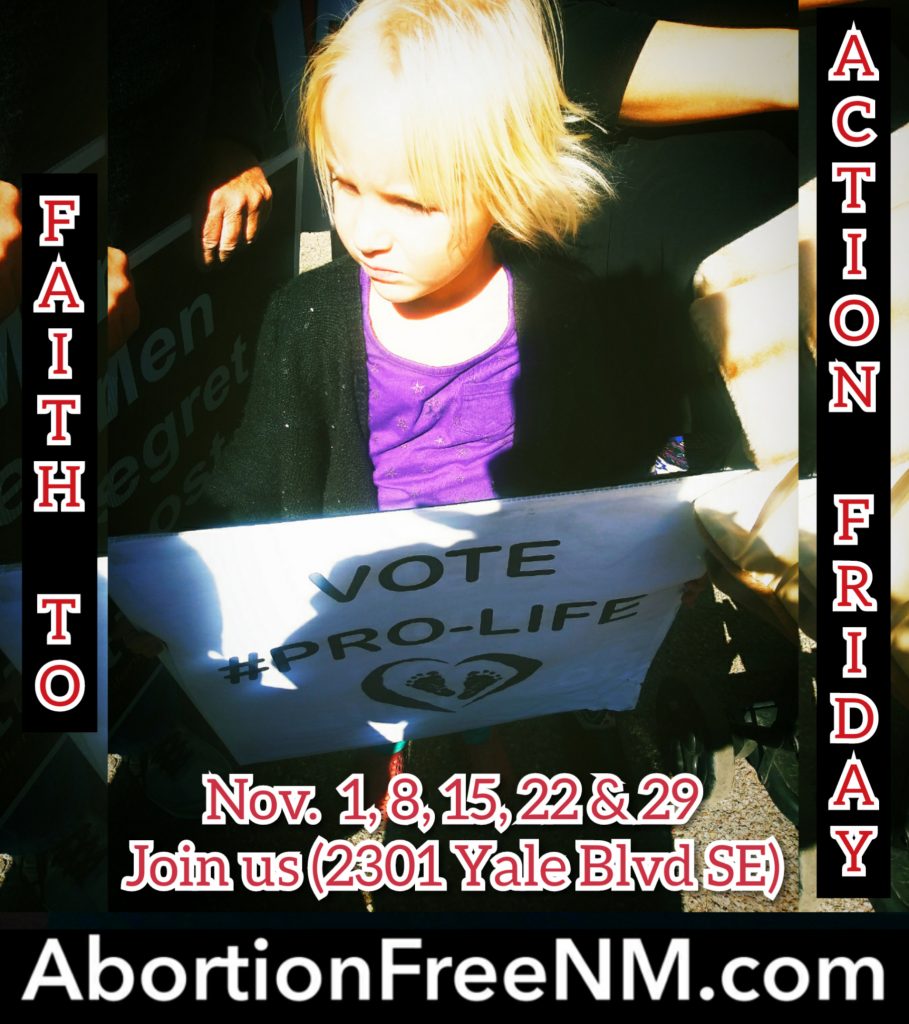 Faith to Action Friday:
-November 1st, 8th, 15th, 22nd, 29th
-9:00-10:00am
-The UNM Center for Reproductive Health abortion center located at 2301 Yale Blvd NE. Albuquerque, NM 87106. (Use street parking on Renard.)
November 5th- Election Day Petition Signature gathering at your local voting location or meet us at Holly Plaza Shopping Center Parking lot near voting location- 6500 Holly NE Suite B6 (12PM-1PM)

November 13th-16th- Travel to Santa Teresa, NM for outreach. (Can you join us for 2.5 days of outreach in the borderland? Volunteers needed, housing is provided)

November 23rd- 12-2pm Special Event: Free Volunteer Appreciation Lunch for all past and present friends of our pro-life ministry. We want to show our appreciation for your faithfulness, love and support. If you are newly acquainted with our ministry and are interested in learning more about our efforts we welcome you to join us. 3200 Vista Grande NW, Albuquerque, NM 87120 
RSVP's are appreciated. Email Tara- shavermissions@gmail.com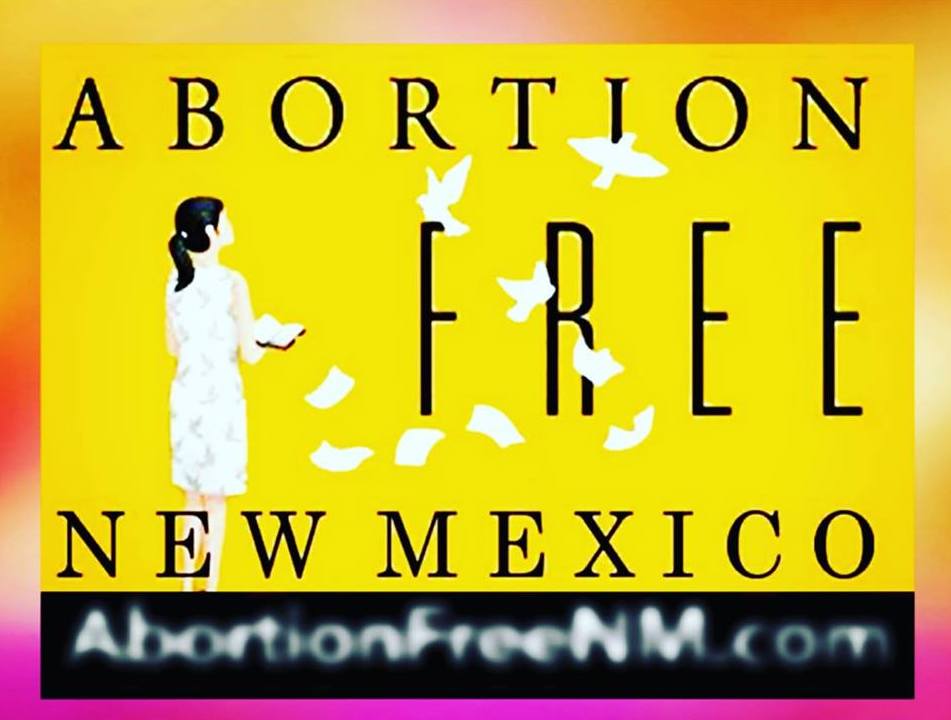 Please pray with us for New Mexico
For: Abortionist Franz Theard's conversion and for him to abandon his abortion businesses. (1 in NM and 1 in TX)
For: Travel mercies and success in our outreach in Santa Teresa, New Mexico (November 13th-16th).
For: Christians to engage the culture war and for more churches to welcome us in to educate and register voters.
For: Effective collaboration between like minded groups in New Mexico to end abortion, educate and effect future elections.
Please pray for wisdom for us in our marriage, as parents and for our ministry to be fruitful.
Thank you for standing with us for life!
We are a Christian missionary family serving in Albuquerque, NM. Putting our faith into action, for the past 9 years we have exposed Albuquerque as the late term abortion capital of the nation and have worked to bring accountability to an unregulated abortion industry that is killing children in their mothers wombs up to the day of birth.
In order to be the most effective in our pro-life ministry, we do this important work full time while homeschooling our children and raising them to have a biblical worldview. We rely solely on the provision of the Lord and individuals like you to provide for our daily needs.
We are pursuing and working toward an abortion free New Mexico, where every pre-born child is valued and protected.
We couldn't do this important work without God's calling and hand upon us as well as your faithful prayers and support.
We would be blessed to have you partner with us in this ministry. Your prayers and support are invaluable.
Ways to partner with us as we work to build an Abortion Free New Mexico
Thank You for your Year End Gift
This year we have worked hard to expose the weak links of New Mexico's abortion facilities. We travelled to the southern part of the state to inform a community about their local abortionist and have plans to return in November. Our research and undercover projects are on the cutting edge of the pro-life movement.

Your year end gift helps us wrap up an eventful and productive 2019 strong and allows us to prepare for an even more fruitful 2020.
Whichever way you give is a blessing to our family and our ministry.