One Year Celebration of Sidewalk Ministry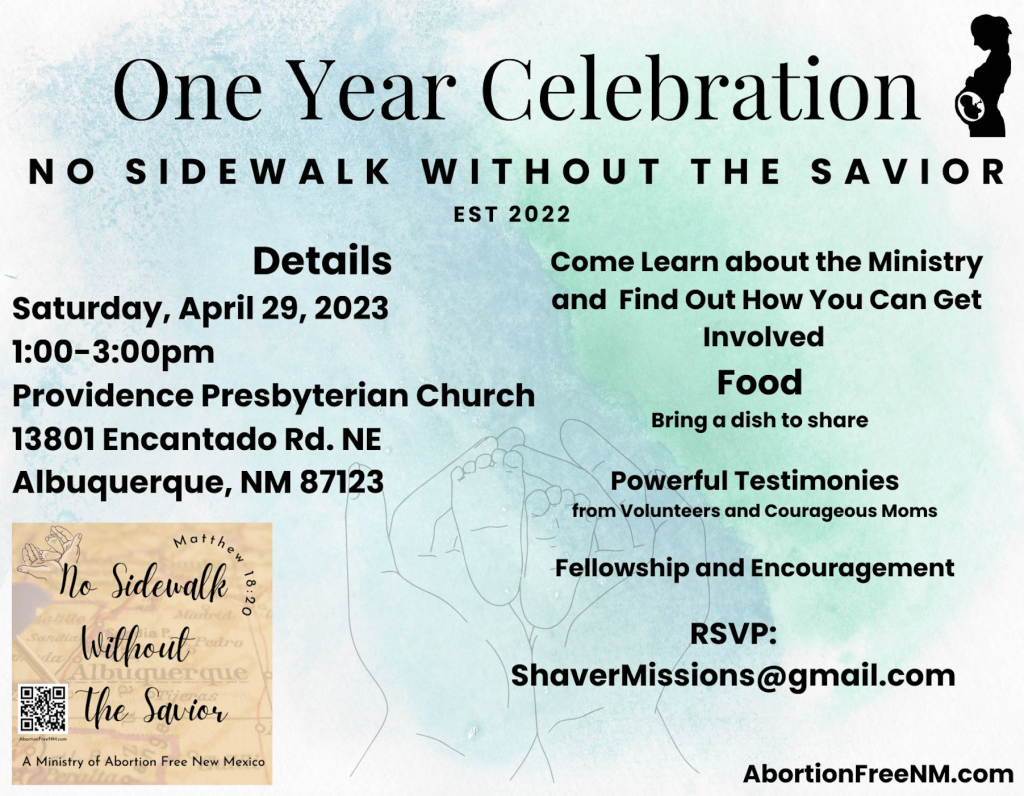 By Bud Shaver
Albuquerque, New Mexico- This month marks one year of Abortion Free New Mexico's No Sidewalk Without the Savior Prayer Initiative. On Saturday April 29th, we are having a celebration of what the Lord has done over this past year hosted at a local Albuquerque church and we would love to have you join us.
The influx of women coming to New Mexico from other states as well as the implications of Roe vs. Wade being overturned, prompted us to organize prayer volunteers at the University of New Mexico's free standing abortion facility. At this location near the airport, pre-born babies are killed though 24 weeks (6 months) of pregnancy.
Over the past year we have had over 60 people praying every day onsite totaling over 1200 hours of prayer and a public witness in our community. We have helped at least 2 women choose life for their babies and given out numerous resource bags. We have also held numerous trainings and times of fellowship to grow as the pro-life community. 
Being present at an abortion facility is sometimes exactly what a pregnant mom needs to encourage her to choose life. We pray and we are prepared to give these women hope in their time of crisis when having an abortion seems like the best option for them. We are the last line of defense for these moms and babies, the body of Christ has an amazing opportunity to reach them with the love of our Savior each and everyday. Prayer and sidewalk outreach volunteers are needed. Will you join us?
Abortion Free New Mexico is looking to expand our prayer outreach to other abortion facilities in Albuquerque this year and we are passionate about getting local churches involved. We invite you to come and learn more about what the Lord is doing and how you and your church can be involved. 
Save the Date!
Saturday, April 29th
1:00-3:00pm
Providence Presbyterian Church (13801 Encantado Rd. NE Albuquerque, NM 87123)
Please bring a dish to share. You will hear powerful testimonies from the sidewalk and from courageous moms who chose life. This is a time of encouragement and refreshing.

*If you chose life for your baby, we'd love to hear your story and have you share. Contact us to share!
I can't make it but I want to Donate!
(Click below)