October Newsletter: JAM PACKED Month of Research, Outreach, and Protest!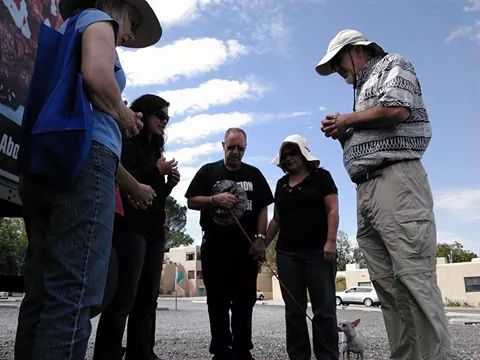 JAM PACKED Month of Research, Outreach, and Protest!
Albuquerque, NM — Since 2008, New Mexico's abortion rate has been on a steady decline. This is great news in a state where abortions are performed through all nine months of pregnancy without restriction. However, that news is tempered by the fact that abortions funded by tax dollars are on the rise.
Read this report by Tara Shaver from this month here: Tax Funded Abortions on the Rise In New Mexico While Overall Abortions on the Decline
This month has been JAM PACKED with research projects, outreach, and PROTEST! Click here for our newsletter from this month which includes pictures from some of our outreach and Tara's latest update on UNM's Radical Abortion agenda: Lobos of Death: A Look at the Radical Abortion Agenda at the University of New Mexico
In the News This Month:
Rowdy Pro-Aborts Invade Hotel to Protest Newman & Project Defending Life
Breaking: Abortion Clinic to Open in Las Cruces New Mexico
Power of Prayer: New Mexico Abortion Facility Fails to Open as Planned
Bud and Tara Shaver are now contributing writers with, "For God's Glory Alone Ministries- FGGAM!" Visit www.fggam.org for the latest breaking national and local New Mexico news, inspiration…and to read Bud and Tara's latest Pro-Life testimonies and updates!
Here are Bud and Tara's posts on FGGAM from this month:
Protest and Outreach Make the Seemingly Impossible, Possible…PRAYER
Call To Action: UNM Pushes Depraved Sex Agenda
UPDATE: Your Public Outcry Was Heard…UNM Apologizes for "Sex Week"
FLASH FROM THE PAST: Watch this informative and inspirational interview below with Dewey Moede and Bud and Tara Shaver from 2013: Dewey and Friends with Bud and Tara Shaver
Thank you for your continued prayers, support and encouragement! We are so blessed and humbled by all of our partners in this ministry to save lives here in Albuquerque, New Mexico. 
Keep our efforts in your prayers as we continue to move forward to end abortion in New Mexico…to God alone be the glory!
For more information about Protest ABQ visit www.protestabq.com and like our Facebook page, "Protest ABQ"
Because of Christ we stand,
Bud and Tara Shaver
Pro-Life Missionaries
www.prolifewitness.org
"Seek the well being of the city to which I have sent you. Pray for it to the Lord. For in seeking its well being you shall find your own." Jeremiah 29:7
Support our LIFE saving Ministry!
THANK YOU FOR SUPPORTING OUR LIFE SAVING MINISTRY, SO THAT WE CAN CONTINUE OUR FIGHT FOR LIFE…IN THE TRENCHES! DONATE ONLINE HERE.
Make Checks out to Project Defending Life, earmarked: Bud and Tara Shaver
P.O. Box 50351 Albuquerque, NM 87181