Not An Experiment, Our Mission Field
By Bud Shaver,
Dear Friends,
Thank you so much for standing with us this month with your prayers and continued support. You are making such a big difference in our state by partnering with us in our ministry to make New Mexico abortion free. As we were reflecting this month on nearly a decade of ministry in New Mexico, we came across a 2013 article from The American Prospect, it was titled:
Anti-Choicers' New Mexico Experiment: Can abortion opponents turn a moderate state with liberal abortion laws into the next battleground?"
It goes on to state in part that,
Compared with its neighbors' abortion policies, New Mexico's is practically socialist.

"Bud and Tara Shaver are among the pro-life advocates who moved to New Mexico from out of state. Shortly after completing a yearlong training in Kansas with Operation Rescue they moved to Albuquerque to shut down SWO and reactivate the state's long-dormant abortion debate…

With the support of Father Stephen Imbarrato, founder of Project Defending Life, the Shavers began to try every strategy in their arsenal. For the Shavers and Imbarrato, this campaign is the beginning of a longer-term effort to carve out a place for abortion in New Mexico politics."
We know it's a God thing that after all of these years of hard work, abortion is front and center in New Mexico politics. The majority of the candidates who are running are strongly pro-life and defending life in New Mexico is now a top priority. Thanks to you, God has answered our prayer request for godly candidates to rise up and run for office. We now have the privilege to help and support these candidates, who are also our friends, get elected. The 2020 election is important on so many levels, so we hope that you are encouraged and inspired by our efforts to make sure that the candidates who will work to save babies lives are elected.
Thank you for making it possible for us to redefine the American mission field as we serve New Mexico as full time pro-life missionaries. Here's a glimpse of what we did last month.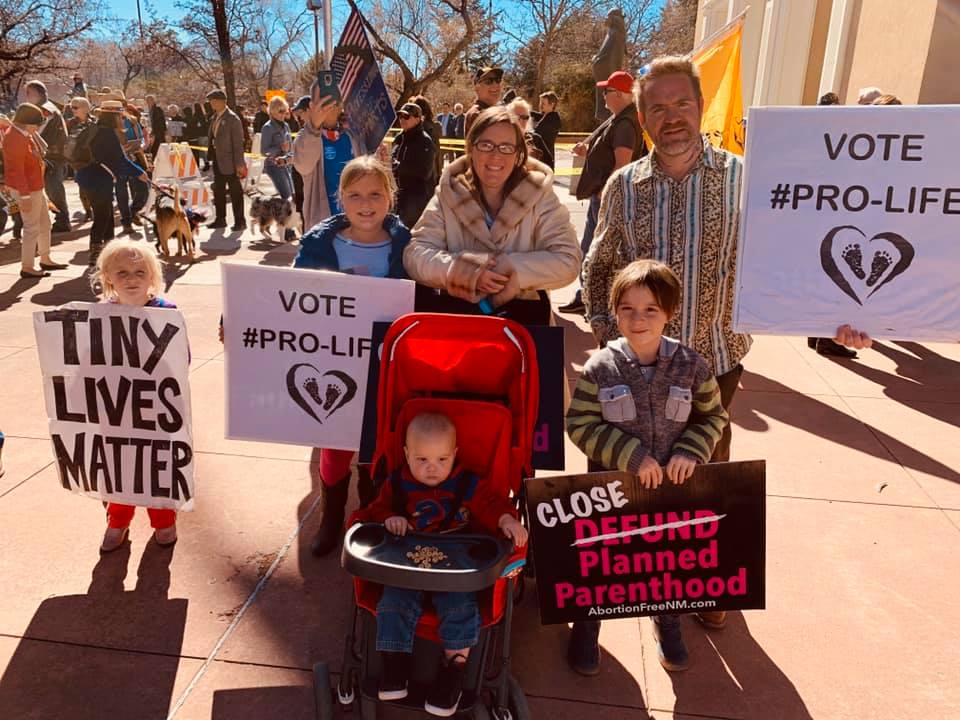 On Saturday, February 8, 2020, Abortion Free New Mexico attended the "We The People Unity Rally," where New Mexicans from all across the state gathered to stand together and send a unified message to legislators to stand up for conservative values this session. Our attendance demonstrated that we are committed to moving forward in a unified effort combining forces with fellow conservative and patriot groups to help turn New Mexico Red in 2020!
This month we also continued our efforts going door to door, collecting signatures for conservative pro-life candidates, registering voters, and helping to collect contributions for 4 conservative judges (2 supreme court and 2 appellate court). It is vitally important for us to help get these judges to the New Mexico bench.
According to Giovanna Eisberg of the Republican Party of New Mexico,
"Here is an important fact; we have the ability to elect 2 republicans for the supreme court and if we are successful, we will have the first republican majority on the NM Supreme Court in over a 100 years! The two court of appeals candidates if elected will give is a very strong republican presence on the court of appeals."
NOT ENOUGH VOTES, PRO-DEATH AGENDA TABLED THIS SESSION!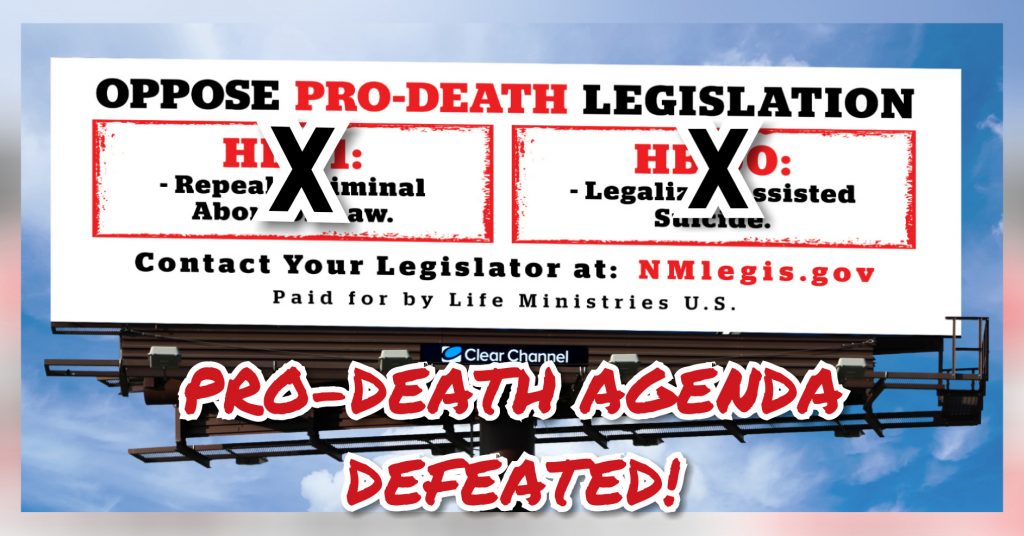 Santa Fe, NM- "We simply do not have the votes" Senate Majority Leader Peter Wirth, D-Santa Fe.  As we reported at the start of the 2020 legislative session, the pro-death agenda (HB 51 Decriminalize Abortion and HB 90 Legalize Assisted Suicide) was not introduced due to the lack of votes! Governor Lujan Grisham's radical pro-death agenda was tabled this session and LIFE once again prevails! Thanks to those who are standing together in solidarity to defend the sanctity of LIFE including Republican legislators and Pro-Life Catholic Democrat legislators.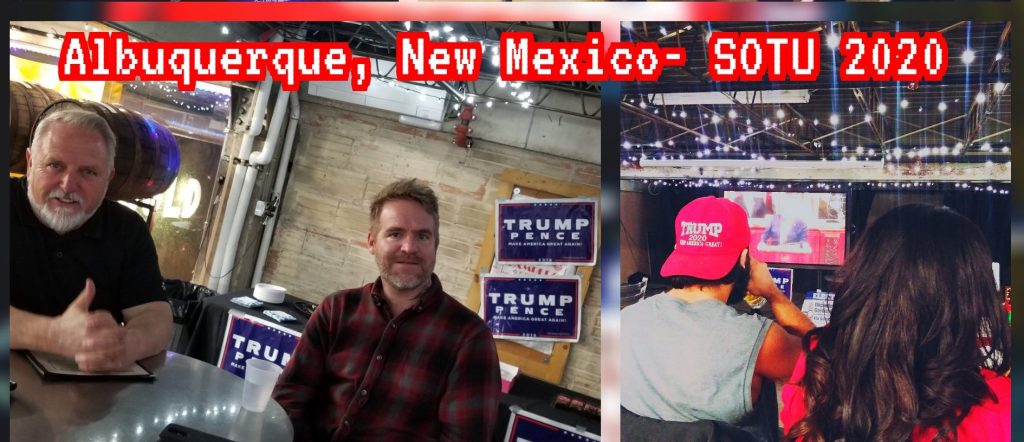 This month when President Donald J. Trump spoke about ending late term abortion at the State Of The Union (SOTU), understand that he's talking about New Mexico (as it's ground zero in America for late term abortion).
Tara and I, along with Fr. Stephen Imbarrato, have been working tirelessly to expose the radical abortion agenda here in New Mexico for nearly decade! In fact, we coined the phrase and designated Albuquerque as the "Late Term Abortion Capital" based on our groundbreaking research and investigations with the help of Operation Rescue.
Our efforts over the past decade have been featured in TIME, The New York Times, The Associated Press (AP) and even CNN!
Read the coverage here: In the News
We are fully engaged and committed to supporting President Trump (and have been since 2016) and turning New Mexico Red down the ballot in 2020!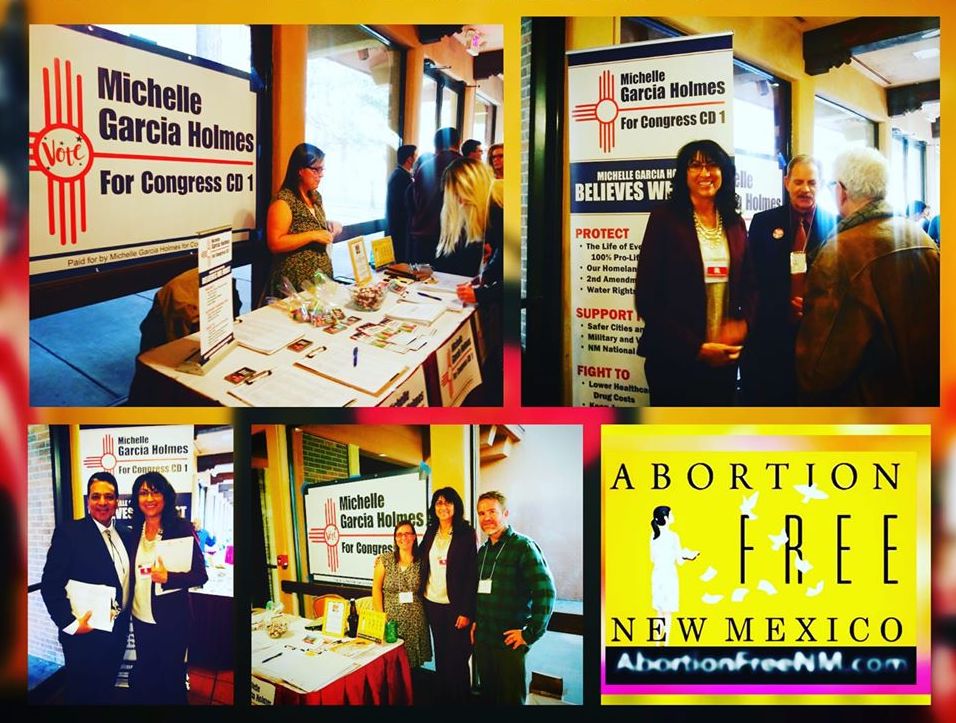 In fact, this month we joined Michelle Garcia Holmes, who is running for US Congress (CD-1), at the Bernalillo County Pre-Primary Convention. At the convention, Tara and I became delegates with the republican party of New Mexico so that we can cast our vote for the candidates we want to see on the ballot.
We encourage you to be involved in supporting candidates in your area and to figure out ways that you can be more involved since this is such an important election year.
It is so encouraging to see so many godly candidates rise up to defend life and represent our values across New Mexico and in Washington D.C. They are going to need all kinds of help to get elected.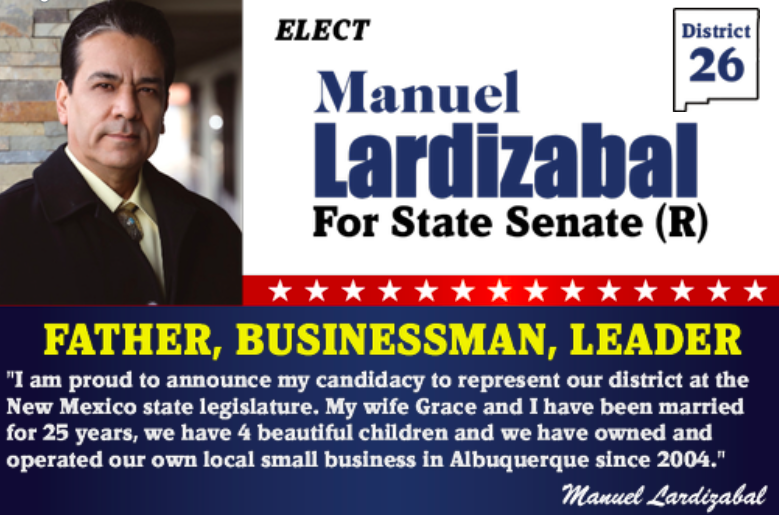 Our long time friend and local Pastor, Manny is running for the New Mexico Senate. Tara will be serving as his Treasurer and we are excited about his campaign. Manny shares all of our Christian values and really wants to see the kingdom of God advanced in his community and in the lives of his constituents. Please keep him, his district and his campaign in your prayers. Also, please consider giving to his campaign with your time, treasure and talents- you are welcome to come and meet him at his campaign kick off and to see how you can help.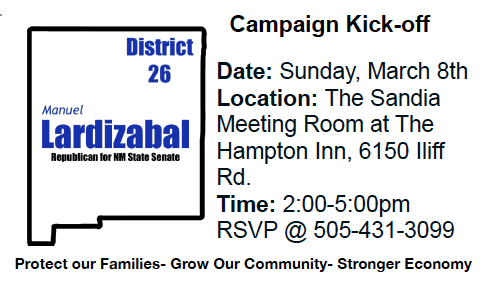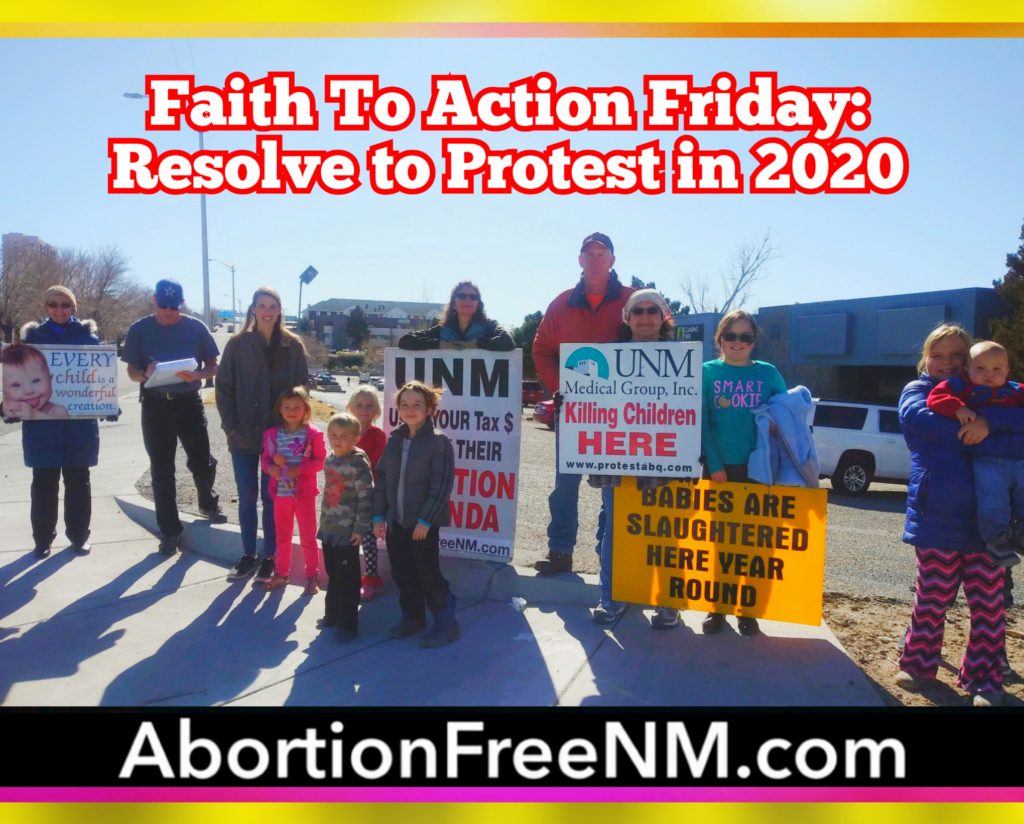 Albuquerque, New Mexico- In February, several people stopped to talk with us because hey were shocked to learn from our signs that UNM, a tax funded university, uses our tax dollars for their radical abortion agenda.
In fact, a physicist who recently moved here from Alaska was thankful that we were peacefully protesting and was very curious about how his tax dollars are being used. We are always blessed to have newcomers join us because together we are a stronger voice for life at theses places of death.
"Where two or three gather in my name, there am I with them." Matthew 18:20
Faith To Action Friday: Join Us in March!
Stand Up For Life in front of the University of New Mexico's free standing abortion facility.
Faith to Action Fridays, 6th, 13th, 20th and 27th.
Time: 12-1pm Location: 2301 Yale Blvd. SE. in Albuquerque.
Use street parking on Renard.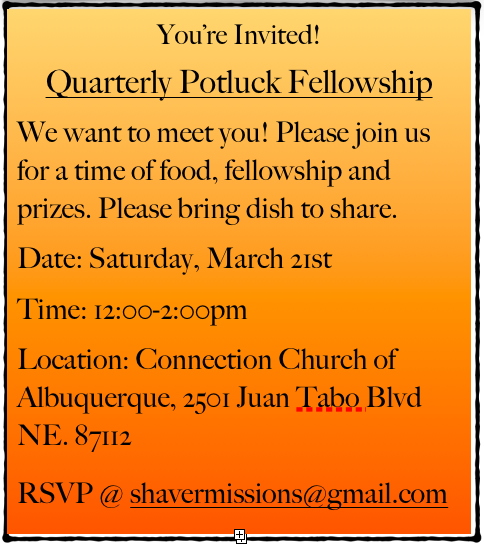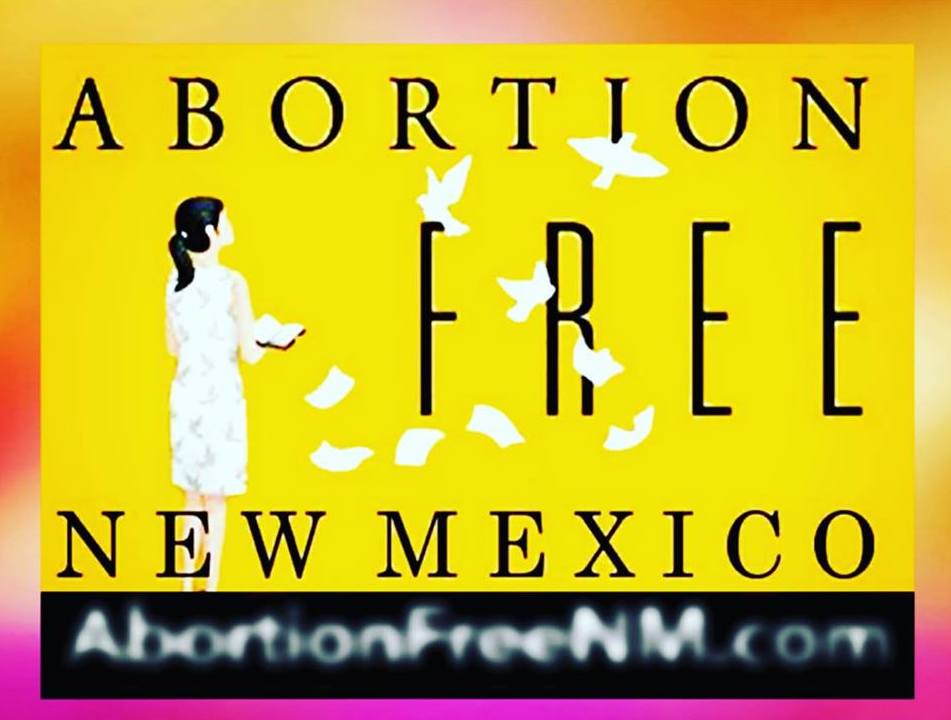 Please pray with us for New Mexico
For: Abortionist Franz Theard's conversion and for him to abandon his abortion businesses. (1 in NM and 1 in TX)
The Texas Board of Nursing complaint that we have filed against Gloria Martinez to result in the loss of her license.
For: The Pro-Life candidates that are collecting signatures and getting ready to launch their campaigns for the 2020 election.
For: Christians to engage the culture war and for more churches to welcome us in to educate and register voters.
For: Effective collaboration between like minded groups in New Mexico to end abortion, educate and effect future elections.
Please pray for wisdom for us in our marriage, as parents and for our ministry to be fruitful.
Thank you for standing with us for life!
We are a Christian missionary family serving in Albuquerque, NM. Putting our faith into action, for the past 9 years we have exposed Albuquerque as the late term abortion capital of the nation and have worked to bring accountability to an unregulated abortion industry that is killing children in their mothers wombs up to the day of birth.
In order to be the most effective in our pro-life ministry, we do this important work full time while homeschooling our children and raising them to have a biblical worldview. We rely solely on the provision of the Lord and individuals like you to provide for our daily needs.
We are pursuing and working toward an abortion free New Mexico, where every pre-born child is valued and protected.
We couldn't do this important work without God's calling and hand upon us as well as your faithful prayers and support.
We would be blessed to have you partner with us in this ministry. Your prayers and support are invaluable.
Ways to partner with us as we work to build an Abortion Free New Mexico