Looking Deeper: Analysis of Facts Proves Woman Died from Abortion — Not Pregnancy

Operation Rescue is assisting Abortion Free New Mexico with an investigation of this tragedy.
Report by Cheryl Sullenger, Senior Vice President of Operation Rescue
Albuquerque, NM – Tara Shaver opened the mysterious letter that arrived in the mail. She could hardly believe what she was reading.
It was an anonymous tip that informed her a woman named Keisha Atkins had died from a late-term abortion on February 4, 2017.
Shaver and her husband, Bud, who lead Abortion Free New Mexico, have spent years laboring in the pro-life trenches in Albuquerque exposing the largest late-term abortion facility in the United States, Southwestern Women's Options, and its connections to the publicly-funded University of New Mexico.
Due to their experience and training, once serving as interns for Operation Rescue, they immediately jumped into action. They filed a public records request for Atkins' autopsy and established a valuable line of communications with her family. They discovered that Atkins' abortion had been done at Southwestern Women's Options, which made perfect sense since it alone in New Mexico specializes in late-term abortions throughout all nine months of pregnancy.
They consulted with Operation Rescue over the meaning of the autopsy report. Such reports are written in technical medical jargon that is sometimes difficult for anyone without a medical background to decode. However, this correspondent has been reading autopsies concerning abortion-related deaths for decades.
It did not take long to realize that as everything was not as it seemed.
At first glance, the cause and manner of death of this initially healthy 23-year old woman was made it appear that abortion was not even a factor in Atkins's death. The cause of death was "Pulmonary thromboembolism due to pregnancy." Her manner of death was natural.
In other words, the autopsy findings that a blood clot formed as a result of her healthy pregnancy and coincidentally at the moment of the abortion, it traveled to her lungs and killed her.
Nothing to see here. Move along.
Once Operation Rescue and Abortion Free New Mexico announced Atkin's death and released the public autopsy report, the Albuquerque Journal jumped all over it, declaring in their headlines, "Autopsy rules out abortion as cause of death."
The newspaper cited the opinion of the UNM Office of the Medical Investigator that it was Atkins' pregnancy that killed her, not the four-day late-term abortion process that Operation Rescue believes was mismanaged by eighty-year old abortionist, Curtis Boyd, and fumbled by UNM hospital where she died.
But as William Shakespeare once said, "Truth will out."
No matter how much UNM may have tried to obfuscate what happened to Keisha Atkins, the truth seeps through in the pages of the autopsy report in descriptions of her physical condition and the complications she experienced in what must have been an excruciatingly panic-filled and painful death.
"Somehow, these people want us to believe that Atkins developed blood clots as a result of her pregnancy, and through no one's fault, a blood clot just coincidentally moved to her lung and killed her in the middle of a late-term abortion, which, of course, played no part in her death," said Operation Rescue President Troy Newman. "That's ludicrous in light of the rest of the autopsy report findings."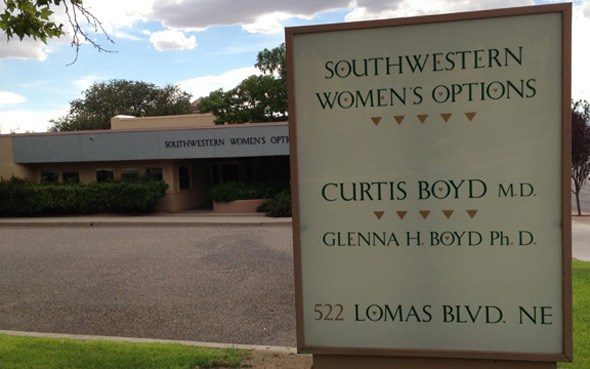 Here is what happened to Keisha Atkins, according to the autopsy report, information provided by her family, and documented information obtained through research by Operation Rescue.
Atkins reported to Southwestern Women's Options, the nation's largest late-term abortion facility, on January 31, 2017, to begin a four-day late-term abortion. She was at least six months pregnant, and may have been even farther along according to the tipster that contacted Tara Shaver.
Sometime during the ensuing days, something went wrong and Atkins developed a bacterial infection.
Possible sources for such infections during late-term abortions include:
Complications from the repeated insertion and removal of laminaria cervical dilators;
The fact that the baby in the womb is killed on Day 1 of the procedure and the woman must carry her dead fetus for days before completing the abortion;
Unsanitary conditions and/or practices by abortion facility staff.
On February 3, four days after her abortion process began, Adkins reported to Southwestern Women's Options for the completion of her abortion. She was showing signs of a dangerous, systemic infection known as sepsis. She also displayed difficulty breathing as she was being prepared for labor. (Read more about how late-term abortions are done.)
Because of the seriousness of her condition, an ambulance was called at 12:04 p.m., but was later cancelled by the clinic, according to a 911 Computer Aided Dispatch transcript obtained by Operation Rescue. At some later point in the day, Atkins was transported by unknown means to UNM Hospital.
Once at the hospital, Atkins was tested for blood clots with negative results. The autopsy report made an effort to explain the rare false-negative test with one statistic that shows false negatives occur in as high as 10.7% of cases. (In other words, no one was at fault.)
Atkins continued to suffer shortness of breath and below base-line oxygen levels despite supplemental oxygen. She also experienced abdominal cramping pain, an elevated heart rate, and reduced ventricular function in her heart.
Additional tests of her placental tissue showed the presence of a bacterial infection. Post-mortem tests of her uterus also showed evidence of the infection.
Why is this significant to understanding the truth behind Atkins' death?
Bacterial infections are a known trigger for a life-threatening condition called Disseminated Intravascular Coagulation (DIC).
DIC is a clotting disorder that begins with the rapid formation of small blood clots that block small blood vessels. As the clotting becomes more aggressive, it essentially strips the rest of the blood supply of the clotting factor. This typically results in hemorrhaging of the body cavity and various organs, including the brain.
In addition to bacterial infections, other causes of DIC can include retention of a dead fetus and surgery – both of which were documented in Atkins' autopsy report.
Supposedly operating under a false-negative test for blood clots, UNM Hospital staff conducted a surgical Dilation and Evacuation (D&E) dismemberment abortion to remove the dead baby.
During the D&E procedure, Atkins suffered a fatal heart attack due to a blood clot in her lungs. Resuscitation efforts were so aggressive that her ribs were broken, yet they proved unsuccessful.
She also received "multiple blood product transfusions," – a standard treatment for DIC – but to no avail.
Atkins was pronounced dead at 12:10 a.m. on February 4, 2017.
Atkins' autopsy revealed "acute coagulopathy" as well as hemorrhaging in the brain (left adrenal gland), inside the abdominal cavity, and from the uterus. She also had a massive build-up of serous fluid around her lungs.
How do we know she hemorrhaged from the uterus when that is not specifically mentioned in the report? There was a curious notation in the initial description of Atkins's body that stood out.
A Foley catheter was present that led through the cervix and into the uterus. A Foley catheter balloon is used to tamponade the inside of the uterus to stop heavy bleeding. (Such a procedure is described on page 24 of this unrelated medical board document.)
The UNM coroner's determination that Atkins died from "Pulminary thromboembolism due to pregnancy" is suspect, at best.
These are a few of the symptoms described or strongly inferred in Atkins' autopsy report thatthe coroner's opinion does not account for
Uterine hemorrhaging;
Hemorrhaging in the brain;
Blood found in the abdominal cavity;
A large amount of serous fluid found around the lungs, (over 40 ounces);
Bruising of the extremities (another symptom of DIC).
The UNM cause of death also does not account for the multiple transfusions of blood products she was given at the UNM hospital.
These symptoms do not make sense in light of a random blood clot in the lungs. However, they do make sense in light of the clotting and hemorrhaging that exemplifies DIC.
It more likely that during Atkins' four-day abortion process — during which she retained the body of her dead baby — a bacterial infection turned septic and initiated a fatal cascade of symptoms associated with Disseminated Intravascular Coagulation.
It is Operation Rescue's opinion, based the facts found in the autopsy report, that the UNM cause of death determination is simply not the truth.
The abortion facilities involved in patient deaths first try to conceal the fact that a patient died. If that doesn't work, the abortion businesses immediately attempt to deny any culpability for their patient's death.
What is the easiest way to do that? Whitewash the truth by blaming the woman and/or her pregnancy.
The leftist mainstream media is usually a willing co-conspirator in the cover up, and the response to the Atkins death was no exception.
Once Operation Rescue and Abortion Free New Mexico announced Atkin's death and released the autopsy report – a public record — the Albuquerque Journal jumped all over it, declaring in their headlines, "Autopsy rules out abortion as cause of death."
The newspaper cited the opinion of the UNM Office of the Medical Investigator that it was Atkins' pregnancy that killed her, not the four-day late-term abortion process that Operation Rescue believes was mismanaged her eighty-year old abortionist, Curtis Boyd, and fumbled by UNM hospital where she died.
UNM's own autopsy report described in detail compelling evidence that it was complications from the abortion process that killed Keisha Atkins – not her pregnancy.
There can be no doubt that if Keisha Atkins had not endured the process of a four-day late-term abortion, she would be alive today.
So why the attempt to obfuscate the true cause of death?
UNM and Southwestern Women's Options are partners in the trade in aborted baby remains. SWO is the sole supplier of aborted baby tissue and organs to UNM. Both are under criminal investigation by the Attorney General's office based on a complaint filed by Tara Shaver of Abortion Free New Mexico and criminal referrals issued by the House Select Investigative Panel on Infant Lives.
This gives them UNM and SWO motive to nefariously ascribe the death of Keisha Atkins to her pregnancy in order to prevent another abortion-related scandal in the middle of a criminal investigation into their alleged participation in the illegal baby body parts trade.
This may also be why there was no notation of the weight of the dismembered remains of Atkins' baby in the autopsy report. While the baby's remains were present during the autopsy, revealing the weight might also reveal the truth about how far along Atkins' pregnancy really was.
On a side note, some have expressed misplaced concern that the autopsy report was made public, and that its release may have compromised Atkins' privacy, or more absurdly, her legal rights as a dead person. In reality, there is no legal issue with making a public document available to the public.
In fact, its release is actually a public service. The people have a right to know what is going on at SWO and UNM, especially because they are both recipients of public funds. They have a right to know that not everything is as it appears in the left-wing Albuquerque Journal.
When abortion is involved, concealing the truth that seeps through in these public documents only serves to aid the abortionists and their associates, who are desperately trying to diffuse any controversy around Atkins death.
Tara Shaver's anonymous tipster apparently had a sense that something was very wrong in the way Keisha Atkins' death occurred and how it was handled after the fact. And that person's instincts were right.
If this information can prevent others from suffering Atkins' fate, it is morally imperative to make sure the public – as well as the authorities investigating UNM and SWO — knows about it.
Operation Rescue urges the New Mexico Medical Board and the Attorney General's office to aggressively investigate Keisha Atkins' death, and bring those responsible for it and its cover-up to justice.