Local News Channel KOB- 4 Coverage of PROTEST ABQ Launch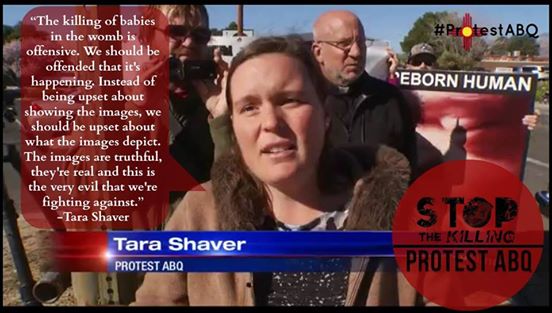 News Coverage by KOB 4:
"The group that launched a campaign to ban late term abortions in Albuquerque says they are here to stay.
In fact, they are inviting national pro-life groups to come work with them too, and they hope Albuquerque will be a catalyst for the rest of the nation.
"Protest ABQ" will be a public awareness campaign. Organizers plan to publicize what they call "abortion victim photography," and will protest Monday through Friday in front of a UNM clinic that provides abortions. They say they will do it until the clinic closes.
"We gave the city a chance to stand for life, to protect these babies, but the city failed and so now we're realizing we need to reach back into the city with education and just a measure of exposing who it is that's helping to keep abortions in our community," Tara Shaver said.
Shaver says part of that "education" will mean showing people images of allegedly aborted fetuses.
"The killing of babies in the womb is offensive. We should be offended that it's happening. Instead of being upset about showing the images, we should be upset about what the images depict. The images are truthful, they're real and this is the very evil that we're fighting against," Shaver said."
Read the full coverage by KOB 4 here: http://www.kob.com/article/stories/S3363541.shtml?cat=500#.UyUuO167ngq