Jan. 2015 Newsletter: Making New Mexico, "Abortion Free"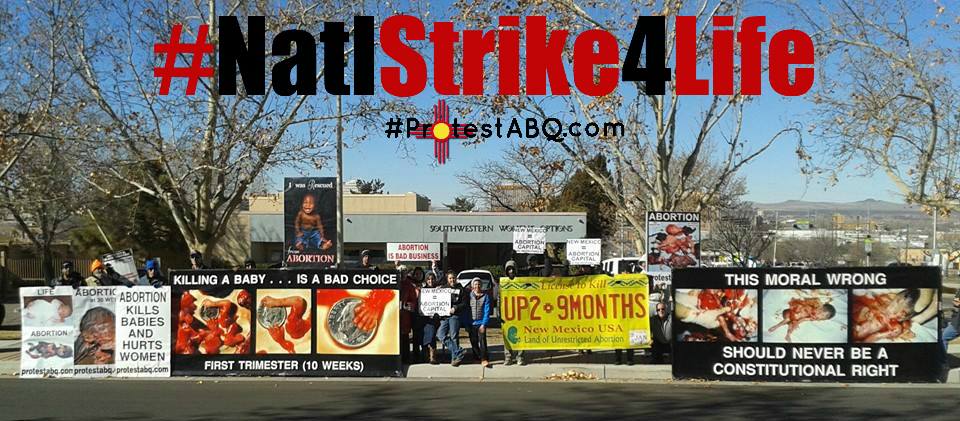 Happy New Year Friends,We have had an eventful month in the late-term abortion capital of the nation. Exactly one year ago we along with Fr. Imbarrato launched Protest ABQ as a "year of rebuke" after the residents of ABQ decided that killing babies after 20 weeks of pregnancy is tolerable here. The mission of Protest ABQ has been simple, we protested and exposed those who profit from, condone and support abortion. These protests have finally culminated into the first ever National Protests and Strike for Life that was observed on Jan. 22-23, we had both nationwide and statewide participation. Click here for a recap: Success! National Protests and Strike Event Recap

We realize that people may not have understood or fully supported our Protest ABQ efforts over the past year but we believe that God is using ALL of the pro-life efforts statewide including those of Protest ABQ to perfectly align the opportunity for those in authority to seek justice on behalf of our pre-born neighbors.

Our yearlong protests have produced a change of heart from our Gov. who has finally gone on record stating that she will support a late-term abortion ban and now our legislators have an opportunity to not only go on the record but to go a step further and enact a bill that will cripple the abortion industry in the state.

Join with us in prayer that this becomes a reality for the greater good of New Mexico. Overall, as we look back at the past year our efforts have been blessed and tremendously effective in shaking up the key people/entities that are perpetuating abortion in NM.

Click here for more information about these latest encouraging developments:  Pray for NM Legislators to go "On the Record"

Abortion Free New Mexico

Bud and I came to NM in 2010 after spending a year as interns with Operation Rescue. Our research revealed that in NM abortions were legal and being performed through all nine months of pregnancy. Notorious abortionist Curtis Boyd, owner of late-term "abortion" killing center, Southwestern Women's Options located in Albuquerque, New Mexico, has marketed and capitalized on this harsh reality. This fact alone has earned ABQ the designation as the late term abortion capital of the nation. In fact just this month, a young woman traveled with her father from the U.K. to have an abortion at 30 weeks! Click here for the full story: Woman 30 Weeks Pregnant Traveled From U.K. to U.S. to Have Abortion

Our friends at Operation Rescue just released the book titled "Abortion Free" and we are beyond humbled that our efforts here in NM are featured in this book. While God has accomplished so much over the past 5 years, we still have so much to do and to revisit. In this new year we are refocusing our efforts on the strategy that we initially came here to implement…Making New Mexico, "Abortion Free!" We will work relentlessly to close every abortion clinic in this state and trust God to bring the NM Abortion cartel to a screeching halt.

Click Here For a PDF version of this month's Newsletter

Please keep our efforts in your prayers!

In the News This Month:

First-Ever National Strike For Life Calls for an End to Abortion on Anniversary of Roe v. Wade

Woman 30 Weeks Pregnant Traveled From U.K. to U.S. to Have Abortion Yesterday

"Spectrum Interview with Fr. Stephen Imbarrato & Tara Shaver"

Here's How You Make Your Community Abortion Free

The NM Political Report published this article on Jan. 21, 2015 featuring Tara Shaver and Fr. Imbarrato who are the perfect tag team interview duo: Activists plan to push lawmakers for abortion restrictions

Dramatic Reversal: Abortion Protests Lead to Promising Public Policy Shift in New Mexico

Thank you for your continued prayers, support and encouragement in 2015! We are so blessed and humbled by all of our partners in this ministry to save lives here in Albuquerque, New Mexico. 

Because of Christ we stand,
Bud and Tara Shaver
Pro-Life Missionaries
www.prolifewitness.org"Seek the well being of the city to which I have sent you. Pray for it to the Lord. For in seeking its well being you shall find your own." Jeremiah 29:7