Is This the Breakthrough We've been Working for In New Mexico?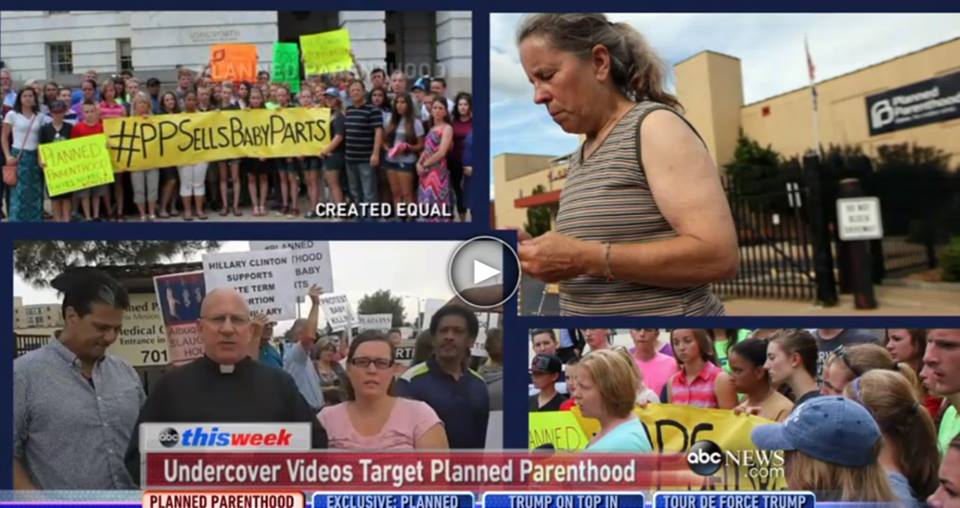 Featured Picture: Our Protest at the Albuquerque Planned Parenthood just 3 days after the first Center for Medical Progress video was released was a featured image on ABC news

show "This Week With George Stephanopoulos."

We had an amazing crowd of primarily families with young children. Our protests in conjunction with these videos showing PP's true nature have sent shockwaves to the highest authorities in NM.
Dear Friends and Partners in the battle for LIFE,
This month has been chock full of positive pro-life momentum nationwide. The biggest news has surrounded the Center for Medical Progress' investigative videos that has completely blown the lid off of the abortion industry's (namely Planned Parenthood) motives by exposing their for profit practice of selling aborted baby organs, parts and tissues. These videos have also proven to the unbeliever that abortion kills tiny human babies.
It has been incredible to see Planned Parenthood on the run with nowhere to hide but also to see the pro-life movement re-energized in this battle to end pre-born child killing in the womb. Really it's no surprise that an entity that kills children would then turn around and sell their body parts for an extra buck, but seeing the videos of cold and callous abortionists in conjunction with aborted baby parts that are being sifted through and examined for purchase reminds us what we can sometimes forget: that this is a battle for the lives of pre-born babies and if we do nothing, no one else is going to!
For us here in the Late Term Abortion Capital we have been in protest mode and also in determination mode, to see abortion clinics close-especially those in violation of NM law.
It is illegal federally to sell aborted baby body parts and NM also has it's own law forbidding the selling of body parts in general and also explicitly forbids using aborted baby body parts in medical research.
We obtained the consent form from Southwestern Women's Options for years 2012 and 2015 that every woman must sign before her abortion. Both versions of this mandatory form force women to relinquish their babies body parts to be used in medical research. This is the same guise that PP is selling their victims body parts under.
After we uncovered the NM law I filed a formal complaint with the NM Attorney General asking for an investigation into SWO's "medical use of aborted babies body parts" stipulation.
Statements have been issued by the Lt. Governor of NM, John Sanchez denouncing PP's inhumane practices and Governor Martinez broke her silence after we protested at the NM capital building on July 28th.
Is this the breakthrough we've been working for here in NM where the hearts of leaders are as hard as the hot desert sand?
TO BE CONTINUED…

-Please pray that the AG of NM and other leaders will pursue investigations of the states abortion facilities.
-Pray for us as a missionary family that is working several strategies to end abortion in New Mexico.
– Please continue to pray for a smooth process as we pursue the ability to adopt several (4) children.
You, dear friends are invaluable to the work that God has called us to here in NM. We are working to make NM abortion free but we absolutely can't do it without you! Thank you to those who are partnering with us both financially and through prayer. We are praying for all of you and the specific prayers of those who have sent us prayer requests. We want to pray for you! Please email your prayer requests to us.
To make sure you never miss a monthly gift, please schedule your monthly donation securely at online here.
Here is a PDF version of this month's newsletter
IN THE NEWS THIS MONTH:
Are NM Abortion Clinics Harvesting Body Parts? Protest ABQ Demands An Investigation (Protest ABQ)
#PPSellsBabyParts Protest and Press Conference (FGGAM)
Planned Parenthood NOT only abortion clinic using ghoulish baby body parts operation say pro-lifers (Saynsumthn's Blog)
Pro-life leaders call for investigation of Planned Parenthood and abortion facilities over baby parts harvesting (Life Dynamics Inc.)
Breaking: NM Lt. Governor Denounces #PPSellsBabyParts (Protest ABQ)
Santa Fe, NM: #WomenBetrayed Rally and Press Conference (FGGAM)
Criminal complaint against abortion clinic filed by pro-life group charges they harvest baby parts (Life Dynamics Inc.)
Anti-abortion groups want probe of fetal tissue disposition in N.M. (ABQ Journal)
New Mexico protesters demand Planned Parenthood inquiry (ABQ Journal)
New Mexico leaders call for Planned Parenthood investigation (NM Political Report)