Hope Clinic for Women in Illinois offers no Hope for Late Term Babies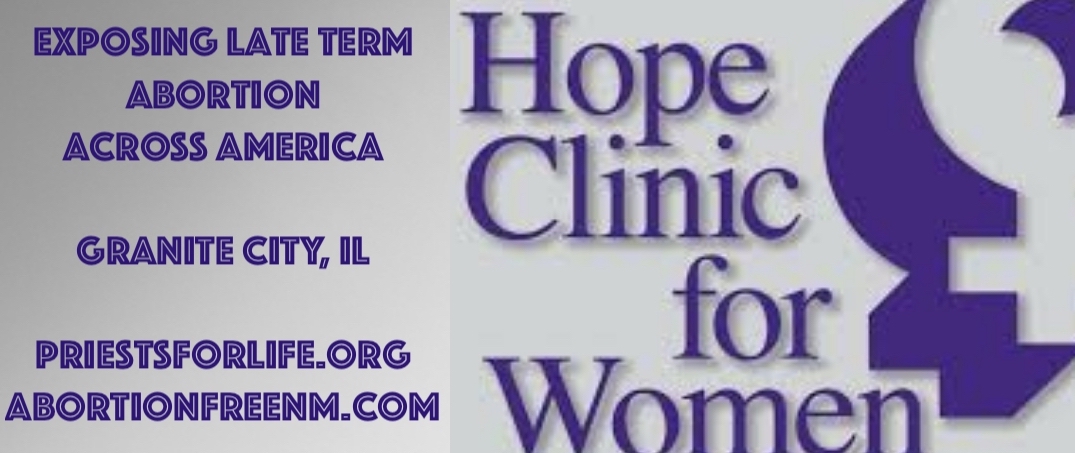 Report by Priests for Life, the nation's largest Catholic pro-life organization dedicated to ending abortion and euthanasia.
St. Louis Area Clinic Ready to Schedule Next-Day Late-Term Abortions
The Hope Clinic for Women in Granite City, Illinois, offers no hope for late-term babies in the womb.
Today, Priests for Life and Abortion Free New Mexico released the latest in a series of undercover calls to abortion businesses across the United States. In this call placed to the Hope Clinic for Women, the greater St. Louis area abortion facility is ready to schedule the abortion of a healthy mother's healthy 22-week-old unborn baby for the next day.  A clinic worker cheerfully tells the caller that an abortion at 22 weeks will cost $2,750 and one at 23 weeks will run $3,600.
CLICK HERE TO LISTEN TO THE UNDERCOVER CALL
Father Frank Pavone, National Director of Priests for Life, and Bud and Tara Shaver, founders of Abortion Free New Mexico, released the following statement about the call:
"Illinois is another state in America where late term abortions are being obtained by healthy women carrying healthy babies. Hope Clinic for Women in Granite City is guilty of not only killing viable babies through 24 weeks of pregnancy, but also of peddling 'hope' as something to be attained by killing one's child.
"Women are truly robbed of genuine hope when they are sold abortions and many even go on to later regret their decision. Late term abortions have no place in a civilized society, yet they are occurring all across America. The leaders of this country will have the chance to bring America back to civility by voting for the Pain Capable Unborn Child Protection Act that will protect babies at 20 weeks of pregnancy and beyond."