Fr. Stephen Imbarrato Invited Us To NM 5 Years Ago, He Summarizes The Past Two Years
Fr. Stephen Imbarrato invited our family to New Mexico five years ago to work together to make New Mexico Abortion Free. Fr. Imbarrato best summarizes the last 2 years together and why we have transitioned our primary focus to peaceful and prayerful protests…
New Mexico True: Why We are the Pre-born Child Killing Capital of the Country!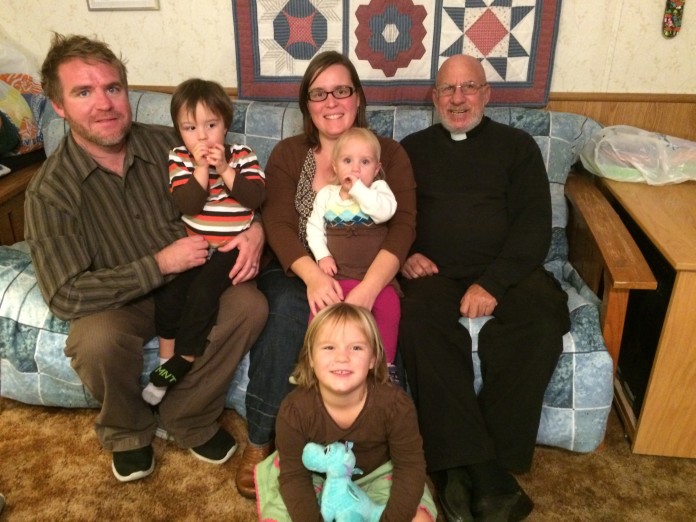 By Fr. Stephen Imbarrato (This was posted at For God's Glory Alone Ministries)
Let me start this blog with some context. New Mexico is the pre-born child killing capital of the Southwest and the late term pre-born child killing capital of the country. The abortion industry in NM brags that NM is the least restrictive state in the country for abortions. Just this year, a young lady over 30 weeks pregnant came here from the United Kingdom to have her baby killed at Southwest Women's Options. Albuquerque is truly the heart of the pre-born child killing industry and the University of New Mexico can be said to be the heart's aorta, fueling the citywide and statewide industry of death. UNM operates 3 of the 5 abortion centers in the city as well as manages several high school referral clinics. UNM also trains abortionists and promotes other aspects of the culture of death. To further this context, NM Governor Susana Martinez, and ABQ Mayor RJ Berry both claim to be pro-life. Let's further paint the picture with the reality that the pro-life movement here has not been able to pass any true baby saving legislation…ever!
Indulge me now while I continue with some personal context. When I was still in the seminary, I founded a pregnancy resource center across the street from a baby killing facility in Hartford, CT. My first year doing ministry here in NM, 2005, I founded Project Defending Life (PDL), a pro-life ministry located next to Planned Parenthood. We started the Sanctity of Life Awareness and Unity Day in Santa Fe, used sidewalk counseling and ultrasounds to save hundreds of babies' lives. We likewise helped hundreds of moms in need. We sponsored various local protests including LifeChains and 40 Days for Life. We initiated post abortion healing ministries such as SilentNoMore and Rachel's Vineyard. We were the only ministry in the entire country that celebrated Mass multiple times a week with Eucharistic Processions to Planned Parenthood. Most importantly we organized and energized a ministerial pro-life movement where before there was little more than a narrow, politically focused, pro-life effort. Most importantly, when I went on sabbatical at the beginning of 2013, the pro-life movement was as unified and energized as it had ever been and has ever been.
During this period, I invited Bud and Tara Shaver and their family to Albuquerque to help expand the PDL ministry to our non-Catholic Christian brothers and sisters. Since then I feel the Shavers and I have been like family. Indeed I feel I am their spiritual father and I hope they feel the same way. I feel privileged to have worked side by side with these young Christian pro-life activists and it is my hope that we will continue to work as closely together until pre-born child killing ends.
I began to transition away from Project Defending Life in 2013. In 2014, I began ProtestABQ with the Shavers. In 2015, I began national pro-life ministry with Priests for Life and founded Protest Child Killing, a national pro-life protest movement which I believe can end pre-born child killing in 5 years. I left ProtestABQ(the local aspect of Protest Child Killing) to be lead by Bud and Tara. We have always worked hand in hand and still do.
In the 2 years we have been exclusively doing peaceful and prayerful protests, we have had 3 focuses; NM state leadership, ABQ city leadership, and the leadership of UNM. Why? We have felt and have come to realize that these three leaderships had the greatest potential to impact, provide oversight, and restrict the pre-born child killing industry in our state. The Governor claims to be pro-life, the Mayor claims to be pro-life, and the President of the UNM Regents claims to be pro-life. We met with the Governor the 1st year she was in office. We met with representatives of the Regents more than once. We have sought to meet with Mayor Berry for years. He has always refused our efforts to meet.
Having given these leaders more than ample orientation of the situation that exists in their city, state, and university, we began protesting their lack of concern, their silence, their lack of action, and their lack of leadership. Today, we find these leaders not only condoning the pre-born child killing industry, but in some ways, they are aiding and abetting the industry. It is more than interesting that the only energy they have spent on this issue during this time is attacking we pro-lifers who have been making the taxpaying public aware of the deplorable situation in our city and state while exposing the complicity of those in leadership positions.
The Shavers and I have been disparaged by supporters of the Governor, the Mayor, and the University. We have been called radical extremists, outsiders, and part of a fringe element of the pro-life movement. We have been accused of being violent and dangerous. We have had our 1st amendment rights violated more than once. Recently the city election ethics board fined the Shavers (a Christian family with 3 children) $1000. The fine came about from a sham hearing with a ruling that is clearly unconstitutional. The Shavers have been forced to sue the city! We have also been harassed by one of the Governor's state agencies and have been obstructed by others. It is interesting, though, that on the streets during all of this our relationship with law enforcement has always been excellent! Why? We are always respectful, peaceful, and prayerful.
We, among many others, are convinced that the Governor and the Mayor aspire for higher offices. Yet [the] Governor's advisers have verbally accosted us and recently the Mayor made a video in support of a pro-abortion ultra-liberal city council candidate; a video that clearly was an attempt to "chill" our free speech. The Mayor now seems to be politically aligned with this pro-abortion councilman who filed the ethics complaint about our protests. The Mayor also has, in the recent past, worked closely with an abortionist and other leaders of the local abortion industry on an initiative directed at teens.
I could go on and on, but suffice it to say, we stand by our peaceful and prayerful protests trying to hold our elected, so- called pro-life leadership accountable. We have asked them to do any number of things to provide oversight and inspection of the abortion industry. We have encouraged them for years to speak out about this deplorable situation in our city and state.
We find it nothing more than a substantiation of what we have believed for the last two years that these leaders have used their influence, their administrations, their followers, and even some politically oriented pro-lifers to not only protect the pre-born child killing industry, but attack and harass those of us who believe we have a moral obligation to protest pre-born child killing especially under our current local conditions.
I am asking the Mayor to do what he has promised he would do numerous times. Meet with us. I am asking the Governor to stop attacking us and work with us to restrict and provide oversight of the pre-born child killing industry in NM. There is much that can be done. I am asking that UNM remove Dr. Paul Roth or reassign him, replacing him with someone who is more closely aligned with the traditional family and life values of the people of NM. I am asking everyone who is pro-life to join us in not only denouncing the conspiracy of complicity in our state, but also to work with us to change the reputation of our city and state away from the pre-born child killing capital of the Southwest.
Let's ask ourselves! Why doesn't our elected pro-life leaders take the same energy they use to harass and obstruct pro-lifers and use it to save pre-born babies?