DETROIT, MI: EXPOSING LATE TERM ABORTION ACROSS AMERICA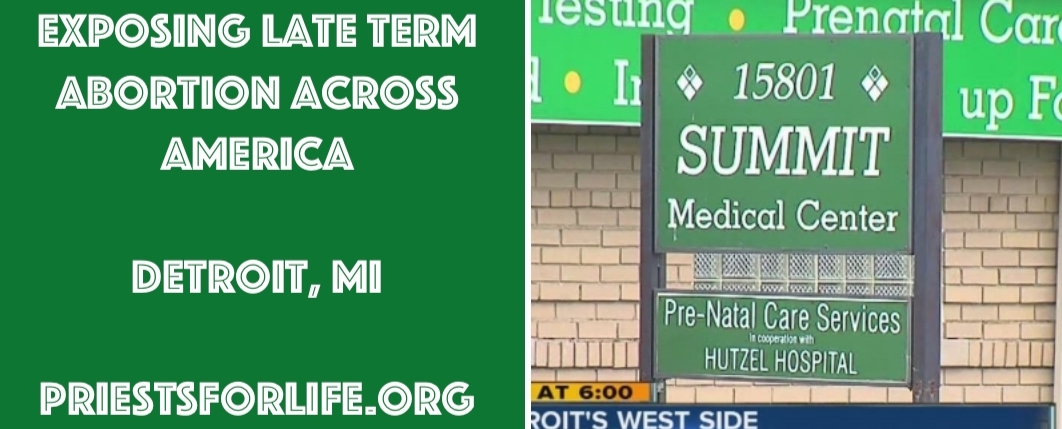 Priests for Life and Abortion Free New Mexico Continue Educational Campaign on Late Term Abortion
In Michigan, "voluntary" abortion up to 24 weeks
Report by Priests for Life, the nation's largest Catholic pro-life organization dedicated to ending abortion and euthanasia.
Fr. Frank Pavone, National Director of Priests for Life, announced this morning the release of yet another undercover phone call to a legal abortion clinic, showing that abortions are being performed on healthy babies of healthy mothers after 20 weeks of pregnancy. Over a dozen such recorded calls are now available at www.PriestsForLife.org/LateTermAbortion, our late term abortion awareness project carried out in partnership with Abortion Free New Mexico.
CLICK HERE TO LISTEN TO THE UNDERCOVER CALL
Fr. Pavone stated, "This phone call says it all. The caller specifically asks if the procedure can be done at 22 weeks even if she and her baby are healthy. Yes, the clinic worker says, it's 'voluntary.' Yet so many of our fellow citizens do not believe this is happening. When they do realize it's happening, we can mobilize both pro-life and pro-choice people to help stop it."
Tara Shaver of Abortion Free New Mexico explained, "Summit Medical Center in Detroit, Michigan is a late term abortion facility killing healthy babies through 24 weeks of pregnancy. The abortion industry considers abortions performed at 20 weeks of pregnancy and beyond to be 'late term'. This admission was revealed over the course of this investigation by the receptionist of Pro-Choice Medical which is run by the infamous late term abortionist, Josepha Seletz in Beverly Hills, CA. In addition, this investigation debunks the myth that these barbaric abortions are primarily being obtained by women with pregnancy related health complications. Democratic leaders in Michigan are urged to work together with their Republican colleges in Congress to end the barbaric practice of late term abortion by passing the Pain Capable Unborn Child Protection Act. 80% of American women support this reasonable legislation."
Action to urge the Senate to pass the Pain Capable Unborn Child Protection Act should be taken now; visit www.StopAbortionNow.org for specific instructions.