Constitutional Crisis: Alabama vs. Washington D.C.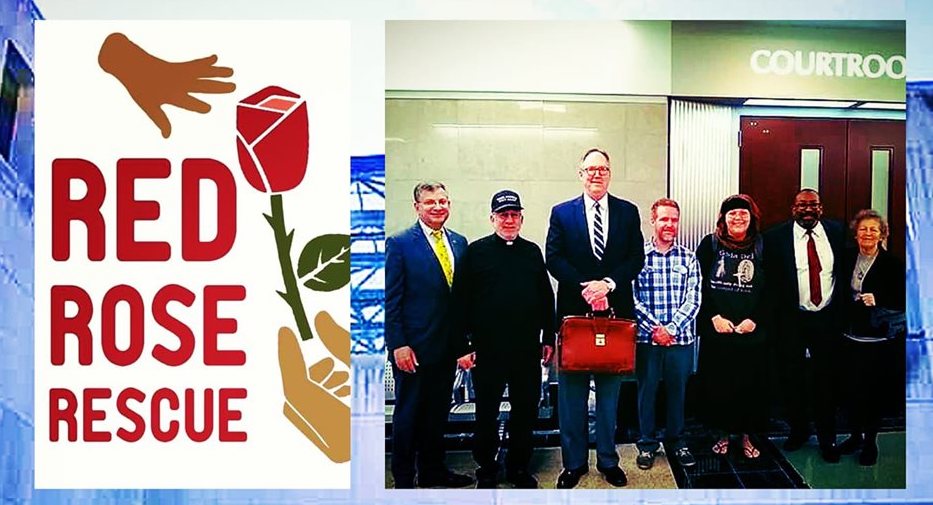 By Bud Shaver
Dear Friends,
Thank you so much for your continued prayers and support on behalf of our pro-life ministry and our family! Bud returned to Washington DC this month for a hearing regarding his Red Rose Rescue arrest that took place on March 19, 2019. The judge set the trial for July 23, 2019 if convicted of trespassing he faces up to 8 days in jail. Bud issued the following statement to the press,
"If abortion facilities are going to drag every American citizen into the killing rooms by the forced funding of these barbaric procedures with our tax dollars, then these facilities are no longer going to be considered off limits. The Red Rose Recuse efforts are bringing our advocacy from the sidewalks surrounding these killing centers to the hallways inside of them to peacefully stop the atrocities being committed against innocent pre-born children."
Learn more about Bud's arrest at late term abortion Washington Surgi-Clinic on March 19, 2019. at AbortionFreeNM.com
Learn more about Fr. Stephen Imbarrato's call for President Trump to end this #ConstitutionalCRISIS by signing the Personhood Proclamation at ProtestChildKilling.com​
Please pray for God to use this trial for His glory and to help end child sacrifice.
MEANWHILE IN ALABAMA…
This month, Alabama Governor Kay Ivey virtually banned ALL abortions in the state by signing pro-life legislation. Abortionists now face up to 99 years in jail for committing abortions! The bill, designed to challenge Roe v. Wade protections, makes it a felony for a doctor to perform or attempt an abortion during any stage of pregnancy.
We are blessed to see this happen so many years after our Survivors campus life tour team ignited the spark that activated the local pro-life community. It all began in 2009 when we unjustly spent time in the Birmingham jail after sharing the message of life outside of Parker High School, the first all black high school in America.
This arrest, however, was not in vain. Numerous students received invaluable information- one student went home to share our information to her sister who had an abortion appointment scheduled. After our arrest we had an injunction placed on the local authorities so that Bud could return with a team of "Pro-life Freedom Riders" to minister to women outside a local Birmingham abortion center. This center had not been a location for counseling for many years but our challenge of an unjust law opened up the sidewalk where the locals documented numerous abortion injuries, then filed complaints to proper authorities and eventually this center closed its doors for good.
Tara Shaver spokeswoman of Abortion Free New Mexico issued the following statement,
"Abortion Free New Mexico applauds Alabama for their bold stand against the premeditated killing of innocent children in the womb. Every state, all across our great country, should follow Governor Kay Ivey's lead and act to ensure that every child in their jurisdiction is valued and protected. ​This bold step forward now compounds the constitutional crisis brewing in our country because while abortionists face jail time in Alabama for intentionally killing pre-born babies, in Washington DC, peaceful pro-lifers also face jail time for intentionally trying to intervene to stop the killing of pre-born children at abortion facilities. These two conflicting realties can't coexist in a just society."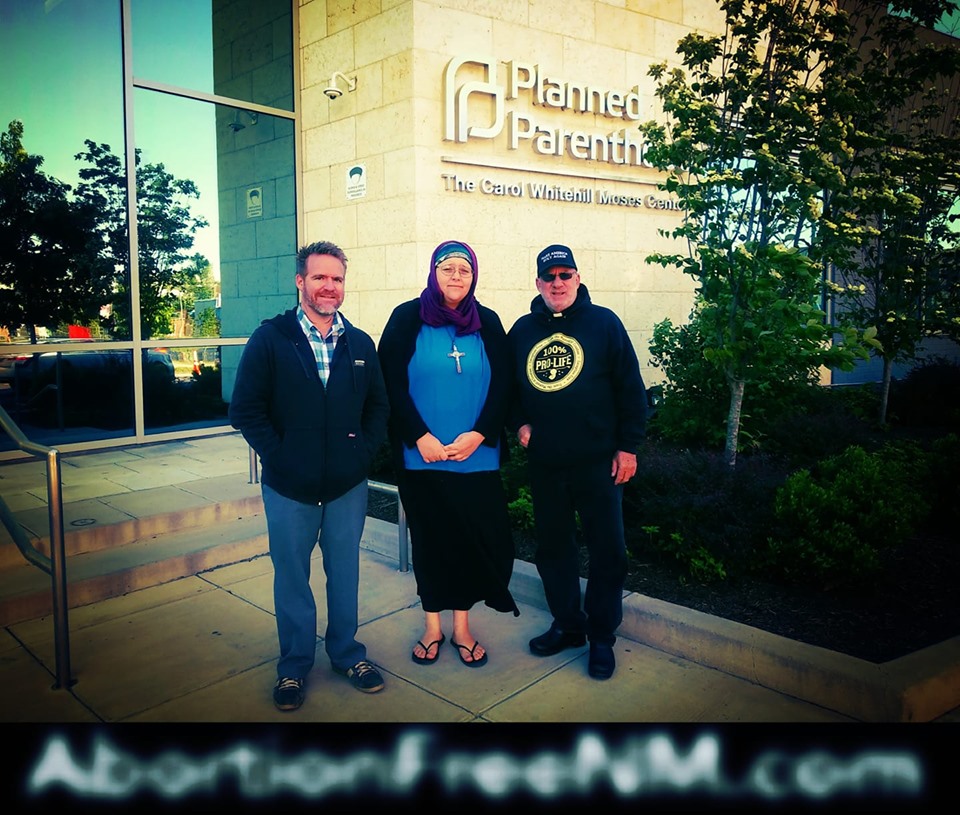 Bud Shaver of Abortion Free New Mexico stated,
Just your presence at these modern day killing centers is enough for hearts to be touched and lives to be saved as you bring the love of Christ…and light up the darkness!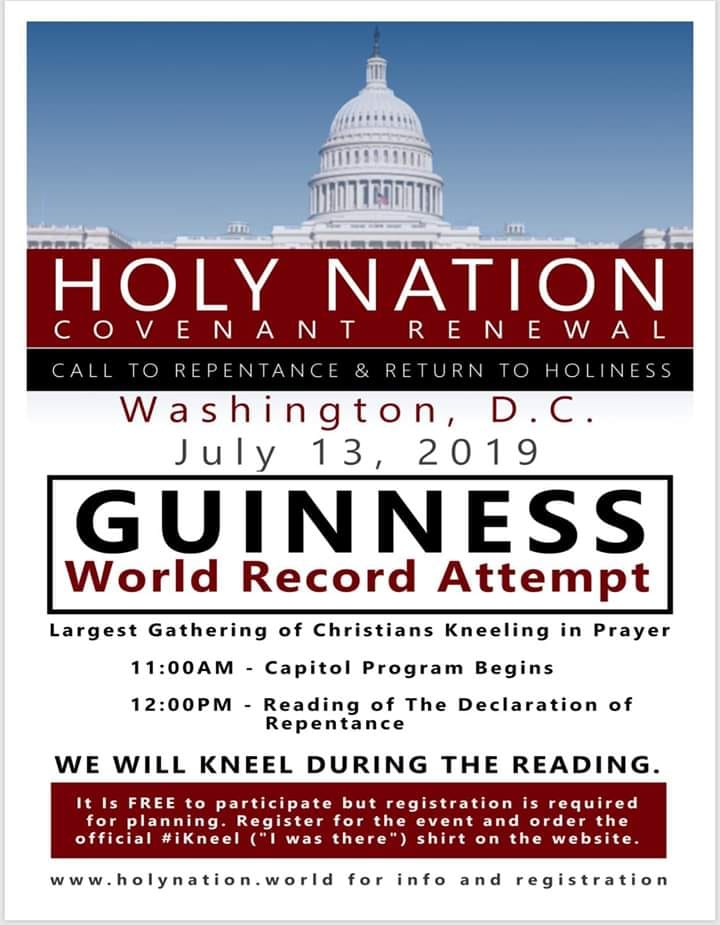 This month we had the pleasure of meeting Kim Chadwell of HOLY NATION as she stopped in Albuquerque with the coffin of the unknown baby. She is on a 48 state tour to ignite repentance and a return to holiness in our nation. It was so providential that she arrived on our first "Faith to Action Friday" that you will read about below.
We have been invited to join HOLY NATION, a call to repentance and return to holiness, in Washington DC on July 11-13th. Bud will be speaking during the weekend's events while representing New Mexico. The weekend will wrap up with what will hopefully set a world record for the largest gathering of Christians kneeling in prayer… In our nations capital!
Please join us if you can (register at HolyNation.world) and prayerfully consider a special gift to help Bud and I get to D.C. in July.
What you do today can be the spark that paves the way for greater things yet to come!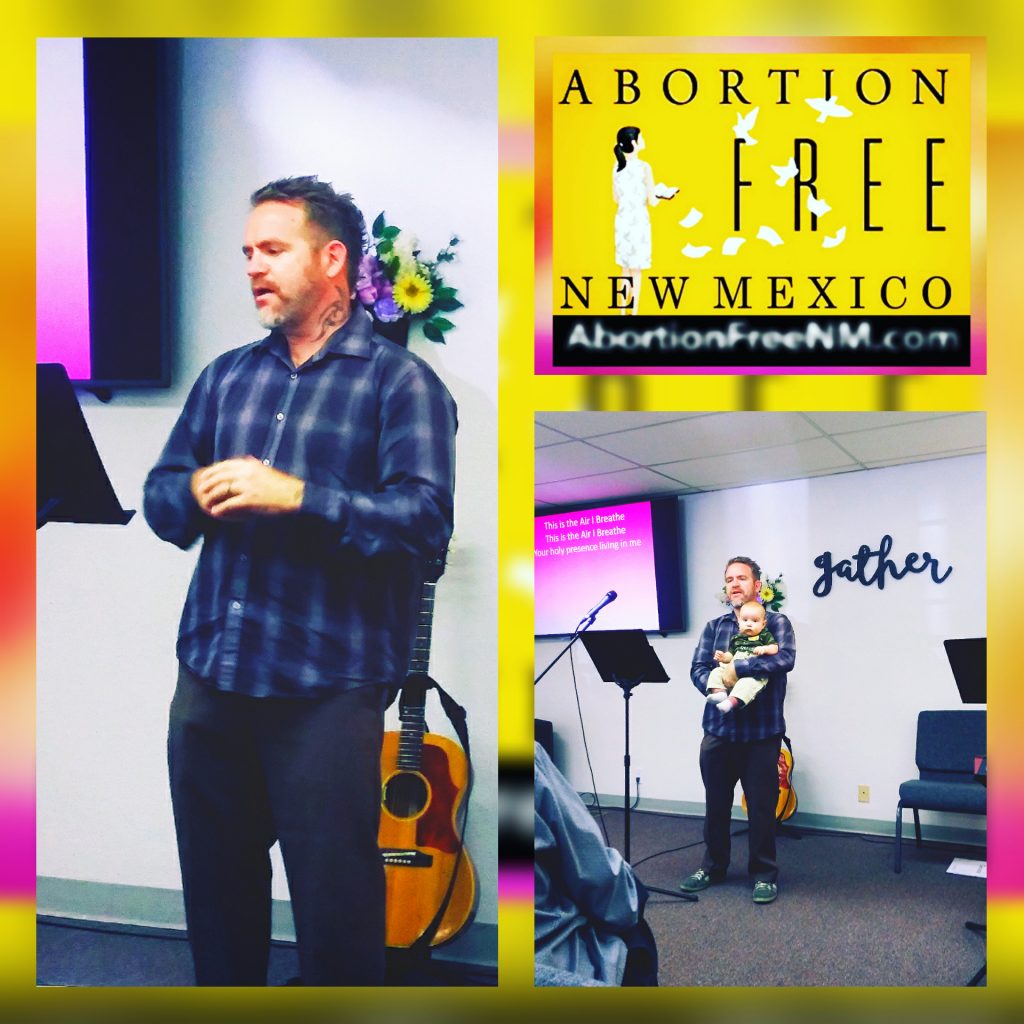 As a missionary family we are always blessed to have the opportunity to connect with local Christians who are passionately engaging our community with the gospel of Christ and are committed to pray and work alongside us as we strive to build an Abortion Free New Mexico. Believing together, that our God is able to transform this city and state as we boldly step out in faith.
It has been said that… "Bad officials are elected by good citizens who don't vote."
In order to vote in the upcoming 2020 election, New Mexicans need to be registered to vote. According to NM Voter Group, there are 203,003 potential unregistered voters. We need to make sure that the Christian community is not sitting on the sidelines but is a strong and mobilized voting block who will support candidates that will represent our values.
Tara Shaver, of Abortion Free New Mexico, is currently a voter registration agent and is willing to come to your Church or local event and set up a Voter Registration table! Registering voters in the church setting is a great way to educate and mobilize those who may otherwise never have the opportunity to be registered.
Here's what's at stake:
All 42 seats in the New Mexico State Senate are up for election in 2020.
All 70 seats in the New Mexico House of Representatives are up for election in 2020.
Voters will elect three candidates to serve in the U.S. House of Representatives from each of the state's three congressional districts.
Voters in New Mexico will also elect one member to the U.S. Senate in the election on November 3, 2020. The election will fill the Class II Senate seat held by Tom Udall (D).
The general United States presidential election will also take place in 2020.
Our friend Lauren Handy of Mercy Missions D.C. revealed that the Planned Parenthood in our nations capital is registering women to vote in the lobby as they wait for their abortion appointments! If Planned Parenthood realizes the urgency of the upcoming election and is making sure that the women sitting in their abortion clinic waiting rooms are registered to vote, we need to be registering the Christians sitting in our church pews so they will be able to vote in the upcoming 2020 election!
UNITY SAVES LIVES!
Abortion Free New Mexico launched a new public awareness campaign this month called, "Faith to Action Friday". We are joining pro-lifers from a wide diversity of groups EVERY Friday at the UNM- Center for Reproductive Health (UNMCRH) abortion killing center. Our presence saves lives and changes minds.
UNM is at the heart of the abortion cartel in New Mexico, as a publicly funded institution UNM consistently promotes a culture of death and is actively training the next generation of abortionists through the Ryan Residency training program. Babies are killed each week at this location up to 24 weeks of pregnancy, many of whom could survive outside the womb if born this late in the pregnancy.
Please Join Us for Faith to Action Fridays:
Time: 9-10am
Location: 2301 Yale Blvd SE. Albuquerque, NM 87106
Park: On Renard St.
Thank you for standing with us for life!
We are a Christian missionary family serving in Albuquerque, NM. Putting our faith into action, for the past 9 years we have exposed Albuquerque as the late term abortion capital of the nation and have worked to bring accountability to an unregulated abortion industry that is killing children in their mothers wombs up to the day of birth.
In order to be the most effective in our pro-life ministry, we do this important work full time while homeschooling our children and raising them to have a biblical worldview. We rely solely on the provision of the Lord and individuals like you to provide for our daily needs.
We are pursuing and working toward an abortion free New Mexico, where every pre-born child is valued and protected.
We would be blessed to have you partner with us in this ministry. Your prayers and support are invaluable.
*You can schedule a secure monthly or one time tax deductible donation online. Simply select Bud and Tara- Pro-Life Witness from the drop down ministry menu.

Or mail checks made out to Life Ministries U.S. to:
P.O. Box 50351
Albuquerque, NM 87181
Earmark: Pro-Life Pin
*Checks made out to Life Ministries U.S. are tax deductible.
We thank the Lord for you and pray for you. Please feel free to send us your specific prayer requests in the return envelope or by email.
Blessings, Bud and Tara Shaver
Please pray with us for New Mexico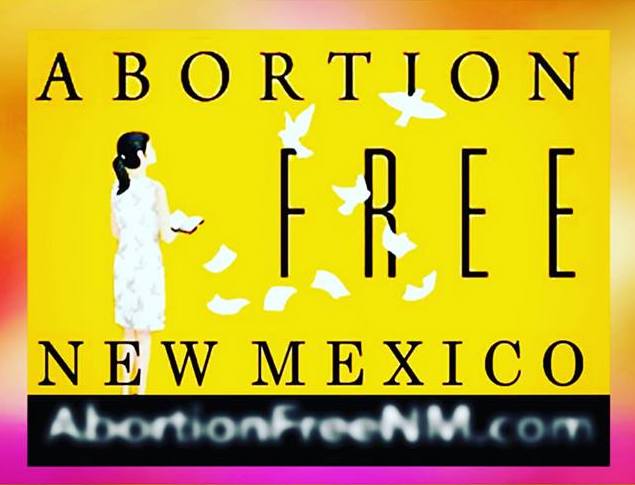 God to show us the weakest links of the last 5 of New Mexico's abortion facilities so that we can effectively work toward the closure of New Mexico's last remaining abortion facilities.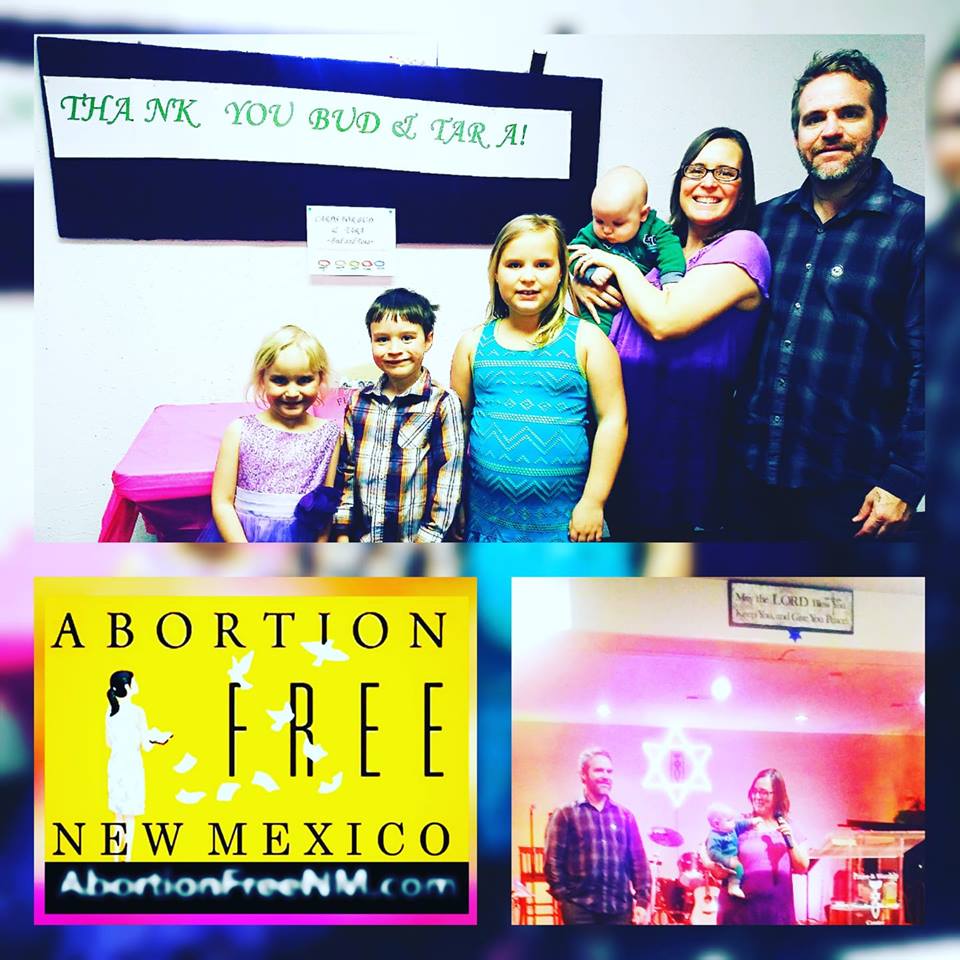 Christians to engage the culture war and for churches to be open to education and voter registration.
Please pray for wisdom, guidance and strategy for us as parents and as missionaries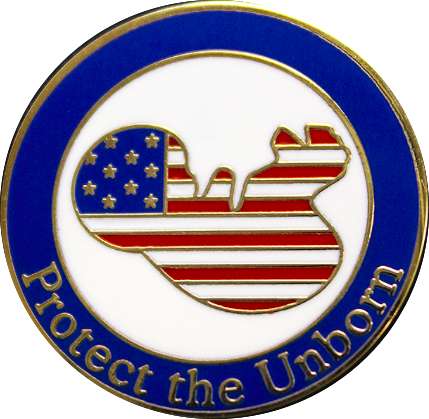 Effective collaboration between like minded groups in New Mexico to end abortion, educate and effect future elections.
"Behold, how good and how pleasant it is for God's people to dwell together in unity!" (Psalm 133)
Thank You!
We couldn't do this important work without God's calling and hand upon us as well as your faithful prayers and support.
Please pray for wisdom, guidance and strategy for us as parents and as missionaries.
We couldn't do this important work without God's calling and hand upon us as well as your faithful prayers and support.
Other ways to sow into an Abortion Free New Mexico
We're humbled to have you partner with us in our ministry here in New Mexico.
May the Lord bless you and your family. Know that you are always in our prayers.