Busted: Texas Nurse Performing Illegal Medical Abortions, Complaints Filed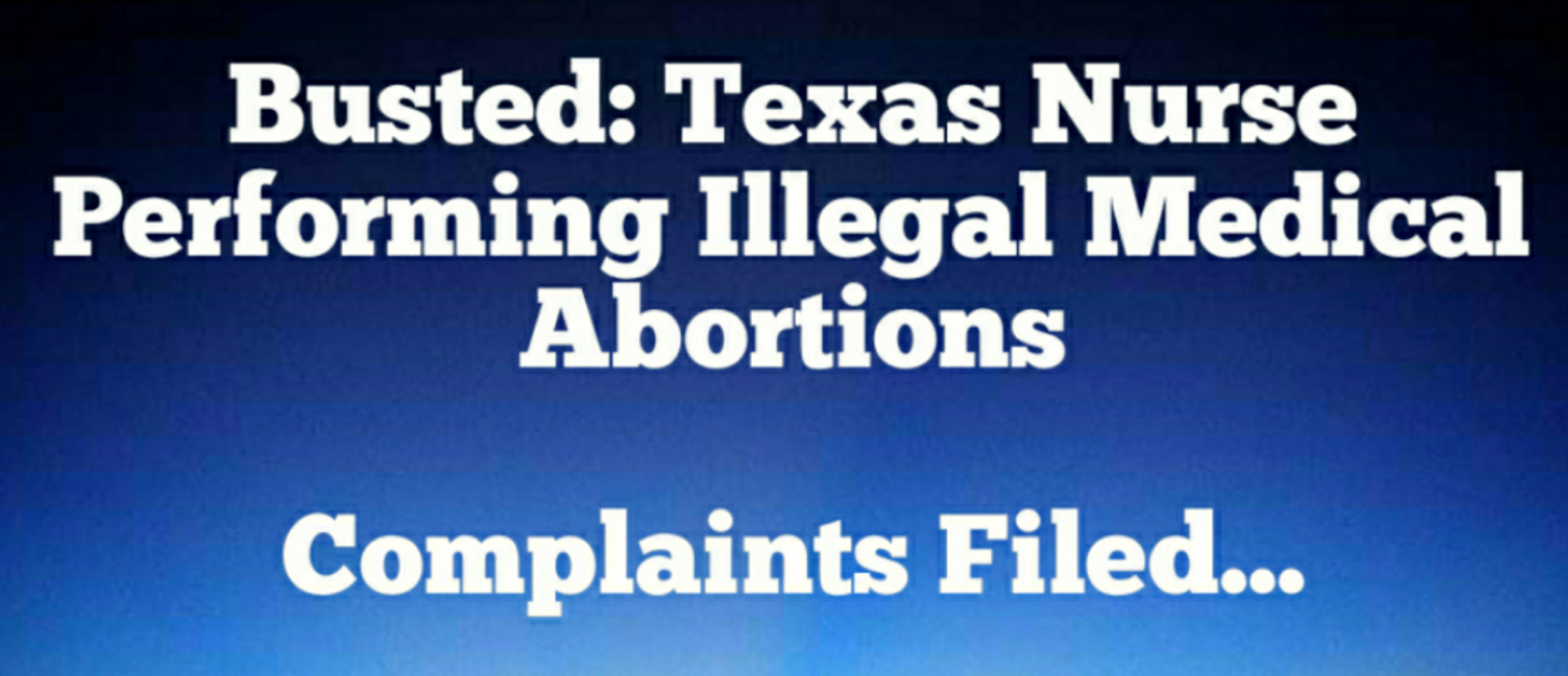 By Bud Shaver
El Paso, TX- In a new investigation, Abortion Free New Mexico has uncovered that a nurse at Hilltop Women's abortion facility is performing illegal medical abortions in clear violation of Texas law. Hilltop also operates an abortion facility in Santa Teresa, NM which has come under recent scrutiny when Abortion Free New Mexico filed an FDA complaint regarding non-compliance with federal protocols for the abortion pill drug, Mifeprex.
The Texas Health and Safety Code Section 171.003 clearly states that "An abortion may be performed only by a physician licensed to practice medicine in this state."
Section 171.063(1) clearly states that, "the person who gives, sells, dispenses, administers, provides, or prescribes the abortion-inducing drug is a physician."
According to Texas law only a licensed physician can perform abortions and includes medical abortions. In a recent undercover call placed to Hilltop Women's Reproductive Clinic located in El Paso, Abortion Free New Mexico reveals that clinic manager, Gloria Martinez is performing medical abortions at a cost of $550.
Excerpt of the call placed to Hilltop Women's Clinic
Hilltop El Paso, TX: Thank you for calling Hilltop Women's Reproductive. How can I help you?


Caller: Yeah. Is this your El Paso location?


Hilltop El Paso, TX: Yes ma'am.


Caller: Okay. I wanted to schedule an appointment for the abortion pill with your, female practitioner. Is her name Gloria Martinez?


Hilltop El Paso, TX: Yes.


Caller: Can I make an appointment with her?


Hilltop El Paso, TX: Sure.


Hilltop El Paso, TX: Do you know how far in the pregnancy?


Caller: Um, I think just about like seven weeks.


Hilltop El Paso, TX: Okay, so you qualify for the pill.


Caller: Okay. And then how much money do I need to bring?


Hilltop El Paso, TX: The cost for the pill is $550.


Caller: Okay. But definitely then on Monday I'd be able to see Ms. Martinez. She could give me the pills and that's fine. Right.


Hilltop El Paso, TX: Yes.


Caller: I don't have to worry about seeing what is it, doctor Theard?


Hilltop El Paso, TX: Yes.
According to the Texas Nursing Board database, Gloria Martinez is a Registered Nurse, not a licensed physician. It is shocking that someone who has taken the time to receive a nursing degree and understands the medical standards involved in practicing medicine would intentionally break the law by performing illegal medical abortions.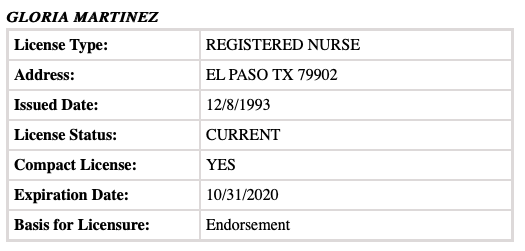 Tara Shaver of Abortion Free New Mexico issued the following statement,
"Gloria Martinez is not a licensed physician and should, therefore, not be administering the abortion pill to women in the state of Texas. Gloria Martinez is placing Texas women's lives at risk by violating the state's Health and Safety Code that was put in place to ensure patient safety. It appears as though the Hilltop Women's abortion facilities are having trouble complying with multiple abortion pill regulations.

On September 10, 2019 Abortion Free New Mexico filed an FDA complaint against Hilltop's New Mexico location, where Gloria Martinez is the clinic manager, for performing medical abortions in violation of FDA protocols. The FDA requires that the facilities dispensing the dangerous abortion drug 
Mifeprex, be able to diagnose ectopic pregnancies. As of December 31, 2018, there have been 24-reported deaths connected with Mifeprex use. Our undercover investigation revealed that Hilltop Women's Clinic is not equipped to diagnose ectopic pregnancies according to their own admission.

The total disregard by Gloria Martinez, as a nurse and clinic manager, to comply with both state and federal laws is quite concerning as her negligence poses serious life threatening consequences to the unsuspecting women who believe they are being seen by a licensed physician who is following proper protocols."
In addition to the Texas Nursing Board, Abortion Free New Mexico has submitted this complaint to the Attorney General of Texas as well.
Hopefully, these complaints filed in Texas will garner the critical attention needed to protect the lives of women. Unfortunately, most of our complaints filed in New Mexico over the past decade have fallen on deaf ears.