Breaking: (VIDEO) Three Women Injured at UNMCRH Abortion Facility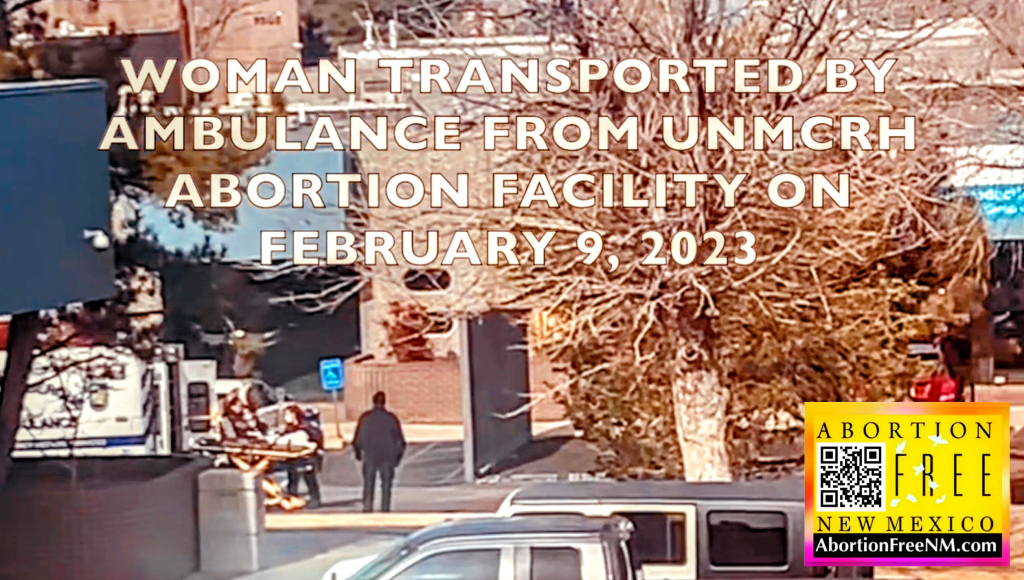 By Bud Shaver,
Albuquerque, New Mexico- On February 9, 2023 Abortion Free New Mexico volunteers recorded a woman being placed into an ambulance at the UNM Center for Reproductive Health (UNMCRH) abortion facility. This is the third abortion related injury that Abortion Free New Mexico has documented since 2023 began. The first abortion related complication occurred on January 13, when a reliable source inside the facility reported that a woman suffered a complication that resulted in some patients having to reschedule their abortion appointments.
A prayer volunteer with Abortion Free New Mexico's, No Sidewalk Without the Savior Initiative, took the picture below, documenting an abortion injury that occurred on January 31, 2023. Every day of the week volunteers peacefully pray on the public sidewalks surrounding the UNMCRH abortion facility and are prepared to provide abortion seeking women with life affirming resources.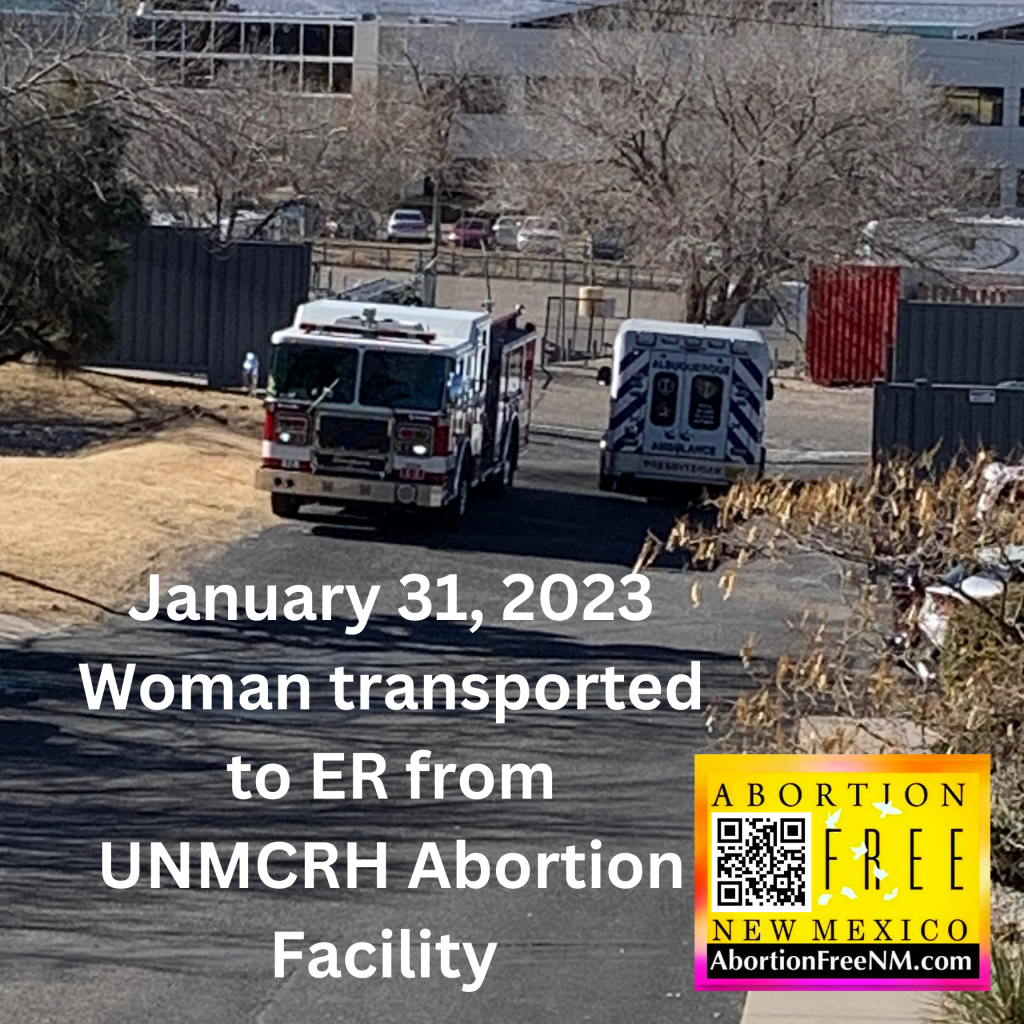 "Abortion Free New Mexico is calling for the immediate closure of the UNM Center for Reproductive Health (UNMCRH) late-term abortion facility. It's only February and we have already documented three abortion related injuries at UNMCRH, so far this year! As these abortion complications pile up it's clear that abortion is not healthcare. Women who enter abortion facilities are healthy and whole, carrying another human life in their womb. Far too often they leave broken physically, emotionally and spiritually because abortion kills their child, violently robbing them of the beautiful gift of life.

As a publicly funded institution, the University of New Mexico has tarnished its reputation and is losing the public trust by performing late-term abortions at the UNM Center of Reproductive Health (UNMCRH). Not only are viable babies being violently dismembered, but unsuspecting women are being injured during these abortion procedures at a staggering rate.Join us as we call upon the governing leadership at UNM to shut down this dangerous late-term abortion facility," stated Tara Shaver of Abortion Free New Mexico.
The UNM Center For Reproductive Health (UNMCRH) abortion facility performs late-term abortions up to 6 months (24 weeks) of pregnancy. Therefore, it is most likely that women are suffering abortion complications due to the unnatural and extremely invasive nature of abortion procedures. First trimester (0-13 weeks) surgical abortions are essentially a blind procedure requiring the abortionist to rely on feeling to remove a pre-born baby from their mother's womb via violent suction. The second trimester (14-26 weeks) abortion procedure requires artificial dilation of the woman's cervix due to the fact that the abortionist must use forceps to dismember the baby piece by piece, and can take up to two days to complete.
Some of the potential complications women face obtaining these procedures include retained fetal body parts, uterine rupture or perforation, cervix laceration, infection, heavy hemorrhaging, embolism, abnormal placentation, disseminated intravascular coagulation, seizures and more. All of these complications can be life threatening and cannot be managed in the outpatient setting that UNMCRH is currently operating in.