Breaking: NM Lt. Governor Denounces #PPSellsBabyParts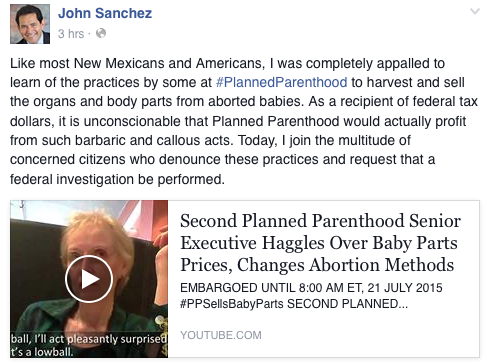 By Tara Shaver
Albuquerque, NM- Today The Center for Medical Progress released another video that shatters the myth that Planned Parenthood is not in the business of selling aborted baby parts for profit.
In the wake of the first video released last week, Protest ABQ immediately began to call on Governor Martinez and the NM Attorney General Hector Balderas to investigate NM abortion facilities.
New Mexico Lt. Gov John Sanchez
NM is home to Southwestern Women's Options late term abortion facility whose own medical consent form states that parts and tissue obtained during abortion procedures will be used in medical research. This is illegal in NM, aborted baby parts cannot be sold or donated legally in the state.
SWO Consent Form-prolifewitness by Bud Shaver
We held a protest on Friday, July 17th with over 100 families in front of Planned Parenthood calling for a statewide investigation of NM abortion facilities and are demanding answers about what local Planned Parenthood, UNM and SWO abortion facilities are actually doing with aborted baby parts.
Thank you for your phone calls, emails and prayers this past week.
Today Lt. Governor of NM John Sanchez posted a denouncement of Planned Parenthood's illegal practices and requested a federal investigation of their killing business. See his post below.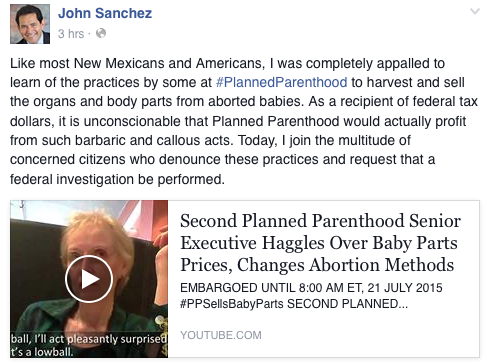 "The power of the people comes when we let our voices be heard, your voice, your phone calls and emails have no doubt reached the ears of the NM state capital this week. While we are thankful that Lt. Governor Sanchez is requesting an investigation of Planned Parenthood at the federal level, we need a statewide investigation of New Mexico's out of control and unregulated abortion facilities immediately," stated Bud Shaver, Executive Director of Protest ABQ.
Please join us in thanking Lt Governor John Sanchez for speaking out on the inhumane practice of selling aborted baby parts. But it would be very naive to think that these incidents are only isolated to Planned Parenthood. Please, also ask him to urge a statewide investigation of NM abortion facilities in light of the SWO consent form and the Jonathan Spradling Revised Uniform Anatomical Gift Act Section 24-6B-2 that prohibits the selling and or donation of aborted baby in NM.
Lt Governor John Sanchez
Phone: (505) 476-2250
Email Web Form: http://www.ltgov.state.nm.us/Contact_the_Lieutenant_Governor_1.aspx
Please continue to call both the AG and the Governor with the following points:
-NM is home to the largest late term abortion facility in the nation where babies are killed up to the day of birth.
-NM law prohibits the selling of body parts and aborted baby body parts are explicitly excluded from donation to medical research.
-This facility's own consent form mandates that women agree to the use of their babies bodies to be used for medical research.
-At least 5 other states have launched investigations to ensure that this practice of harvesting and selling aborted baby body parts are not occurring in their jurisdiction.
-The Attorney General has a duty to uphold the laws of New Mexico and the United States, this issue is in his jurisdiction.
Attorney General Hector Balderas
Contact Lynn Southard: 505-231-4731
Email: concerns@nmag.gov
Governor Martinez
505-476-2200
Email web form: http://www.governor.state.nm.us/Contact_the_Governor.aspx