By Bud and Tara Shaver
This week there are several opportunities to stand for life in New Mexico
This January during Sanctity of Life Month we have been blessed with the opportunity to visit local pro-life churches and encourage them to be a blessing for life in New Mexico in 2018. One thing that we have noticed is that Christians are excited and eager to be a part of saving babies lives and to be
salt and light
 in our communites, so here are some ways to do so this week.
All families are welcome and encouraged to attend.
Wednesday, January 17, 2018
Santa Fe, NM: Annual Sanctity of Life and Unity Awareness Day
Noon Mass: 
Cathedral Basilica of St Francis in Santa Fe
, 131 Cathedral Place, Santa Fe, NM 87501
Procession
 at 1:30 p.m. from Basilica through the Plaza to the Roundhouse.
Rally at the Roundhouse and Visiting Legislators, 2:00pm
To find your New Mexico legislator click here.
*Be sure to stop by on your way into the Roundhouse to sign the petition for Michelle Garcia Holmes who needs signatures of registered Republicans to get on the ballot for Lt. Governor of New Mexico 2018.
Read her pro-life statement here.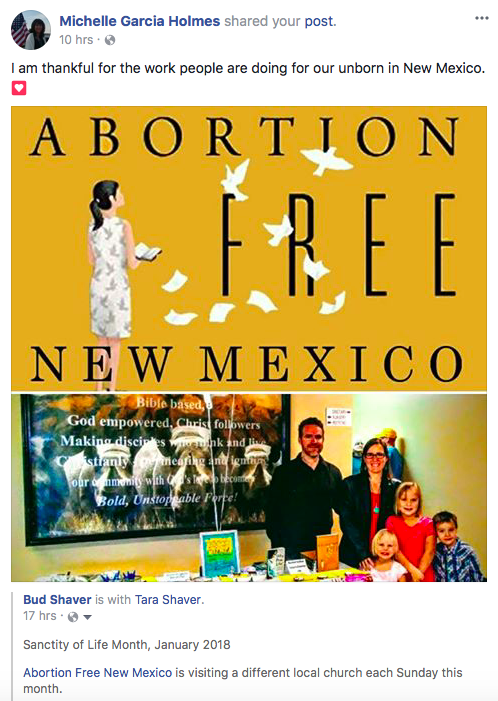 * If you can't make it up to Santa Fe this Wednesday January 17th, Stand for Life in Albuquerque:
Albuquerque, NM: 2018 Annual March for Life (Peaceful, Prayerful Rally at Late Term Abortion Facility.)
Location: Southwestern Women's Options, 522 Lomas Blvd NE.
Time: 11:00am
Friday, January 19, 2018
Albuquerque, NM: Pro-Life March around UNM
Location: Corner of Lomas and Girard
Time: 11:00amMeet at 11am on SW corner of Lomas and Girard to March for Life around UNM, a major player in the abortion cartel in New Mexico.
We will march from Lomas and Girard south to Central and Girard. Then head west down Central to University and then north on University to Lomas. Our last leg will be up Lomas back to Girard.
It's a 2.5 mile route and there will be people with water bottles at various points along the route.
Wear good walking shoes and bring shofars and tambourines and signs if you wish.
Please use street parking and stay on public sidewalks.
More information at the Facebook event page: Albuquerque March for Life
Saturday, January 20th, ProLife Prayer Rally
We will be standing for Life on the corner of Menaul and San Pedro to be a witness for Life to all passersby.
Michelle Garcia Holmes Pro-life Statement by Bud Shaver on Scribd