What Would You Do If You Only Had 24 Hours to Save a Life?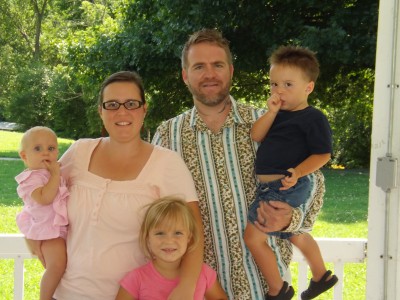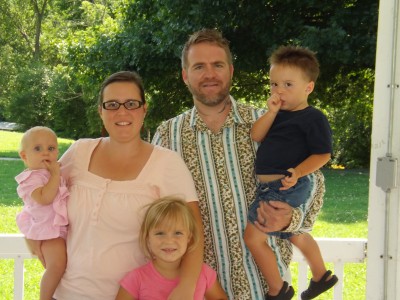 What would you do if you only had 24 hours to save a life? This month (in May), we faced that challenge head on when we were contacted by the pro-life community in Lubbock, Texas alerting us about a couple who was traveling to Albuquerque to kill their baby who had been diagnosed with down syndrome. We did all that we could in 24 hours with the information that we had received in addition to mobilizing a prayer and protest presence out at the late-term "killing center."
Thankfully, on the afternoon of the woman's appointment we received great news from someone close to the family that this baby girl was not killed! Sadly, in this culture of death and depravity no child in the womb is safe! That is why we must be even more diligent in every way to be a voice for the voiceless. Our ministry is about preserving life and overcoming death, we thank you for your prayers and support that keep us fighting for life. While it's true that you never know what each new day holds, we know who is in control of the future and He deserves all of the glory!
Read the full story covered by LifeNews here: Mother 5 Months Pregnant Decides at Last Minute Not to Abort Her Baby With Down Syndrome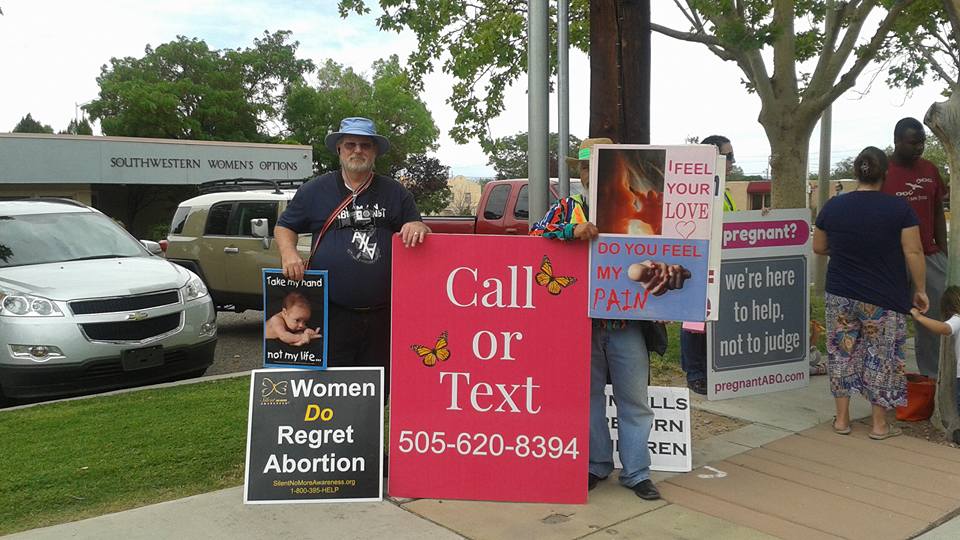 Prayerful protest presence at late term abortion mill.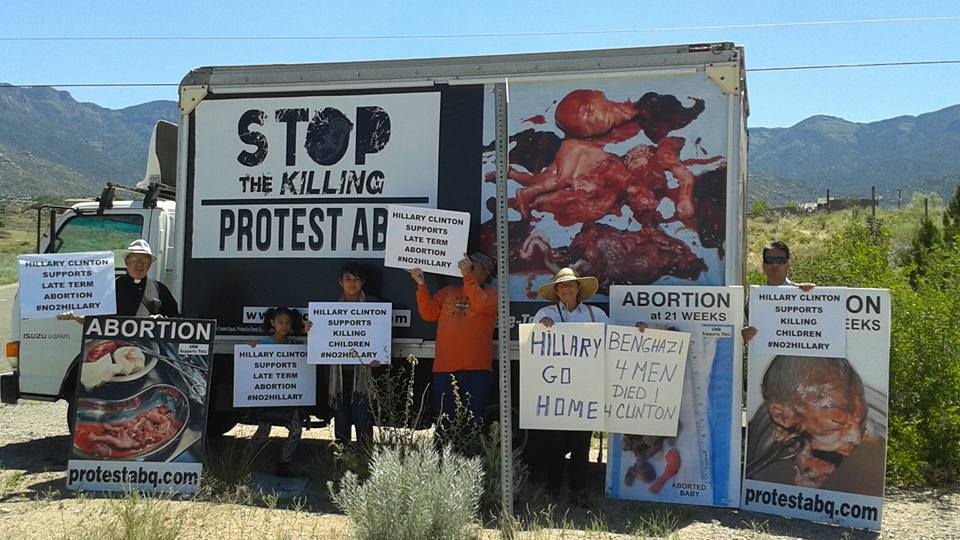 Hillary Clinton in ABQ- She came, she saw, she was protested. Former Ambassador to Spain, Ed Romero hosted a fundraising breakfast for the anti-family Hillary2016 campaign. Tickets were a mere $2,700 a pop, more than the average ABQ family makes each month.
Read coverage of the protest here:
Albuquerque Protests Hillary Clinton's Arrival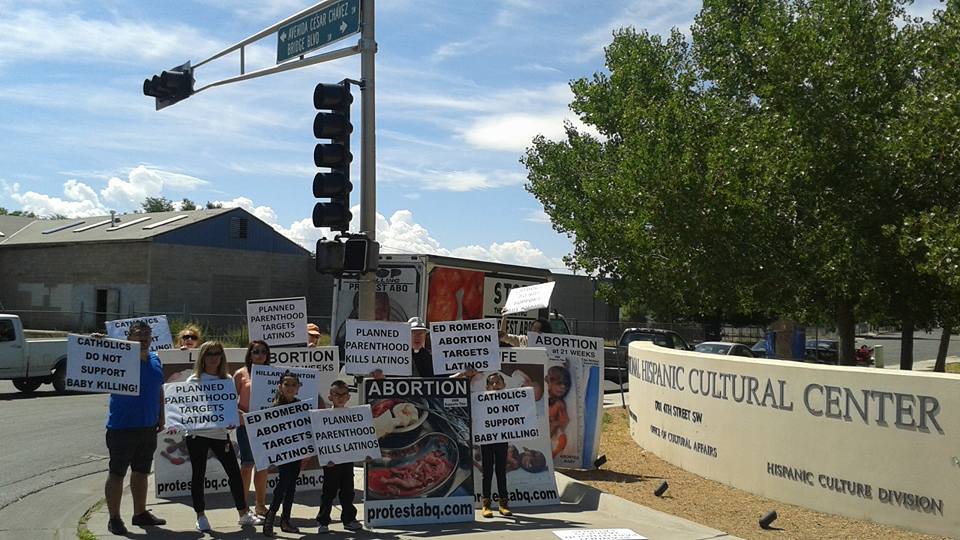 Hillary Clinton host, Ed Romero founded ABQ's National Hispanic Cultural Center, so we decided to let Mr. Romero and the public know that abortion does kill latino babies of his own race.
Read coverage of the protest here: Ed Romero: Abortion Targets Latinos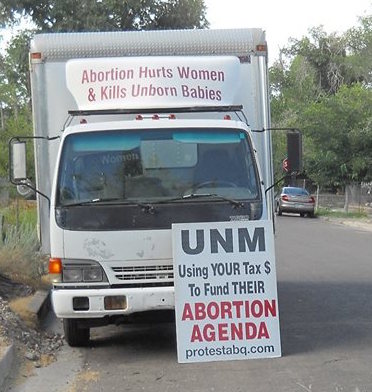 This month we also protested politicians who are pushing their agenda on UNM Alumni here in ABQ.
Lobos of Death: A Look at the Radical Abortion Agenda at the University of New Mexico (Part 2)
Protest ABQ posed the following question to Pro-Abortion "Catholic" Senator Jerry Ortiz Y. Pino and other pro-abortion politicians: Sen. Pino (D), "Is it Okay to Kill a 7 lb. Baby?" (These same pro-abortion politicians were pushing their radical agenda at a "New Mexico Lobos for Legislation Home Reception" this month…so Protest ABQ was there!)
–Please continue to pray for us, we are making slow progress on our groundbreaking projects.
–Pray for our nation. The recent SCOTUS decision on gay marriage s hows us just how depraved our culture is and how much bolder we must be in proclaiming the truth.
Read Bud's response to the Supreme Court's blatant assault on biblical truth and the God designed family unit by legalizing homosexual marriage in all 50 states of America here: Our Country Needs Bold Christianity
– We have a special prayer request regarding our family potentially adopting several children. Details to come, in the meantime please pray for open doors regarding the process
You, dear friends are invaluable to the work that God has called us to here in NM. We are working to make NM abortion free but we absolutely can't do it without you! Thank you to those who are partnering with us both financially and through prayer. We are praying for all of you and the specific prayers of those who have sent us prayer requests. We want to pray for you! Please reply to this email with your prayer requests.
To make sure you never miss a monthly gift, please schedule your monthly donation securely here.
Click here for a PDF version of this newsletter.