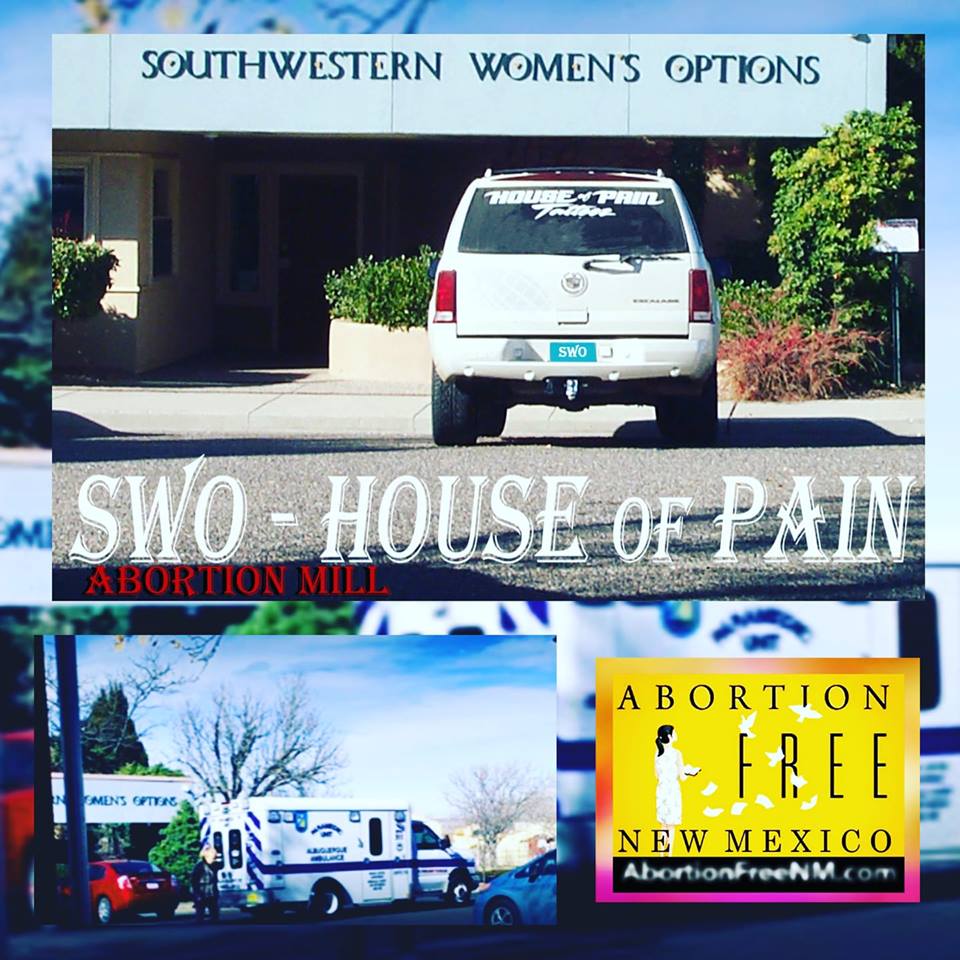 By Bud Shaver
Santa Fe, NM- Two pro-life House Bills, HB 600 WOMEN'S HEALTH & SAFETY ACT and HB 608 ALLOW REFUSAL TO ADMIT PATIENTS FOR ABORTION are scheduled for their first committee hearing on Thursday, February 28, 2019, at 1:30 PM (Room 317).
Pro-Life House Reps: Gregg Schmedes (R) District 22, Rod Montoya (R) District 1, Rebecca Dow (R) District 38, David M. Gallegos (R) District 61, and Cathrynn N. Brown (R) District 55 are sponsoring House Bill (HB) 600 WOMEN'S HEALTH & SAFETY ACT or "Keisha's Bill".
Tara Shaver of Abortion Free New Mexico, with the help of Operation Rescue, uncovered and exposed the death of Keisha Atkins during a late-term abortion at Southwestern Women's Options in 2017. HB 600 is aimed at protecting women like Keisha and babies beyond 20 weeks of pregnancy from late term abortions in New Mexico.
Learn more here:
"Keisha's Bill," HB 600 includes the following requirements to safeguard the safety of women and prohibitions concerning Late-Term abortions (after 5 months/ 20 weeks):
PROHIBITS LATE-TERM ABORTIONS
PROVIDES LICENSING REQUIREMENTS
REQUIRES INFORMED CONSENT AND PARENTAL NOTIFICATION
REQUIRES REPORTING OF ABORTION COMPLICATIONS
REQUIRES USE OF HOSPITALS FOR *MEDICALLY NECESSARY ABORTIONS
PROVIDES CIVIL PENALTIES
PROVIDES CRIMINAL PENALTIES
* MEDICALLY NECESSARY ABORTION is defined as: "necessary to preserve the life of a pregnant woman whose life is endangered by a physical disorder, physical illness or physical injury, including a life-endangering physical condition caused by or arising from the pregnancy itself; provided, however, that the physician shall take all reasonable steps to preserve the life and health of the fetus."
HB 608 ALLOW REFUSAL TO ADMIT PATIENTS FOR ABORTION is a stand alone conscience bill. It provides the following safeguards:
ALLOWS HEALTH FACILITIES AND ASSOCIATED PERSONS TO REFUSE TO ADMIT PATIENTS FOR ABORTIONS OR TO PARTICIPATE IN ABORTIONS.
Pro-Life Sponsors:
TAKE ACTION:
Contact the House Consumer & Public Affairs Committee Members and urge them to support these two bills:
If you would like to attend the hearing and/ or testify in support of these two bills:
WHERE: New Mexico Capital building (Room 317) House Consumer & Public Affairs Committee
WHEN: Thursday, February 28, 2019, 1:30 PM
PARKING: Free parking garage behind the Capitol at 420 Galisteo St, Old PERA parking lot East of Capitol at Paseo Peralta and Old Santa Fe Trail and street parking.
RELATED NEWS:
(Life Ministries U.S. presents 5 years of research) PART 1– 15 MIN
Thank you for standing with us for life and truth! 

"Therefore we ought to support people like these, that we may be fellow workers for the truth." (3 John 1:8) 
When you sow into our ministry with your tithes and offerings you are investing in an Abortion Free New Mexico.