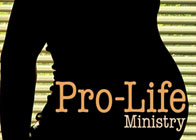 Learn to defend the pro-life view with or without a Bible! This 6-week class is designed to help you use science and reason to make a persuasive case for the pro-life view. Join the Pro-Life Ministry in the family room, Mondays 7-8:30 p.m. This ministry provides opportunities to be a voice for the unborn through these outreaches. Lives can be saved and hearts changed by joining the quest to end abortion.
February 4- Intro & Simplify the Issue
February 11- Make a Case for Life
February 25- Answering Objections
March 4- Defending the Christian Faith (The Resurrection)
March 11- Role Playing
March 18- Bud Shaver's Street Training
The classes will be held at 7pm in the Family Room at Calvary ABQ located at 4001 Osuna Road NE Albuquerque, NM 87109
Start spreading the word and invite your family & friends!
God bless you and we look forward to seeing you Monday night!
For more information call 505-344-0880 or email Grant Bressett at gnjinnm@hotmail.com