Southwestern Women's Options and UNM Refuse to Comply With U.S. House Investigation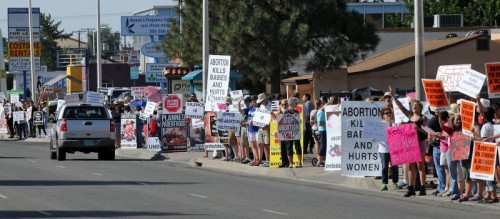 (Photo credit: Jim Thompson/Albuquerque Journal)
By Tara Shaver
Albuquerque, NM- The Albuquerque Journal is reporting that because the University of New Mexico (UNM) and Southwestern Women's Options provided no documents and failed to cooperate in a U.S. House inquiry into the harvesting of aborted baby body parts, these entities will be served subpoena's early next week.
"The mission of the Select Investigative Panel on Infant Lives (as it is informally known) is to gather information and get the facts about medical practices of abortion service providers and the business practices of the procurement organizations who sell baby body parts," according to their website. The staff on this panel have sent more than 30 letters requesting documents related to the investigation.
Protest ABQ submitted documentation, compiled over 5 years of research, to the panel today in line with their scope of authority to review, such as "medical procedures and business practices used by entities involved in fetal tissue procurement and practices of providers of second and third trimester abortions." ​
Protest ABQ and other pro-life groups were told that there were no responsive documents to an Inspection of Public Records Request in 2015, regarding UNM's use of fetal tissue. Months after this request the Albuquerque Journal reported that Southwestern Women's Options was, in fact, the sole provider of fetal tissue to the University of New Mexico.
Fr. Stephen Imbarrato with Priests for Life and Director of Life Ministries U.S., issued the following statement: "UNM is the heart of the abortion industry in NM and hopefully this will be the beginning of the end of their abortion cartel! I am convinced that Dr. Paul Roth is behind the entire cartel and also this coverup. UNM has tried to hide their dealings from NMAFL, Protest ABQ and now the Federal Government.
It is time for the Attorney General, Hector Balderas, to stop campaigning for Hillary Clinton and do a statewide investigation of the New Mexico abortion cartel. It is also time for Gov. Susana Martinez to put pressure on the UNM Board of Regents as well as use her agencies and executive powers to provide oversight to the New Mexico abortion cartel in the Late Term Abortion Capital of the Country."
Protest ABQ filed a formal complaint in July 2015 with New Mexico AG Hector Balderas, asking for an investigation of Southwestern Women's Options based on their consent form that states "pregnancy tissue may be used in medical research."
"It is clear that both UNM and Southwestern Women's Options believe that they are accountable to no one. This investigation by the U.S. House Select Investigative Panel on Infant Lives couldn't be more timely as New Mexicans are consistently left with more questions than answers.
It is long overdue that UNM, a publicly funded institution and Southwestern Women's Options, the notorious late term abortion facility, are forced to provide transparency about their involvement in using aborted baby body parts.
New Mexicans deserve to know just how deeply entrenched these two are in this further degradation of human life," stated Bud Shaver, Executive Director of Protest ABQ.
For years it has been evident that fetal tissue was being harvested in New Mexico. Protest ABQ continues to urge Governor Martinez and AG Hector Balderas to investigate at the local level.
Please be in prayer for this panel investigation, that it will shed light on the use of aborted baby body parts in Albuquerque.
RELATED:
Operation Rescue: Congressional Subpoenas Go Out to Uncooperative Abortion Providers, Profiteers