Quarantined But Still Fighting For Life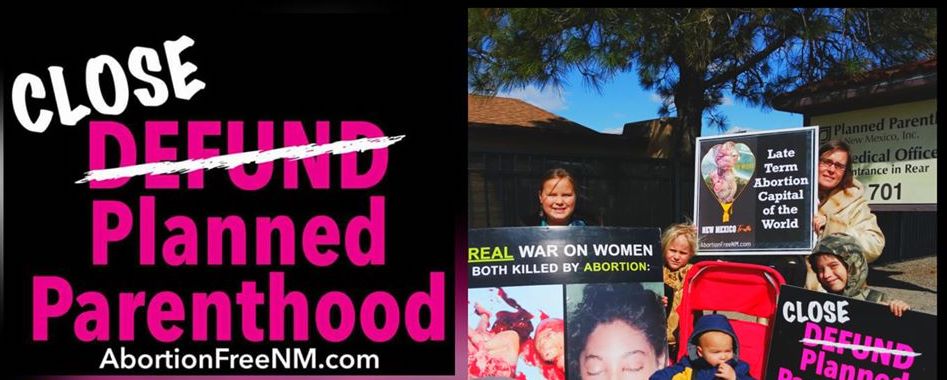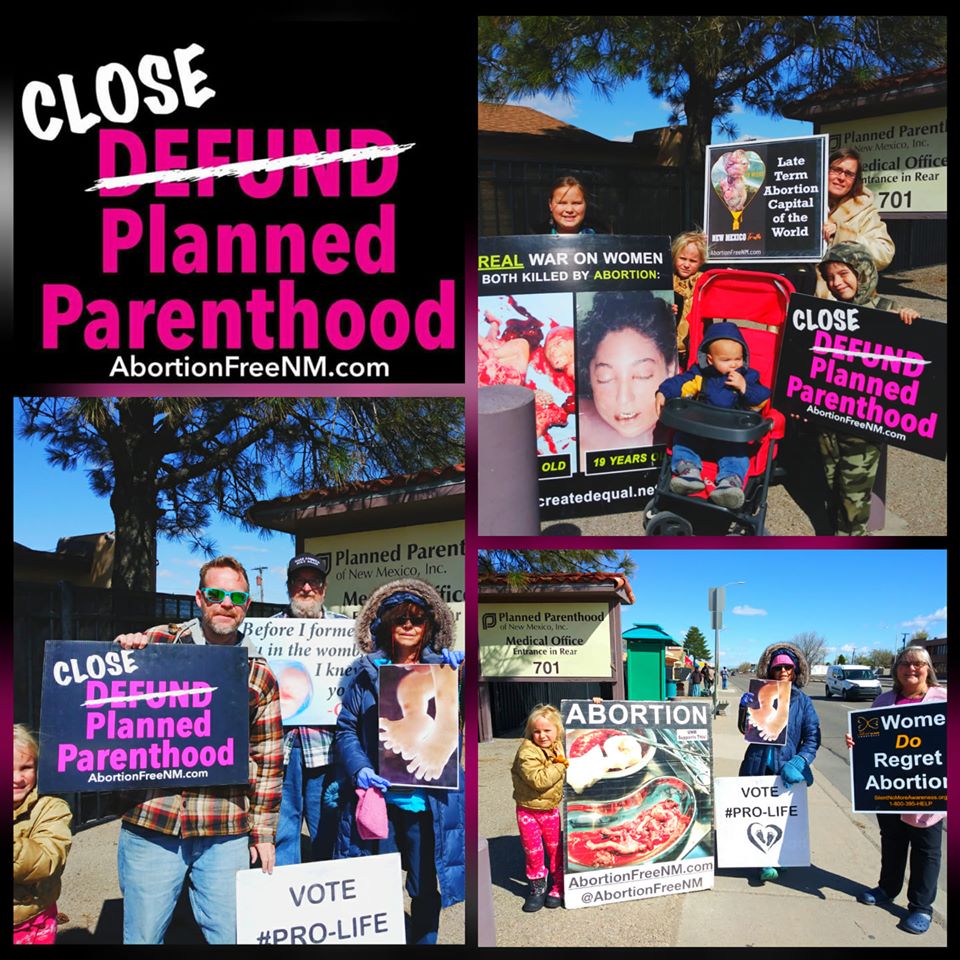 Dear Friends,

It's amazing how our way of life can change overnight, isn't it? We can rest assured though that Jesus Christ is the same yesterday, today and forever! In the midst of the frenzy, we as Christians can cling to these words and know that God will work everything out for the good of those who love Him. We hope that you and your families are safe, healthy and reflecting during this time of uncertainty.
For us, the coronavirus outbreak has given us a chance to have to be at home, which has actually been nice. It seems like we've been so busy lately, it is an election season after all. Since we homeschool, our mornings are already reserved for learning, so we have just limited taking the kids out in order to avoid big crowds at stores and indoor play areas. It has also given us a chance to talk with our children about the situation at hand. About how to trust in the Lord and be considerate of others.
Thank you so much for your prayers and encouraging words during this time. Hopefully this season will pass quickly and we can get back to life as normal. We have maintained our presence outside of UNM's abortion facility and have a special action item in our April Newsletter (linked below) to call for New Mexico officials to halt abortions in the state.
Our efforts this month triggered the radical left! In fact, Media Matters published a hit piece titled, "Right-wing media and abortion opponents exploit the coronavirus crisis to spread lies about abortion"

…and went on to report,
"Anti-abortion organization Abortion Free New Mexico wrote a post 'calling on all New Mexico abortion providers, including publicly funded University of New Mexico, to halt elective abortion procedures during the current state of emergency.'"
We appreciate each of you and know that the Lord will continue to bless our efforts to make our state abortion free. We couldn't do it without you!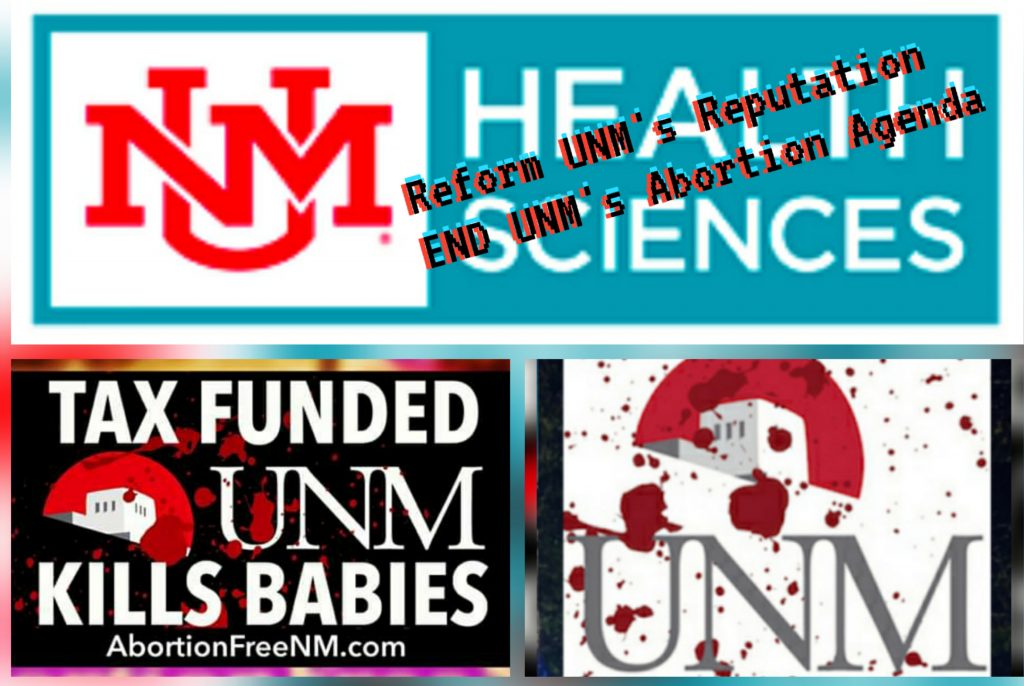 By Bud Shaver
This month, during a press conference at the White House,
"Vice President Mike Pence has called on hospitals to delay all elective procedures across the country to help ensure medical capacity is focused on stemming the spread of the coronavirus."
Locally, other health agencies are following this recommendation. The New Mexico Dental Association is recommending that dental offices consider suspending non-essential and non-urgent dental care.
Abortions are performed routinely up to 32 weeks of pregnancy and sometimes beyond as elective procedures in the city of Albuquerque. It is for this reason that New Mexico is known as the late term abortion capital of the nation. Other health agencies are taking necessary precautions to prevent the spread of COVID-19, yet the abortion industry is taking no such measures, even though they are offering non-essential elective procedures.
So this month, we called on all New Mexico abortion providers to halt elective abortion procedures during the current state of emergency caused by the coronavirus outbreak,
"Abortion Free New Mexico is calling on the University of New Mexico, in addition to all New Mexico abortion providers, to immediately stop all elective abortions during the current state of emergency in the state. The University of New Mexico operates a free-standing abortion facility, The UNM Center of Reproductive Health that conducts elective abortions up to 24 weeks gestation. New Mexico tax dollars and medical resources can be better allocated to individuals facing immediate life threatening complications stemming from the coronavirus outbreak. Abortions are elective procedures and as such should be halted immediately throughout New Mexico."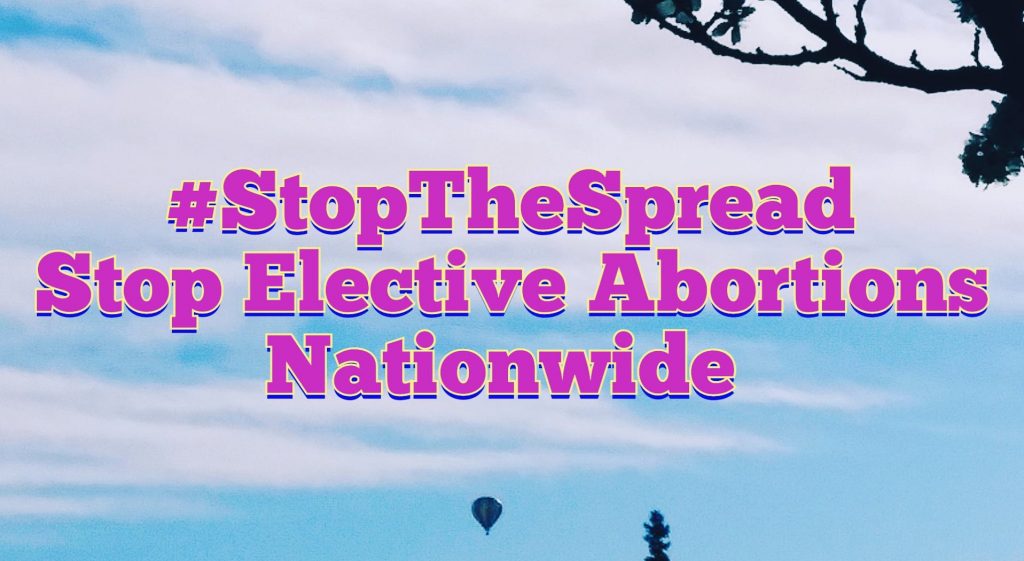 Nationwide Unified Collaboration
We also joined with Created Equal and other national organizations in calling upon the governor of New Mexico, Michelle Lujan Grisham (D), and governors across the country to immediately shut down abortion facilities to #StopTheSpread of COVID-19.
Not only are these facilities consuming scarce personal protective equipment, they risk spreading COVID-19 throughout New Mexico. Furthermore, abortionists themselves are not immune to COVID-19 in fact, Operation Rescue reported that, Three Abortionists Admit Symptoms Consistent with COVID19 as Abortion Facilities Ignore Health Risks. These facilities also put a burden on community EMTs and hospital ERs, should they have a medical emergency at one of their locations.
Tara Shaver of Abortion Free New Mexico issued the following statement,
New Mexico will soon become ground zero for the spread of COVID-19 across the nation because of the states abortion tourism which draws women here from all across the nation. New Mexico offers elective abortions up to 32 weeks of pregnancy, and throughout all nine months on a case by case basis. ​It's no secret that Governor Michelle Lujan Grisham (D) is a champion for elective late term abortions, but she needs to recognize the danger that is being posed here if abortions do not halt immediately. Abortion Free New Mexico wants every life to be protected and that is why we are urging the the New Mexico governor, Attorney General and Department of Health to work together to stop elective abortions which will inevitably contribute to the spread of the coronavirus throughout the nation.
In addition to contacting our Governor and the New Mexico Department of Health, we also filed a formal complaint with the New Mexico Attorney General.
Mark Harrington President and Founder of Created Equal issued the following statement,
Across the nation, schools have been closed. Businesses have been shuttered. Churches have even closed. Then why are abortion facilities still open for business? If abortion is a 'choice' then abortion is an elective procedure. However, abortionists want to have it both ways. In a clear double standard, abortion centers across the nation are staying open during this national health crisis, risking public health and safety.
While we are still waiting on a response from our New Mexico leaders, several other states have had great success from this #StopTheSpread campaign.
Ohio, Mississippi, Louisiana, Texas, and Maryland HAVE STOPPED ALL ELECTIVE ABORTIONS during this outbreak!
According to LifeNews.com, Mississippi Gov. Tate Reeves urged the state's only abortion facility to close and comply with a state order postponing all elective medical procedures due to the coronavirus.
Governor Reeves issued the following statement,
We're doing everything in our power, and have for many years, to make Mississippi the safest place in America for unborn children. We'll take whatever action we need to to protect not only the lives of unborn children, but also the lives of anyone who may contract this particular virus.
BREAKING: Woman Injured In New Mexico As Governor's Office Declares Abortions Will Continue During State of Emergency
Call To Action: Contact New Mexico Officials to Halt Abortions In New Mexico
Contact New Mexico Governor, Michelle Lujan Grisham today!
Contact the New Mexico Department of Health today!
Contact the New Mexico Attorney General today!
SAY: "While businesses have been closed, abortion centers remain open in our state, continuing to perform elective surgeries putting ALL our lives at risk of COVID-19. I call on the governor to close the abortion businesses before the deadly virus spreads further!"
ASK: Is she going to protect us and issue the order to close the abortion businesses just as other businesses, schools, and churches have closed? To keep the abortion business open is to put our lives at risk.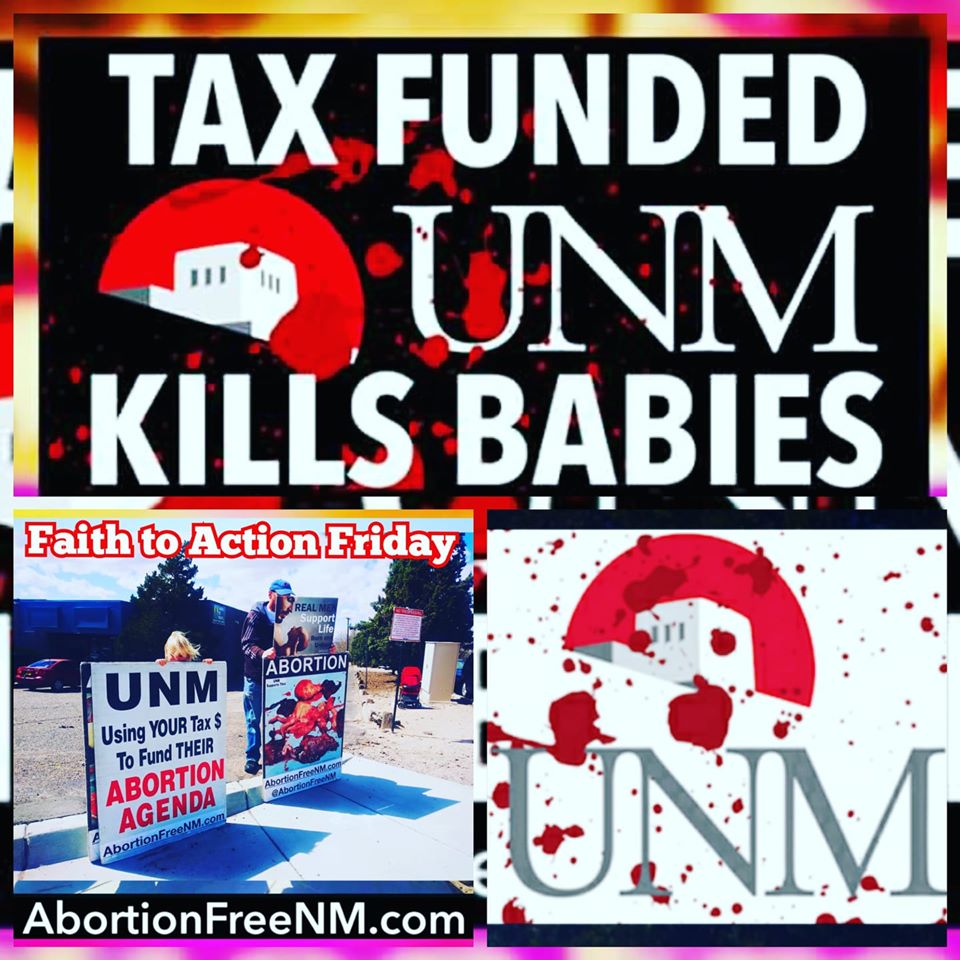 Albuquerque, New Mexico- In March 2020, one of the most shocking things occurred in America /World history…
Churches shut their doors for Sunday services, and even the Catholic Churches canceled Mass! As Churches are forced to close their doors, it is more vital than ever to put our faith into action.
"It only takes an hour to make a lasting difference and have an impact for LIFE. Now more than ever, we need to pray collectively, publicly, and strategically. Our presence has the ability to reform The University of New Mexico – UNM so that they get out of the abortion business!" Bud Shaver, Abortion Free New Mexico
Resolve to protest more in 2020!
Join Us in April!
Stand Up For Life in front of the University of New Mexico's free standing abortion facility.
Faith to Action Fridays,
3rd, 10th, 17th and 24th.
Time: 12-1pm
Location: 2301 Yale Blvd. SE. in Albuquerque.
Use street parking on Renard.
Abortion Free New Mexico conducts a weekly prayer and protest presence out at the University of New Mexico's free standing abortion clinic. Let's stand together for life and strategically step out in faith to transform our community.
Learn more at AbortionFreeNM.com
Please pray with us for New Mexico
For: Families, businesses and churches that have been impacted the shut down across the nation.
The Texas Board of Nursing complaint that we have filed against Gloria Martinez to result in the loss of her license.
For: Abortionist Franz Theard's conversion and for him to abandon his abortion businesses. (1 in NM and 1 in TX)
For: The 2020 election both locally and nationally.
For: Fellowship and unity for the pro-life community in New Mexico.
Thank you for standing with us for life!
We are a Christian missionary family serving in Albuquerque, NM. Putting our faith into action, for the past 9 years we have exposed Albuquerque as the late term abortion capital of the nation and have worked to bring accountability to an unregulated abortion industry that is killing children in their mothers wombs up to the day of birth.
In order to be the most effective in our pro-life ministry, we do this important work full time while homeschooling our children and raising them to have a biblical worldview. We rely solely on the provision of the Lord and individuals like you to provide for our daily needs.
We are pursuing and working toward an abortion free New Mexico, where every pre-born child is valued and protected.
We couldn't do this important work without God's calling and hand upon us as well as your faithful prayers and support.
We would be blessed to have you partner with us in this ministry. Your prayers and support are invaluable.
Ways to partner with us as we work to build an Abortion Free New Mexico