By Bud Shaver
Albuquerque, NM- On Saturday April 28th, New Mexicans will join 100 other locations across the nation to peacefully protest Planned Parenthood. Planned Parenthood is the largest abortion chain in this nation performing over 320,000 abortions each year. In Albuquerque, we don't want to just see Planned Parenthood defunded, although they do not deserve one dime of taxpayer funding, we want to see Planned Parenthood CLOSE. Your presence lets Planned Parenthood and their cohorts know that we oppose their killing business. All are welcome and encouraged to attend.
Did you know?
35% of all U.S. abortions are done by Planned Parenthood.
Planned Parenthood receives $553 million annually from taxpayers, 43% of their annual budget, of which $430 million comes from the federal government.
Planned Parenthood claims abortion is only 3% of their services, a figure so misleading that Slate magazine called it "the most meaningless abortion statistic ever." Out of the 9.5 million individual services Planned Parenthood provided in 2016, 321,384 were abortions—roughly 3%. But this figure fails to account for the fact that a woman visiting Planned Parenthood for an abortion will receive several services—from a pregnancy test to some manner of counseling to the abortion itself—each of which is counted separately.
Despite their name, Planned Parenthood offers almost no prenatal care, which amounts to less than 0.2% of total annual services.
Planned Parenthood provides less than 2% of manual breast exams, less than 1% of pap tests, and zero mammograms annually.
Let your voice be heard this Saturday as #WETHEPEOPLE stand together against the KILLING of pre-born children at the hands of #PlannedParenthood abortionists FUNDED BY YOUR TAX DOLLARS.
See you there!
Details:

When: Saturday, April 28th
Where: Planned Parenthood Surgical Center, 701 San Mateo Blvd. NE
Time: 10:00-11:00am
*Please use street parking off of Marquette and San Mateo.

#ProtestPP is a coalition of more than 75 local, state and national pro-life groups, headed by three national pro-life activist organizations: Citizens for a Pro-Life Society, Created Equal, and the Pro-Life Action League.
P.S. All are welcome! Signs will be provided or you can bring your own.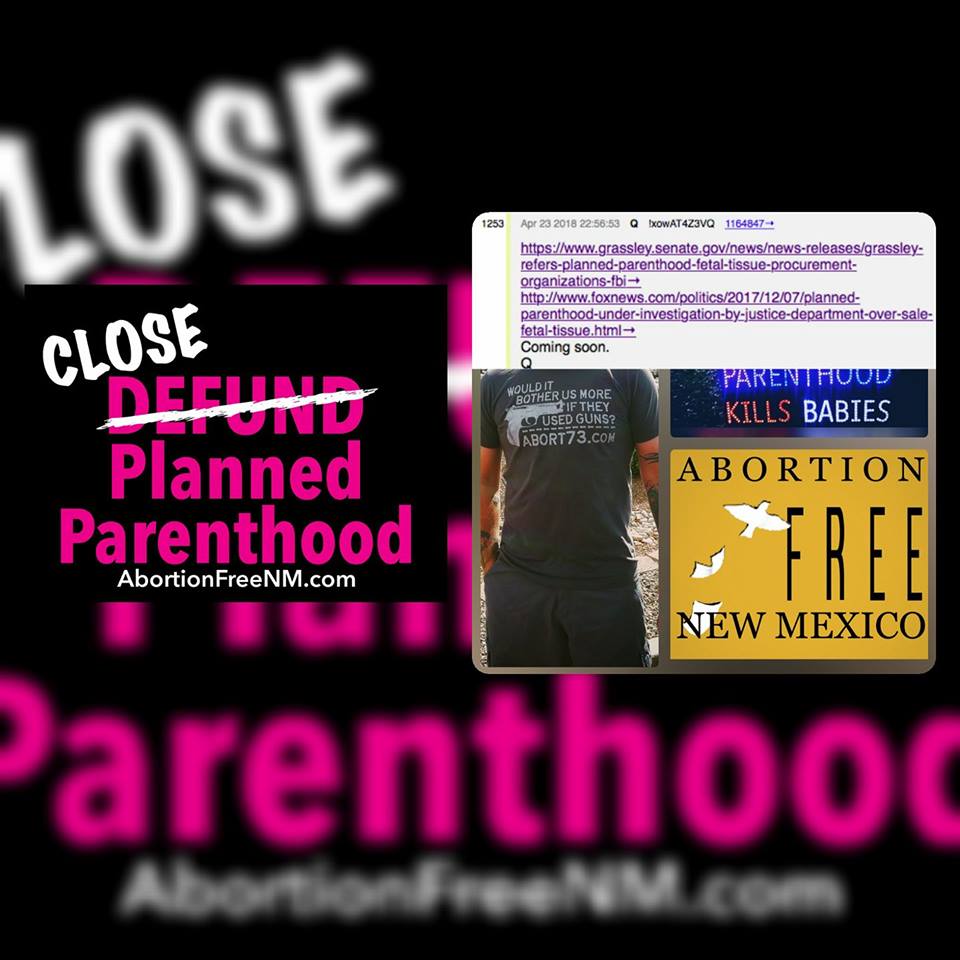 (BREAKING: Possible Developments in Planned Parenthood Baby Parts Investigation "Coming Soon")