House Select Panel Releases Final Report: Confirms Atrocities, Validates Years of Research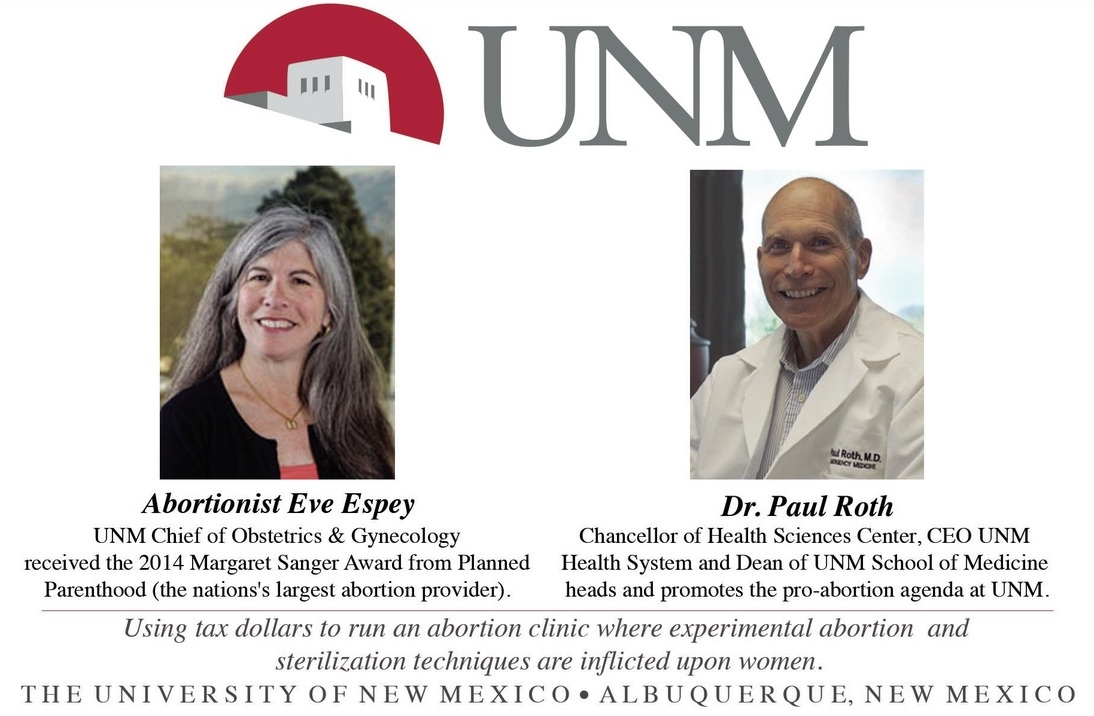 By Tara Shaver,
Albuquerque, NM- The Select Panel on Infant Lives has issued their final 471 page report after a year long in depth investigation into the trafficking of aborted fetal remains throughout the nation. This investigation has uncovered so much and produced vital information that has culminated in various criminal referrals  including to our own New Mexico Attorney General.
Protest ABQ applauds the work of the House Select Panel and would also like to acknowledge the real unsung heroes of this entire investigation, our friends and mentors Troy Newman and Cheryl Sullenger. This report vindicates decades of their tireless research revealing abortion abuses nationwide. In fact, it was Operation Rescue who deployed us to New Mexico in 2010 and have collaborated with us on various projects and the filing of subsequent complaints that have helped lay the foundation for the break through of exposure that has taken place.
"In 2011 when we published our first article exposing the University of New Mexico's (UNM) radical abortion agenda, we had no idea that 5 years later New Mexico would be at the heart of a congressional investigation. Little did we know that the congressional panel would validate what we have said all along, that UNM is the heart of the abortion cartel in the state and that late term abortions are a common occurrence in our city of Albuquerque. We remember the days when we first arrived in New Mexico and very few people believed that late term abortions occurred let alone that UNM was involved in moving forward a radical abortion agenda," stated Bud Shaver, Executive Director of Protest ABQ.
The Panel's investigation revealed in part, the following:
– The Panel identified several research institutions across the United States, mostly state universities and virtually all recipients of federal as well as state funding, that have formed a close relationship with one or more abortion clinics.

– Most of the doctors west of the Mississippi who openly perform third- trimester abortions have faculty positions at either the University of New Mexico or the University of Colorado.

– The transfer of fetal tissue from Southwestern Women's Options (SWWO) to UNM was one part of an aggressive campaign under which leadership personnel at UNM medical school: (1) expanded UNM's role both in providing abortions and in training new abortion providers; (2) expanded UNM's referral for abortion services to outside clinics, including the clinic from which it obtained fetal tissue;

–   The close relationship between UNM and SWWO led to allegations of shoddy clinical practices, including failure to utilize a consent form for fetal tissue donation and improperly combining consent for tissue donation with consent for the underlying abortion procedure.

– Abortionist Eve Espey, who is described by the panel as the "arguably most responsible for making UNM an abortion provider" refused to answer questions about UNM's own protocol regarding babies born alive during abortions. This policy states that "When an induced abortion results in a live-born infant showing any signs of life, such as a heartbeat or voluntary movement, a birth certificate should be completed. . . . A death certificate will be completed if the infant dies."

[Essentially, even though the Born-Alive Infants Protection Act provides protections for babies who survive abortions, Espey who is chair of the OBGYN department at UNM stated that she was not familiar with the law and didn't see it's relevance to her practice. ]

– It also found that the transfer of fetal tissue from SWWO to UNM for research purposes is a systematic violation of New Mexico's Spradling Act, under which tissue from aborted infants cannot be anatomical gifts." According to the panel's evaluation, "The Spradling Act was enacted in 2007 to replace the State's existing Anatomical Gift Act  with provisions mirroring the The Uniform Anatomical Gift Act (UAGA). In their new law, New Mexico decided to follow the suggestion in the UAGA to treat aborted fetuses differently: "'decedent' means a deceased individual whose body or part is or may be the source of an anatomical gift." It "includes a stillborn infant and …a fetus but (does) not includ(e) a fetus that is the subject of an induced abortion."

Further, the Spradling Act provides that the Act "applies to an anatomical gift or amendment to, revocation of or refusal to make an anatomical gift, whenever made." In other words, all anatomical gifts in the State of New Mexico must comply with this act, and the bodies or body parts of aborted infants cannot be anatomical gifts.

– Virtually every entity and individual from whom the Panel sought documents did not fully comply, regardless of whether the documents were required to be produced pursuant to a subpoena, or were requested via a letter.

– Scientific societies and universities have made misleading claims about fetal tissue research. Human fetal tissue constitutes only a tiny fraction of the overall research effort. Moreover, research involving human fetal tissue is less productive and has lower importance/impact when compared to non-fetal research from the same laboratories."  [Note: This is a justification that UNM uses which according to the panel's research, fetal tissue research has not produced, nor is it necessary, to bring about the greatest impact and advances.]