Guest Article- UNM: From Heartbreak to Hope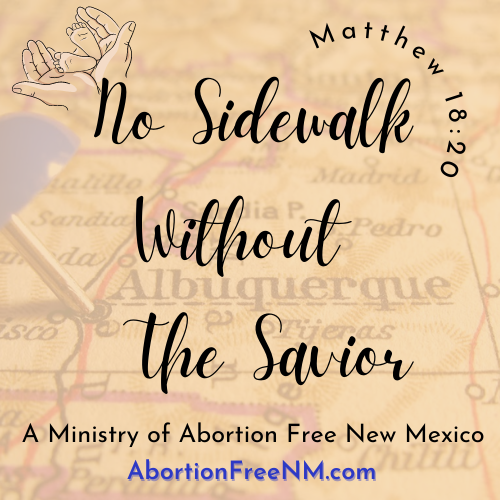 By Lloyd Powell,
Albuquerque, New Mexico- Abortions are nothing new in the state of New Mexico. Most notably, Planned Parenthood has been one of front runners. The second lesser known option is Southwestern Women's Options. Both of these clinics perform abortions not just for New Mexico but other states such as Texas and California. Despite the fact that these clinics are regularly opposed by Pro-Life organizations, the clinics still run effectively every day to end pregnancies through pill and surgical procedures.
Most surprising in support of abortions comes from a name very familiar with New Mexico residents and students. The University of New Mexico operates their own free standing abortion center. The clinic named "UNM Center for Reproductive Health," offers family planning and birth control options including late term surgical abortions through 24 weeks or 6 months of pregnancy. From their own web site they proudly declare that they are, "UNM Medical Group Clinic of the Year 2017, 2019, 2020." It might be surprising to note that a clinic who has won so many awards for giving life and improving life would also offer services to end lives.
On the affirmative side in preserving the lives of unborn babies are various Pro-Life organizations. These groups have offered alternatives to abortion by providing mobile ultrasound technology to show parents their unborn child, counseling, and free resources to help undecided parents make the best decision. Further, medical technology can now demonstrate evidence of active life of the unborn with heart beat and other substantiation that this is a baby, not a mere pile of random cells. In many cases, providing these resources and visible proof has resulted in women continuing their pregnancy for the full nine months and rejecting abortion, the death alternative.
If you have been following some of the recent news regarding increased Pro-Life activity, you cannot avoid being drawn to realize the growing change in attitude among the population of the United States against unregulated abortion clinics and especially late terms abortions. In some states the legislatures have moved to curtail abortions. Further, in some of the local elections, politicians are pledging their support for a Pro-Life stance in their campaigns.
In a recent move, the Pro-Life organization "Abortion Free New Mexico" has organized people from over a dozen churches from a wide variety of Christian groups and denominations to begin praying on the public sidewalk each day in April, May and June at the UNM abortion clinic near the airport when it is open. Some of the topics of prayer include praying for local and national laws to change, to help the families understand there are resources available to help with the baby if they are permitted to live, and to help abortion practitioners to turn from the act of abortion.
Anyone who wants to participate in Pro-Life prayer can join Abortion Free New Mexico at the UNM Center for Reproductive Health Clinic at 2301 Yale Blvd SE. in Albuquerque daily in April, May and June. You can obtain more information by visiting AbortionFreeNM.com.
Editors note: Lloyd Powell is a Day Coordinator for Abortion Free New Mexico's latest Prayer Initiative, No Sidewalk Without the Savior launching on April 1, 2022.
Join Us for the Launch of, "No Sidewalk Without the Savior"
When: Friday, April 1, 2022 10AM-11AM
Where: Meet at the parking lot of Isleta Church of Christ: Iglesia De Cristo located at 2424 Miles Rd SE, Albuquerque, NM 87106.
Event Details: 10AM for prayer, special speakers and a short (0.5 mile) prayer walk to the UNM Center For Reproductive Health abortion facility concluding at 11AM. ​
"Over the years we have had countless women come and tell us that because we were present, they chose life. Your presence is sometimes the sign that these women are looking for when they go for an abortion. You are essential and your prayers are necessary to make our city and state Abortion Free," stated Tara Shaver of Abortion Free New Mexico