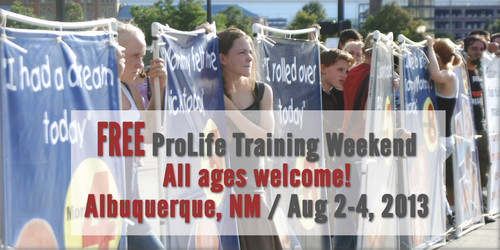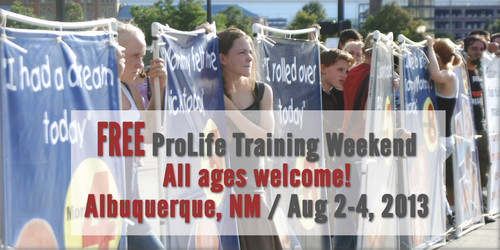 SURVIVORS & PROJECT DEFENDING LIFE are teaming up to bring YOU the FIRST-EVER NEW MEXICO ProLife Training Conference in Albuquerque!

This FREE ProLife Training Weekend is Open to Everyone Aug 2-4!
Aug. 2-3 (Fri/Sat) @ New Beginnings Church- Start times Fri. 6pm Sat. 9am
3601 Montgomery Blvd NE  ABQ
Aug. 4 (Sun) @ Sacred Heart Parish– Start times 1pm & 6pm
309 Stover Ave SW ABQ
The ProLife Training Conference will include, exclusive workshops and training sessions by experienced Pro-life leaders from across the nation that will help build your confidence in standing for life.
Topics Include: Why Pro-Life?, Defending the pro-life position, Sidewalk Counseling, Legal Rights, and much more. All are welcome.
Speakers include: Troy Newman: Operation Rescue, Cheryl Sullenger: Operation Rescue, Fr. Stephen Imbarrato, Project Defending Life, Jeff White: Survivors, Kristina Garza: Survivors, Brendon O' Morchoe: Students For Life of America, Jason Walsh: Executive Director of Arizona Right To Life…with more national speakers yet to be confirmed!

Albuquerque Schedule of Events
ProLife Weekend Training
Friday, August 2,  6pm – 9pm
New Beginnings Church, 3601 Montgomery Blvd NE, ABQ
The Albuquerque Vision……………………………………………Jeff White, Survivors
Saturday, August 3, 9am – 9pm
New Beginnings Church, 3601 Montgomery Blvd NE, ABQ
MORNING SESSIONS:  (9am – noon)
Why ProLife: Pro-Woman or Pro-Child…………………………..Kristina Garza, Survivors
Why ProLife: The Woman………………………………………….Kristina Garza, Survivors
Abortion Facts……………………………………………………….Cheryl Sullenger, Operation Rescue
AFTERNOON SESSIONS:  (1pm – 5pm)

Defeating Planned Parenthood……………………………………Brendan O'Morchoe, Students for Life America
How to Start a Pro-life Conversation…………………………….Jason Walsh, Arizona Right to Life
Persuasively Defending Life……………………………………….Kristina Garza, Survivors
Leadership Development…………………………………………..Brendan O'Morchoe, Students for Life America
EVENING SESSION:  (6:30pm – 9pm)
The Abortion Industry Exposed…………………………………..Cheryl Sullenger, Operation Rescue
Update on Texas……………………………………………………..Brendan O'Morchoe, Students for Life America
Sunday August 4,  1pm – 9pm
Sacred Heart Parish, 309 Stover Ave SW, ABQ
AFTERNOON SESSION:  (1pm – 5pm)
Knowing Your Rights………………………………………………..Jeff White, Survivors
Sidewalk Counseling………………………………………………..Don Blythe, Project Defending Life
Use of Graphic Imagery in Effective Social Reform…………..Jason Walsh, Arizona Right to Life
Sidewalk Counseling………………………………………………..Don Blythe, Project Defending Life
EVENING SESSION:  (6:30pm)
Refocusing the Pro-life Movement for Victory………………….Troy Newman, Operation Rescue
Throughout the week of Aug. 5-10 we will be taking what we learned (Aug. 2-4th) to the streets of Albuquerque and up to Santa Fe for various rally's and events to educate the community about Late-Term Abortion in our city and the deep seeded radical abortion agenda in New Mexico and pose the Question's "Do You Know? Do You Care?" Also we will be hosting town hall meetings each night at various churches held by Pro-Life leaders. Speakers, times, and locations To Be Announced…
For more information about this Conference and week day events, contact Tara Shaver: 505-319-7825 or shavermissions@gmail.com
For more information about our partners visit:
Survivors www.survivors.la
Project Defending Life www.defendinglife.org