FIRST New Mexico Sanctuary County For The UNBORN And Legislative UPDATE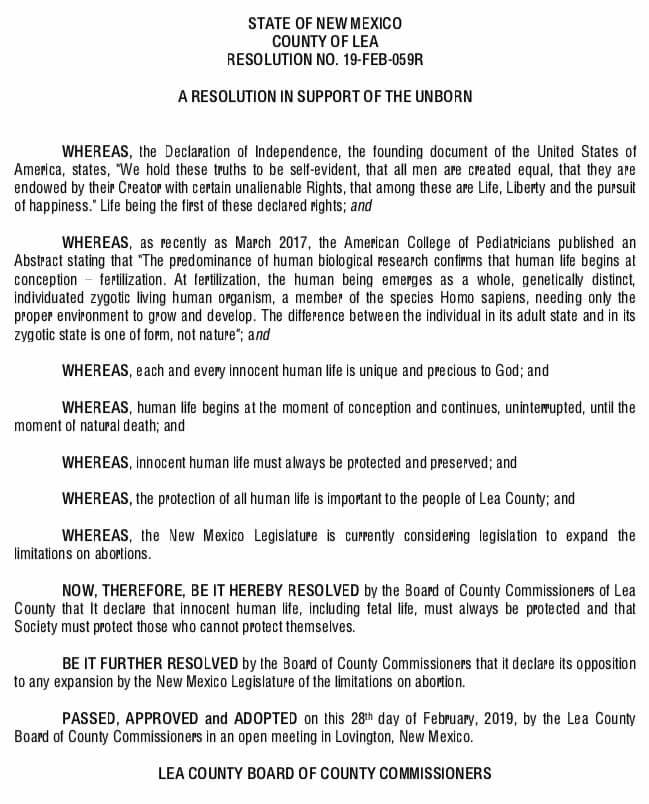 By Bud Shaver,

Lea County, NM- On February 28, 2019 Lea County Board of County Commissioners passed, "A Resolution In Support of the Unborn" making Lea County the FIRST Sanctuary County in New Mexico for the UNBORN! Jonathan Sena, District 4 County Commissioner sponsored the resolution. Thank you and God Bless Lea County, New Mexico!
New Mexico let's get 33 counties onboard defending LIFE!
Legislative Update
PRO-DEATH BILL (HB 51) DECRIMINALIZE ABORTION is scheduled for its first Senate Committee hearing Saturday March 2, 2019 (Room 326 ) IF YOU WOULD LIKE TO ATTEND AND/OR TESTIFY
TIME: While no time has been scheduled to hear HB 51, the pro-abortion groups are telling their people to be in Santa Fe at 9AM.
PARKING: Free parking garage behind the Capitol at 420 Galisteo St, Old PERA parking lot East of Capitol at Paseo Peralta and Old Santa Fe Trail and street parking.
Please contact the following Senate Committee members and urge them to OPPOSE HB 51 DECRIMINALIZE ABORTION
Senate Public Affairs Committee
​(Click their name for phone/email contact information)
TWO PRO-LIFE BILLS POSTPONED UNTIL TUESDAY MARCH 5, 2019
Representative Rebecca Dow (R) District 38, pro-life sponsor of HB 608 issued the following statement about the postponement:
"Conscious Protections for those who do not want to preform abortions rolled until Tuesday-

​People ask how the party in the majority can impact the legislative process. Today was a perfect example. 1. A health care bill that should be referred to Health and Human Services is instead sent to CORPS (the kill committee) 
2. At the last minute the order of bills to be heard is changed and the democrat bill (BTW- a terrible malpractice bill) is moved to the top of the list. 
3. Because we are "busy" public comment is limited to 2 minutes each. Time runs out of the first bill and the abortion bill is rolled until Tuesday. This delays the hearing by 5 days decreasing the likelihood of it passing."
MONDAY MARCH 4, 2019 WE THE PEOPLE OF NEW MEXICO: PROTEST
Currently over 600 New Mexicans for ALL across New Mexico have joined the event page on Facebook: We the People of New Mexico: Protest! 
We the People of New Mexico: Citizens of New Mexico are concerned about the direction that New Mexico legislators are taking the state. You are invited to voice your concerns at a rally in Santa Fe.
Here is your chance to voice your concern on issues like abortion, becoming a sanctuary state, boarder security, minimum wage, oil and gas constraints, new and higher taxes, gun control and many others that will affect you and your communities!
We have been silent too long.
When: Monday March 4, 2019
Time: 12PM (noon)
Where: Front of the Roundhouse in Santa Fe, New Mexico
BRING YOUR SIGNS. (Signs will also be provided by Abortion Free New Mexico.)
RELATED NEWS:
Life Ministries U.S. presents 5 years of research. Click here to watch (15 min)
Thank you for standing with us for life and truth! 
"Therefore we ought to support people like these, that we may be fellow workers for the truth." (3 John 1:8)