Caught Red-Handed: New Mexico Abortion Business Was Operating Illegally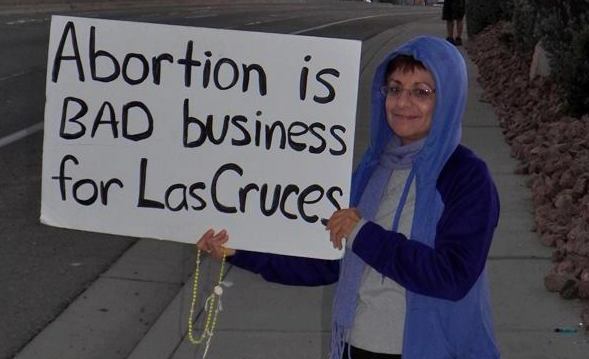 By Cheryl Sullenger, Operation Rescue
URGENT ACTION ALERT!
Operation Rescue urges the City of Las Cruces to revoke the abortion facility's business permit due to deception and possible zoning violations.
Las Cruces, NM – A new abortion facility in Las Cruces, New Mexico, operated by the Texas-based Whole Women's Health abortion chain, was caught "red-handed" operating without a valid business permit in an area that may not be properly zoned for that business.
Seeking to avoid safety standards in Texas that shut down two of its five Texas abortion centers, Whole Women's Health targeted New Mexico where an absence of abortion laws allows even the most disreputable to run abortion businesses without fear of inspection or oversight.
Whole Women's Health (WWH) soon set up shop in Las Cruces where it could continue its substandard operations without accountability.
Operation Rescue, working with Protest ABQ and local pro-life leaders in Las Cruces, has documented that Whole Women's Health, operating as "William H. Richardson, MD, PC" opened for business and conducted surgical abortions prior to applying to the City of Las Cruces for a business permit.
In fact, recorded phone conversations show that the facility staff used deception first to pass off an invalid business permit as their own, then to deny that it had opened for business.
In phone call placed by Tara Shaver of Protest ABQ on October 16, 2014, a clinic employee told Shaver that they had been open about a week. She then scheduled Shaver for a surgical abortion on October 21.
However, records show that the abortion facility did not even apply for a permit until October 23 and did not receive a valid business permit until October 27.
There are also concerns that Whole Women's Health and Richardson are operating in a building that is not zoned for major surgeries such as late-term abortions, which are soon to be available at the Las Cruces center.
"There can be no doubt that Whole Women's Health was conducting business and providing surgical abortions prior to applying for a valid business permit," said Troy Newman, President of Operation Rescue. "We caught them red-handed breaking the law and using deception to cover it up."
Operation Rescue is encouraging the public to contact the City of Las Cruces and ask that they immediately revoke the business permit issued to Richardson due to safety concerns and given the checkered history of the Whole Women's Health abortion chain in Texas with which his abortion business is affiliated.
Building & Development Services
Robert Kyle, Administrator
Voice: 575-528-3106
E-mail: rkyle@las-cruces.org
Read Operation Rescue's exclusive report with documentation.
About Operation Rescue,
Operation Rescue is one of the leading pro-life Christian activist organizations in the nation and has become a strong voice for the pro-life movement in America. Operation Rescue is now headquartered in a former abortion clinic that it bought and closed in 2006. From there, Operation Rescue launches its innovative new strategies across the nation, exposing and closing abortion clinics through peaceful, legal means. Its activities are on the cutting edge of the abortion issue, taking direct action to stop abortion and ultimately restore legal personhood to the pre-born in obedience to biblical mandates. www.operationrescue.org