Breaking: 28 Week Pre-born Baby Dies in Utero After Maternal COVID Vaccination

By Bud Shaver
Albuquerque, New Mexico- Abortion Free New Mexico was alerted to the apparent death of a 28 week old baby in utero that occurred just three days after the baby's mother received the Pfizer-BioNTech COVID-19 vaccine. After receiving the COVID-19 vaccine, this adverse event was reported to the Vaccine Adverse Event Reporting System (VAERS).
According to it's website, VAERS
"is a national early warning system to detect possible safety problems in U.S.-licensed vaccines. VAERS is co-managed by the Centers for Disease Control and Prevention (CDC) and the U.S. Food and Drug Administration (FDA)."
It is important to note that VAERS is a "passive" reporting system, meaning it relies on individuals to voluntarily send in reports of their experiences to the CDC and FDA. So this potential vaccine induced miscarriage could be one of many since reporting is strictly voluntary.
The pregnant mother who received the Pfizer-BioNTech COVID-19 vaccine was a 35 year old woman in Michigan who was given the first dose of the vaccine on December 23, 2020. By December 26, the baby had no heartbeat and was delivered as nonviable at 29 weeks of pregnancy.
Here is the documented testimony from the patient alerting the vaccine makers of the apparent death of her unborn child after receiving their COVID-19 vaccine submitted on the VAERS/CDC website,
"I was 28 weeks and 5 days pregnant when I received the first dose of the COVID-19 vaccine. Two days later (12/25/2020 in the afternoon), I noticed decreased motion of the baby. The baby was found to not have a heartbeat in the early am on 12/26/2020 and I delivered a 2lb 7oz nonviable female fetus at 29 weeks gestation. I was 35 years old at the time of the fetal demise and the only pregnancy history for this pregnancy included a velamentous cord insertion that was being closely monitored by a high risk OB. My estimated due was March 12, 2021."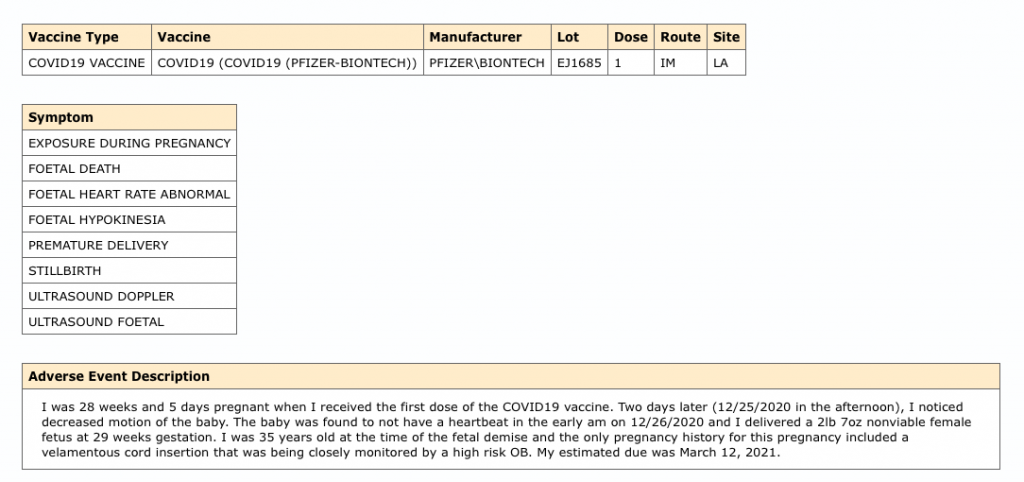 The Pfizer website clearly states that their BioNTech vaccine has not been approved or licensed by the FDA which is also the case for the Moderna COVID-19 vaccine. Pfizer also states on it's website that no pregnant women were enrolled in the vaccine trial, and that data is limited in these cases. This should raise major concerns for pregnant women considering a COVID-19 vaccination.
In addition, the 21st Century Cures Act that was passed in 2016 ensures that drug companies and vaccine administrators are not legally liable for fetal injuries, deaths or harm to pregnant women caused by vaccines given to pregnant women. In fact, the National Childhood Vaccine Injury Act of 1986 which was upheld in 2018 by the U.S. Supreme Court, protects vaccine manufacturers from liability in the event of any vaccine related injury or death.
In a recent development, one of the worlds most prominent pharmaceutical companies, Merck, has just dumped their COVID-19 vaccine trials because their vaccine doesn't even work! Shockingly Australia halted their COVID-19 vaccine development after people started testing positive for HIV (AIDS) after receiving their vaccine developed by the University of Queensland (UQ) and biotech firm CSL.
"Our hearts go out to this mother who has lost her child after taking the Pfizer COVID-19 vaccine. When a women miscarries her pre-born child three days after receiving a vaccination it should sound an alarm for all pregnant women considering a COVID-19 vaccine. Despite this fact, women are currently going to their OB-GYN prenatal appointments and are being offered the COVID-19 vaccine even though it has not been properly tested and can actually harm or potentially kill their babies in the womb. Overall, there is so much uncertainty and cause for concern regarding the use of the four fast tracked COVID-19 vaccines that are currently being distributed. Additionally, the fact that vaccine manufacturers are fully shielded from liability from any and all vaccine deaths and injuries is incredibly disconcerting,"stated Tara Shaver.
The Ethical and Moral Implications of the COVID 19 Vaccine
The use of aborted fetal cells in the COVID-19 vaccines is raising more red flags for those who value life. For the pro-life community, in particular, this issue has tremendous ethical and moral implications.
Just as the pro-life community does not want to fund abortion procedures through federal or state tax dollars, more are beginning to object to receiving vaccines made with the use of aborted fetal cells, that are prevalent in many vaccines, not just the COVID-19 variations.

According to Children of God For Life, whose mission is to effectively oppose the use of aborted children in biomedical research, "All vaccines for the COVID-19 virus being distributed are produced and/or tested with cell lines that originated from an aborted child."
The Pfizer BioNTech COVID 19 vaccine used the HEK293 fetal cell line, originating from a healthy aborted baby in the 1970's, in their research and development and they used the same cell line to test the vaccine.
Johnson and Johnson used the PER.C6 fetal cell line that originated from a healthy 18 week old aborted child.
Moderna used the HEK293 fetal cell line in their research and development. 
Astrazenca also used the HEK293 fetal cell line in their research and development.
"The fact that vaccines are being distributed that use aborted fetal cells in one way or another places people of conscience in a moral dilemma. Under the pretense of saving lives, vaccine manufactures are actually exploiting the lives of innocent pre-born children that our society has deemed unwanted. These ethically compromised vaccines are counterproductive, are causing miscarriages as well as other adverse reactions and as is the case with the Merck vaccine, they are not even effective in protecting you from contracting COVID-19," stated Tara Shaver.